Date:
Assessment of Current Ice Conditions Relevant to Distribution and Access of Walrus
Click the name of each community below to view more frequently updated and detailed information from the National Weather Service.
Synopsis A low pressure system in the North Pacific on Wednesday will move over the Alaska Peninsula on Thursday. By Saturday, the low pressure system will move into the Gulf of Alaska and remain there through Monday.
Satellite imagery shows that shorefast ice remains intact on the north side of the island, extending 1 to 6 miles from the coast. There is also shorefast ice on the south side of the island, extending up to 6 miles from shore from Powooiliak [Pugughileq] Camp and east. Open pack ice to very open pack ice has appeared across the southern parts of the island. This open to very open pack ice varies in distance, from 8 to 15 miles from Booshu camp, before meeting very close pack ice. The same very close pack ice is 4 to 8 miles away from the shorefast of Silook and Siknik camps. Otherwise, consolidated to compact pack ice consisting of big to giant floes surrounds St. Lawrence Island.
Sea ice is shorefast from 1 to 6 miles from just east of Solomon to Sinuk, then consolidated to compact pack ice covers the rest of the surrounding area.
Shorefast ice extends approximately 17 miles to the west of Brevig Mission, with compact pack ice covering the rest of the surrounding area.
The shorefast ice extent along the coast varies from a half mile from Mugisitokiwik to Ikpek, then 2 to 4 miles from Ikpek to Espenberg. Otherwise, consolidated pack consisting of big to giant floes covers the rest of the surrounding area, with shorefast ice covering Kotzebue Sound.
Sea ice is shorefast between Little Diomede and Big Diomede Islands. There is a small area of open pack ice to the south of Big Diomede Island. Otherwise, consolidated ice consisting of vast to giant floes surrounds Diomede.
Forecast Discussion
Ice Forecast
Sea ice will generally continue to move southward and condense against north-facing coastlines through Wednesday the 29th. Polynyas will continue to form and expand off south-facing coastlines as well. Shorefast ice on south-facing coastlines may break off, especially during periods of stronger winds.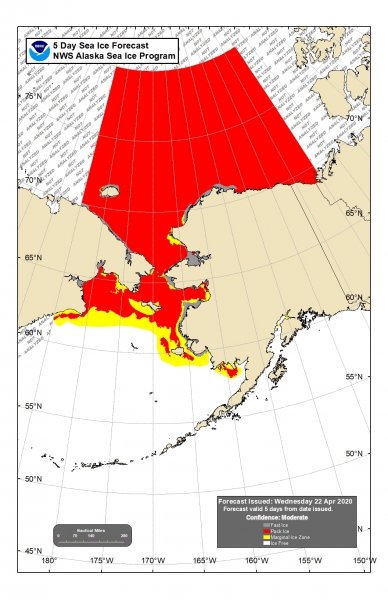 Wind Synopsis
On Friday, April 24th winds will be north to northeast 10 to 15 kt (11 to 17 mph) and becoming west 5 to 10 kt (5 to 11 mph) on Monday, April 27th. On Wednesday, April 29th winds will shift to the south 5 to 10 kt (5 to 11 mph). The winds will gradually shift to the southeast to around 10 kt (11 mph) on Thursday, April 30th and persist through Friday, May 1st.
Temperature Trend
High temperatures on Friday, April 24th through Friday, May 1st will be in the upper 20s from the Bering Strait north and in the lower 30's south of the Bering Strait. Low temperatures are expected to be in the teens from the Bering Strait north and in the 20's south of the Bering Strait.
Daily Weather, Wind, and Temperature Updates
The National Weather Service provides twice-daily, text only updates on the weather, wind, and temperature conditions in specific geographical zones. An interactive weather map for access to other Alaskan zones can be found here: http://weather.gov/anchorage/ice
Higher resolution satellite images and wind maps (wind updated daily) can be viewed here: http://www.weather.gov/afg/SIWO_overview
Marine forecast for the West Coast and Arctic Coast
Remote Sensing Images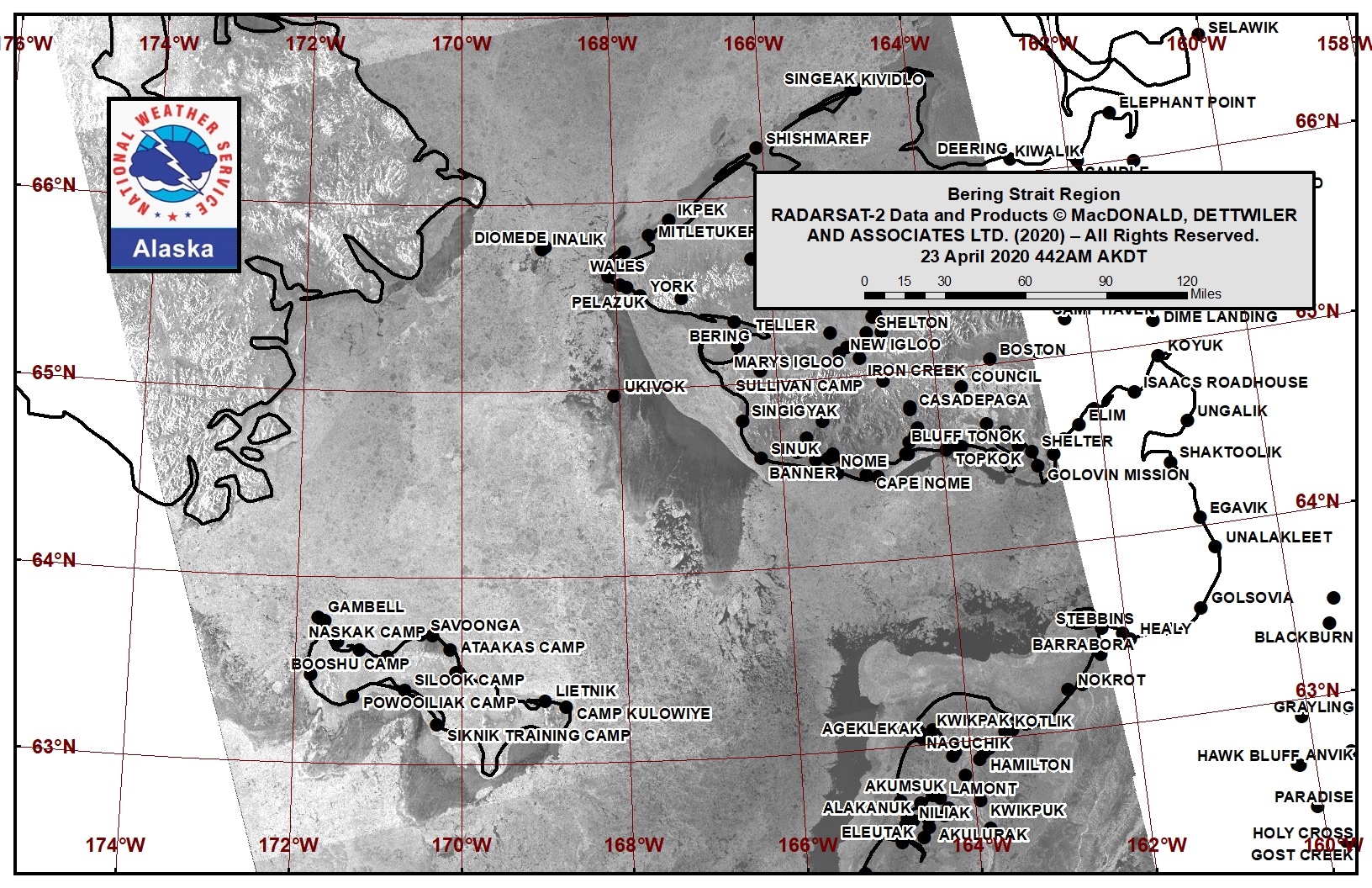 Observations and Comments
Observations of Sea Ice Development
Observations from Port Clarence and Brevig Mission
23 April 2020 – Marcus Barr
Northwest winds gusting to around 35mph. Temp has been 15-20°F all week and last week was 35°F with rain made snow hard as ice after freezing. Rough shorefast ice out there as far far as I can see. Less seals are on the ice now after being cold and windy.
Observations from Nome
24 April 2019 – Boogles Johnson
There is currently sea ice as far as you can see in the Nome area, the rivers and creeks are starting to flow so the sea ice near shore is inundated with fresh water. This week cooled off to just below freezing in the morning and evening slowing the spring thaw. Last week the thaw was going fast but this week it is slow and steady. There are a few hunters looking from the ice for seals but no boats that I know of have been out in the Nome area.
Observations from Gambell
24 April 2020 – Clarence Irrigoo, Jr.
Some boats are getting bearded seal and walrus this week. 20° NE 21mph. No boats are out this morning. Never take images cause of dense fog. Boats are going about 10-15 miles out.
Observations from Savoonga
24 April 2020 – Aqef Waghiyi
No open water, nobody going out boating. Everybody just staying home trying to tune up snow machines and getting ready to go down south for whaling.
Observations from Wales
24 April 2020 – Robert Tokeinna, Jr.
Very much mild spring weather here in Wales. Cloudy, blowing snow, snowy this past week with temperatures from minuses to 20 degrees and mostly north winds with the occasional south winds, but more predominantly north winds. Local whaling captain called me and told me he is going to prepare his crew. With this COVID 19 pandemic, I am unsure what the season will bring to us. The spring thaw has halted with cooler northerly winds in the forecast. There has been a growth of pressure ridges on the outer shorefast ice as there is open water and flow ice around.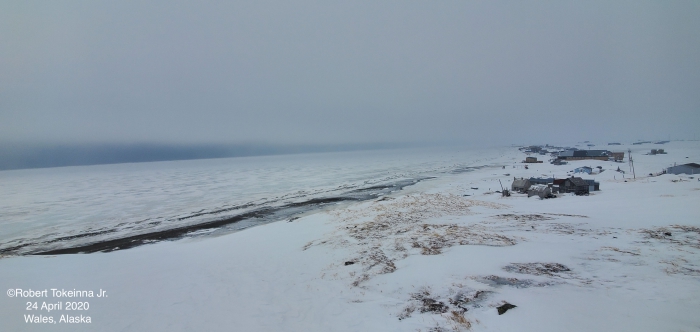 Observations from Wales
22 April 2020 – Michael Edward Ahkinga Jr.
Observations from Shishmaref
24 April 2020 – Curtis Nayokpuk
Cold wx returns and spring melt conditions turn to snow/fog and freezing of open leads. Light snow covered thin sea ice areas making any plans of scouting ice for future Bearded Seal hunting routes dangerous and will have to wait for wind or another round/week of spring melt wx to weave thru jagged or thin sea ice to reach open leads and shore fast ice edge.
Observations from Diomede
25 April 2020 – Marty Eeleengayouq Ozenna
Little Diomede ice outlook still stuck between and the north side and south side been opening closing and picture by Marty Ozenna.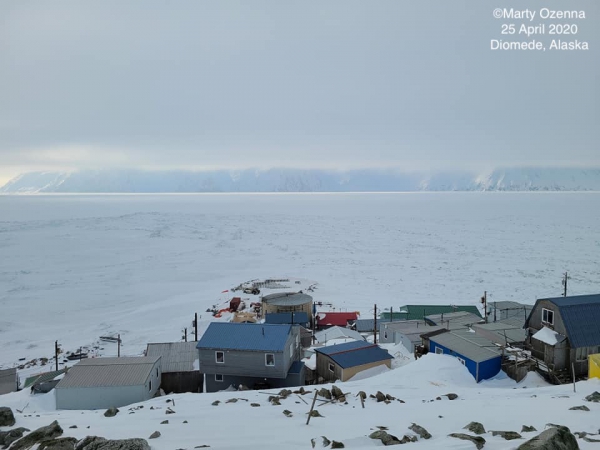 Additional Comments Provided by Local Experts and Other Contributors
Satellite images shared by Rick Thoman, ACCAP
21 April 2020
23 April 2020
The area of low ice concentration beyond the Wales to Cape Woolley fast ice has really expanded the past two days. Also note the open water directly offshore Wales.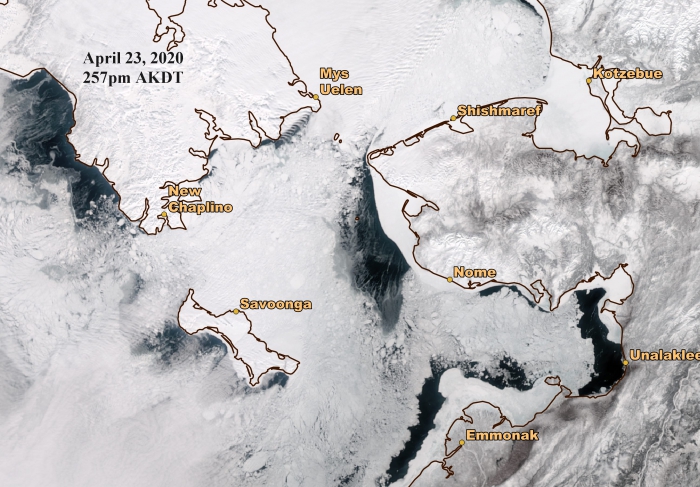 For more information from Rick, follow him on Twitter @AlaskaWx or join the Facebook Group: Seward Peninsula/Bering Strait Weather and Climate Info.