Date:
Assessment of Current Ice Conditions Relevant to Distribution and Access of Walrus
Click the name of each community below to view more frequently updated and detailed information from the National Weather Service.
Synopsis A low will move northward through the western Bering Sea through Saturday, as high pressure slowly moves eastward across the southern Bering Sea.
Satellite imagery shows that shorefast ice extends 1 to 6 miles from the north side of the island. A polynya has formed north of the shorefast ice from Gambell to Kangee Camp extending up to 4 miles beyond the shorefast ice, as well as from Savoonga to approximately 18 miles southeast of the island extending generally 1 to 3 miles beyond the shorefast ice. Otherwise, very close pack ice consisting of big to giant floes surrounds St. Lawrence Island.
Sea ice is shorefast from 1 to 6 miles from the Solomon to Banner coastline, then consolidated pack ice covers the rest of the surrounding area.
Shorefast ice extends approximately 18 miles to the west of Brevig Mission, with compact pack ice covering the rest of the surrounding area.
The shorefast ice extent along the coast varies from a half mile from Mugisitokiwik to Ikpek, then 2 to 6 miles from Ikpek to Espenberg. Otherwise, consolidated pack consisting of big to giant floes covers the rest of the surrounding area.
Sea ice is shorefast between Little Diomede and Big Diomede Island. Otherwise, consolidated ice surrounds Diomede.
Forecast Discussion
Ice Forecast
During the period of southerly winds, the polynyas that have formed on the north side will expand, and sea ice will continue to compact against the south-facing coastlines. As winds shift to the east-northeast Wednesday, sea ice will begin to move southwestward, filling in any existing polynyas. New polynya formation on the south side of coastlines will occur, but will likely quickly re-freeze as colder air moves in.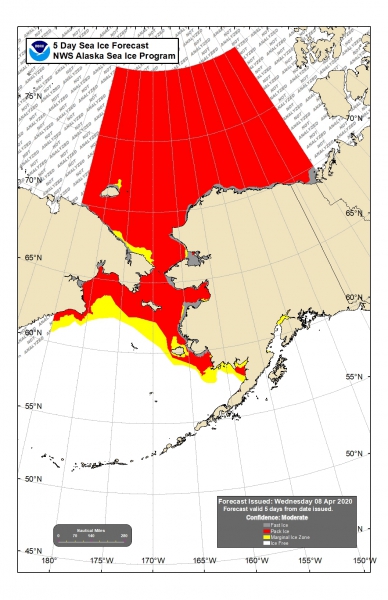 Wind Synopsis
On Friday, April 10th winds will be northeast around 15 kt (17 mph). Winds will shift to the south from 10-25 kt (11-30 mph) Friday night with the strongest winds along the Bering Strait. On Saturday afternoon April 11th, south winds will diminish to 10-15 kt (11-17 mph). Winds will then become east-southeast 10-15 kt (11-17 mph) by Sunday, April 12th and continue through Tuesday, April 14th. On Wednesday, April 15th, winds will shift to the east-northeast and remain about 10-15 kt (11-17 mph) but gradually increase to 10-20 kt (11-23 mph) by Friday, April 17th.
Temperature Trend
High temperatures on Friday, April 10th will be in the lower 30's south of the Bering Strait and in the upper 20's to the north. High temperatures will then be mainly in the lower 30's across the entire region from Saturday April 11th through Tuesday, April 14th, but cooling into the upper 20's on Wednesday, April 15th. Low temperatures will be mainly in the 20's from Friday, April 10th through Friday, April 17th.
Daily Weather, Wind, and Temperature Updates
The National Weather Service provides twice-daily, text only updates on the weather, wind, and temperature conditions in specific geographical zones. An interactive weather map for access to other Alaskan zones can be found here: http://weather.gov/anchorage/ice
Wind maps are updated daily and can be viewed here: http://www.weather.gov/afg/SIWO_overview
Marine forecast for the West Coast and Arctic Coast
Remote Sensing Images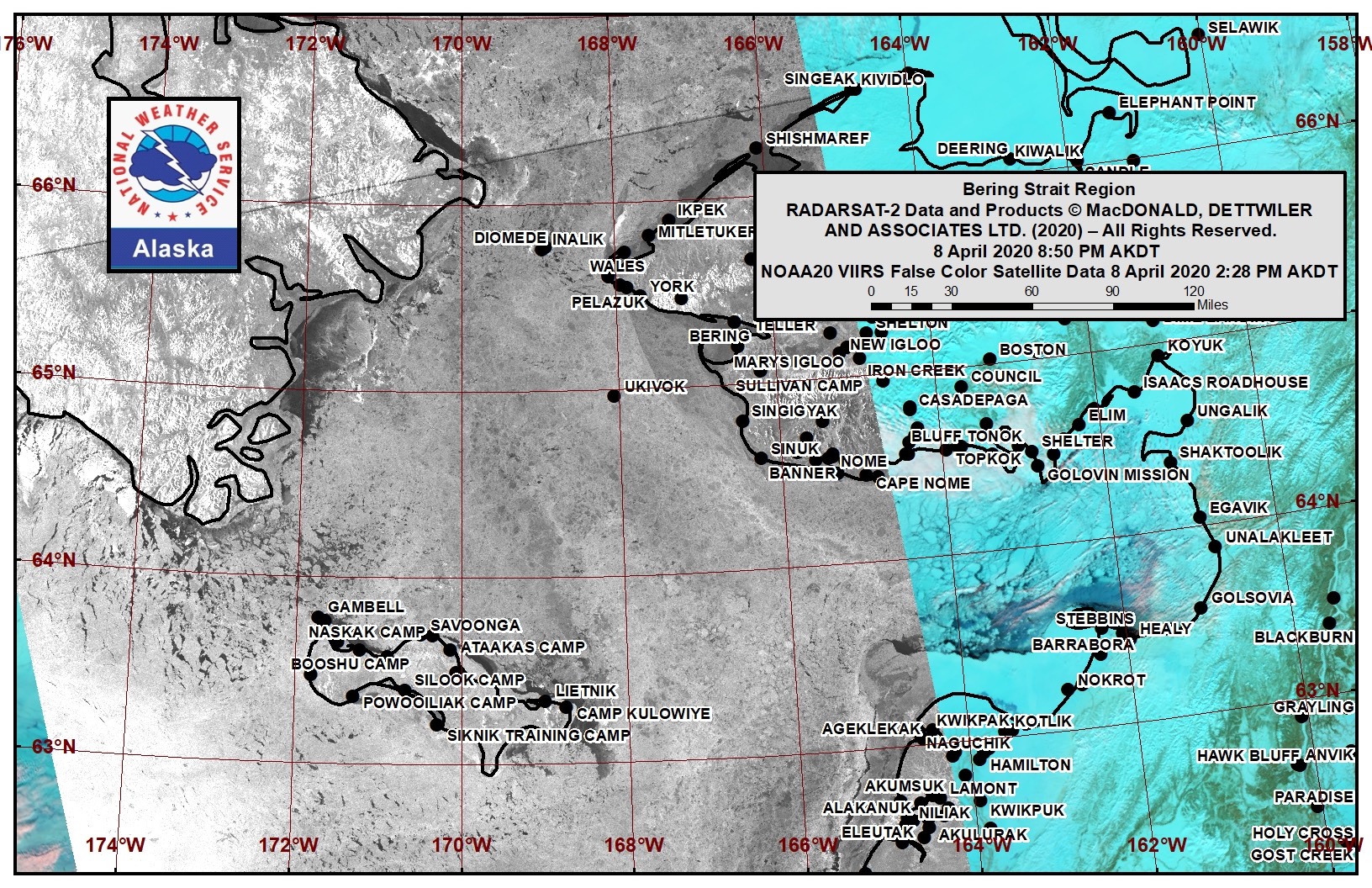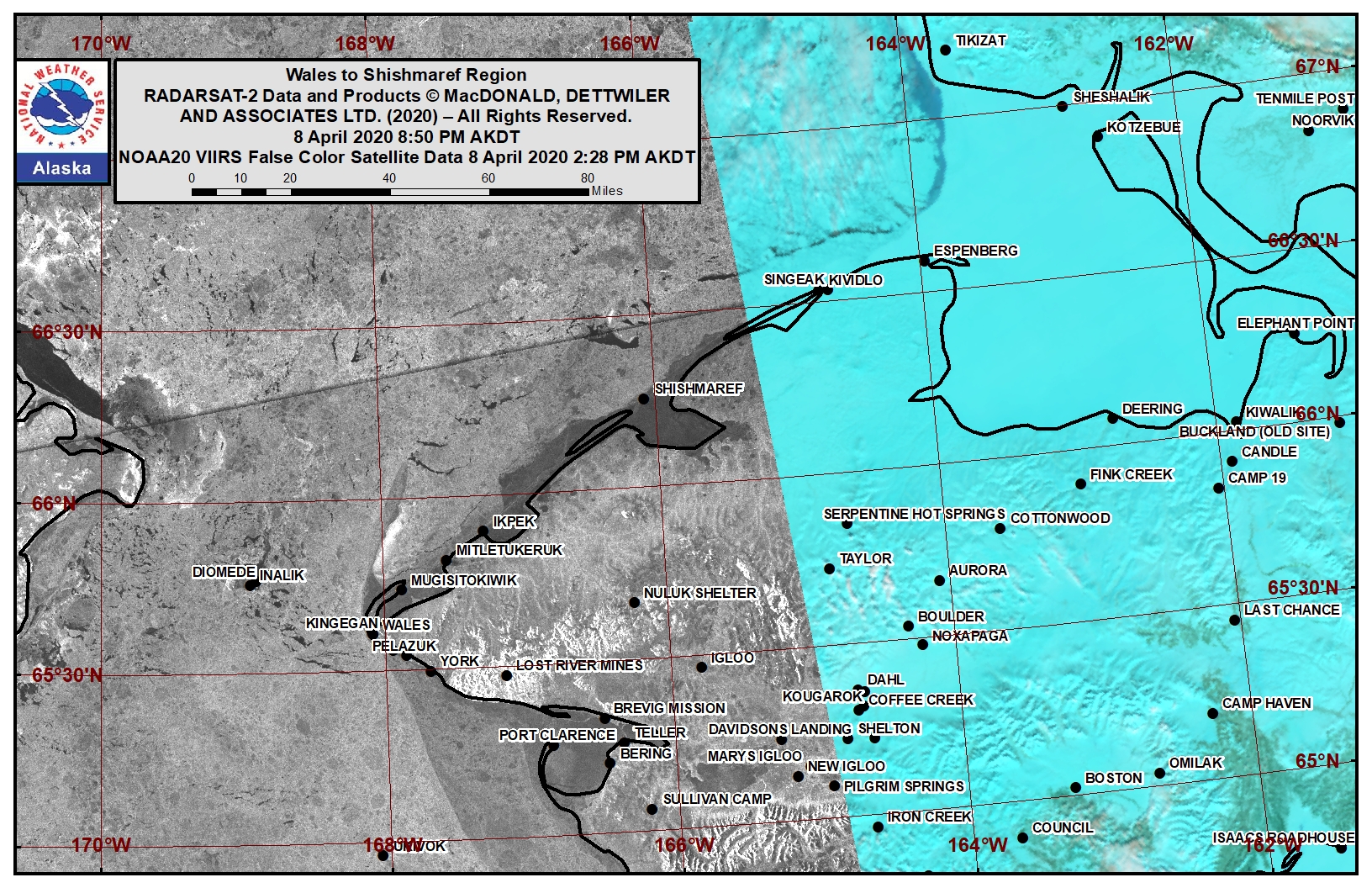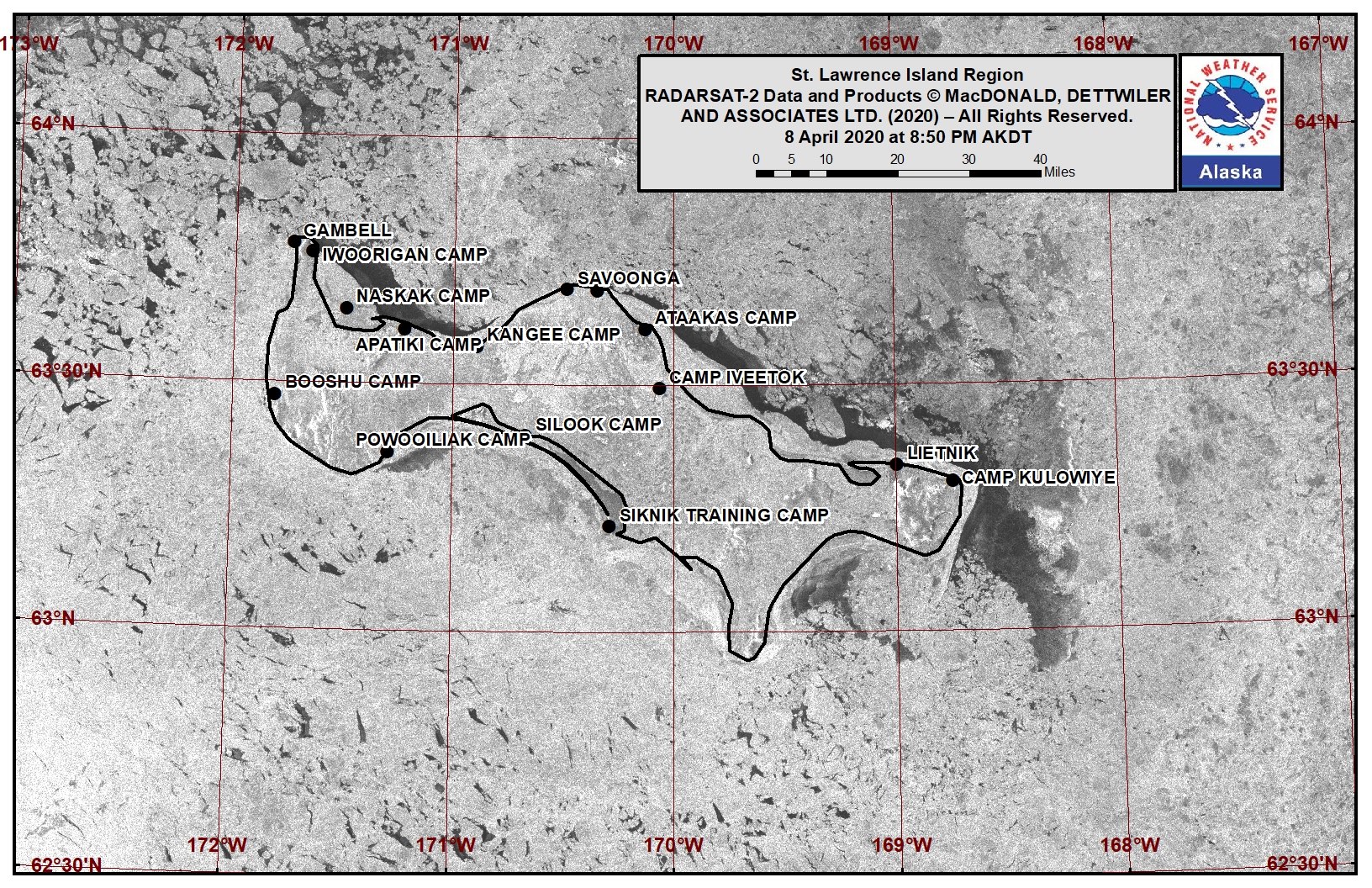 Observations and Comments
Observations of Sea Ice Development
Observations from Savoonga
9 April 2020 – Aqef Waghiyi
No one went boating in the last week. People went south side to go crabbing. No open water and there's a few open leads, not too far out, but nobody's been going down there. Nobody going out much due to the virus. Couple of open leads two miles north of town.
Observations from Gambell
9 April 2020 – Clarence Irrigoo, Jr.
Some boats are going out, some boats got walrus and seal. Little open water.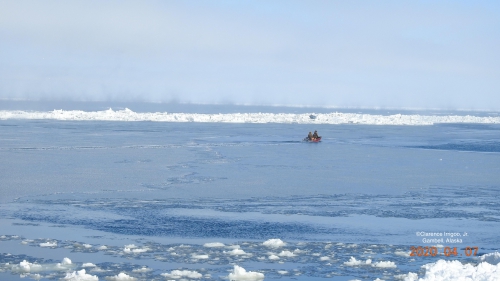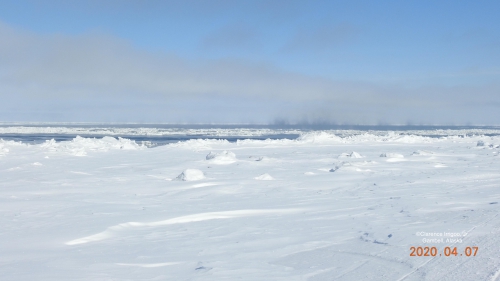 Observations from Port Clarence and Brevig Mission
9 April 2020 – Marcus Barr
Partly cloudy with light winds and 15°F with about 5° windchill. The ice edge cannot be seen with the naked eye from Port Clarence. A lot of piled/jumbled ice in all directions. One seal was spotted resting on the ice near Port Clarence.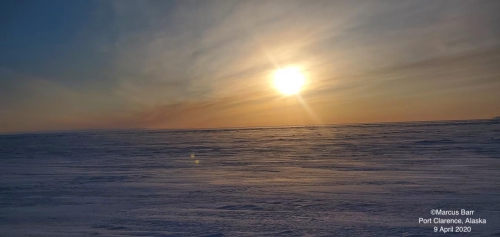 Observations from Wales
10 April 2020 – Robert Tokeinna, Jr.
South wind mostly this past week with the occasional switching of north to northwest and easterly winds last night. Temperatures have been between 5 to 25 above freezing with wind chill dipping temperatures below 0. Open water shown in the pictures so there is an open lead in both directions south and north. It has been snowy and blowing snow lately. I got a chance to ride to our point with a snow machine. No sign of any activity on the ice as spring starts to show presence. There's supposed to be a high tide advisory for the Bering Straits coast by the weather service, but I haven't noticed if the ice broke or if there is over flow. Here ends my observation.