Date:
Assessment of Current Ice Conditions Relevant to Distribution and Access of Walrus
Special Statement from National Weather Service Alaska
National Weather Service SIWO forecast information is not available this week due to unforeseen circumstances. Please go to https://weather.gov/afg for your local NWS marine and public weather forecasts and https://weather.gov/ice for sea ice analysis and forecasts at this time. We hope to have NWS weather and ice forecast information available once again next week.
Sea ice maps are still available. The State of the Ice at Season's Start Report will be provided by Matthew Druckenmiller and Hajo Eicken in next week's report.
Remote Sensing Images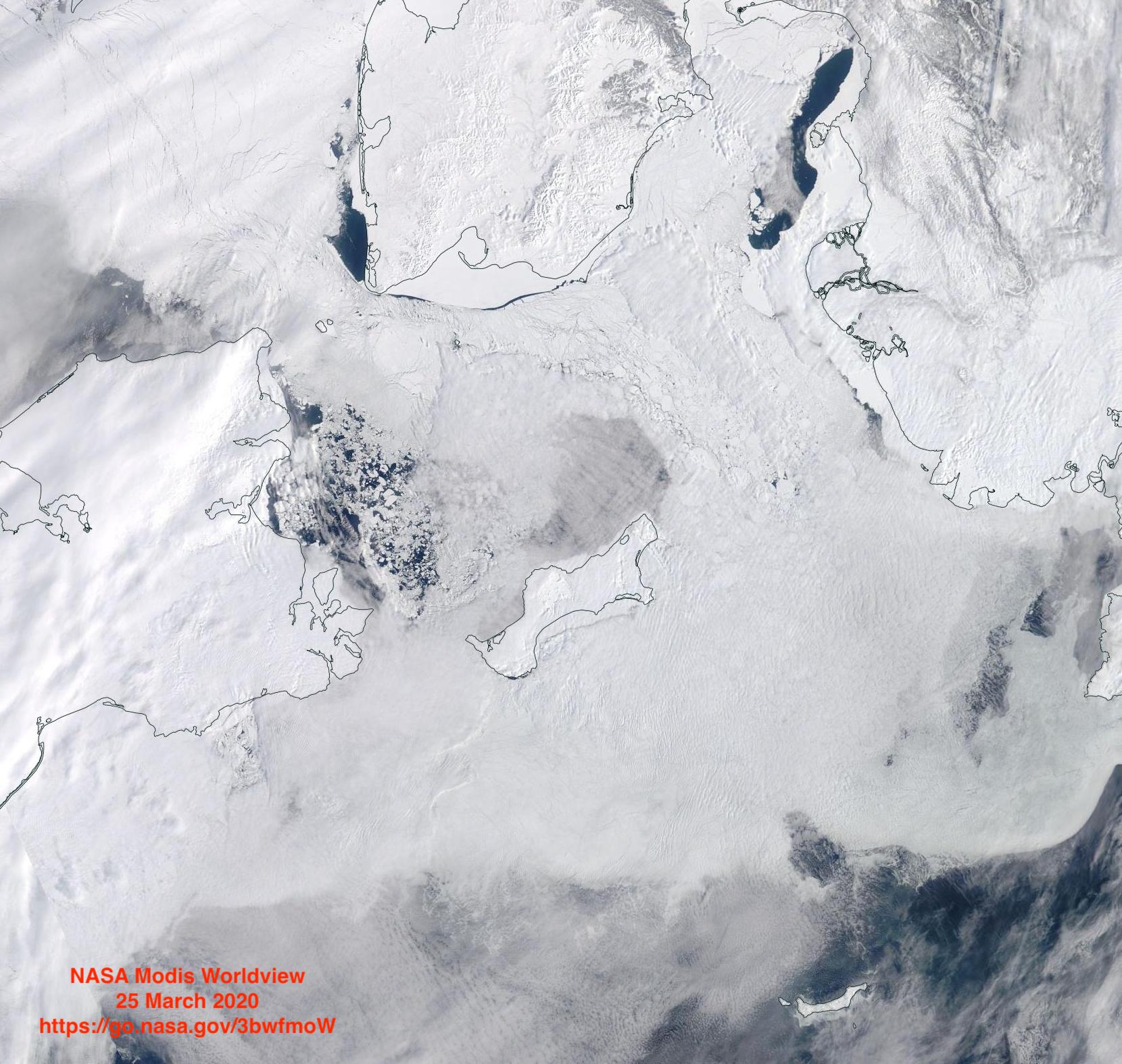 Observations and Comments
Observations of Sea Ice Development
Observations from Wales
26 March 2020 – Robert Tokeinna, Jr.
This week compared to last Sunday is that I have seen open water to the north and unsure where the open water starts but my rough estimate is about 4 to 6 miles north of Wales. I have not heard of any activity on the ice, but I have notice increased trails and tracks on the ice. With the community reacting to the COVID 19 virus, I am unsure how that will affect the community's efforts in hunting. Weather is great for pictures today and the whole reason I am reporting early is to ensure best picture quality for my first official observation. Wind was for the most part southerly winds with changing to north winds changing today at about 10 to 30 mph and mildly temperatures between 20 to 30 degrees Fahrenheit. Overflow at the local water hole persist and advances to neighboring ponds and creeks. I have yet to see a snow bird and local residents report of a couple spotted in the vicinity of the community. You will notice and see that the ice formation is jagged and with different types and layers of ice as seen in the pictures. This ends my observation.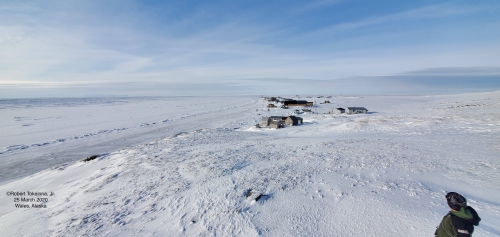 Observations from Savoonga
26 March 2020 – Aqef Waghiyi
Boats went out yesterday and got walrus. Don't know how far out they went, my guess at least 10-20 miles out or so. They didn't stay out too long, all the boats got in before dark.
Observations from Gambell
25 March 2020 – Clarence Irrigoo, Jr.
26°F NE 9mph. West side opening up. Walrus seen in the water this week.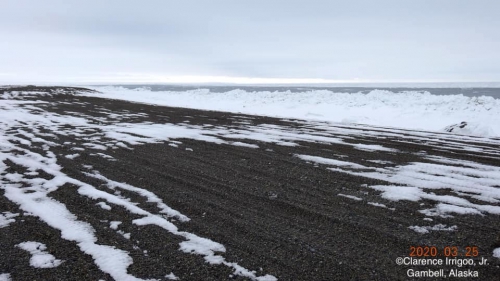 Observations from Port Clarence and Brevig Mission
27 March 2020 – Marcus Barr
Sea ice outlook from 17 miles west of Brevig. The ice is solid with rough ice from the beach going all the way out about six miles. Cannot see the ice edge from the beach because we had a very long and cold weather this year. Also, there is no known cracks yet. Next week's sea ice outlook I will head down on the Port Clarence side for a better report on the ice edge.
Observations from Shishmaref
27 March 2020 – Curtis Nayokpuk
All open sea freezing with north winds blowing back ice that drifted out over the last month.
Additional Comments Provided by Local Experts and Other Contributors
Sea Ice Concentration Outlook provided by Rick Thoman, ACCAP.