Date:
Assessment of Current Ice Conditions Relevant to Distribution and Access of Walrus
This will be the last Outlook of the 2019 Season. Thanks to all local observers and partners for their contributions!
Click the name of each community below to view more frequently updated and detailed information from the National Weather Service.
Forecast Synopsis for 30 May – 3 June 2019
Synopsis A low pressure system will rotate near the Bristol Bay area through Friday while weak and broad low pressure remains over the mainland.
The closest sea ice is open water along the Russian coast, approximately 30 nm northwest of Gambell.
Sea ice free.
The previously shorefast ice in Port Clarence continues to melt, with the nearest ice to Brevig Mission being approximately 8 nm south, pushed toward the southern shore of Port Clarence.
A small band of very open pack ice consisting of small floes lies approximately 12 nm to 27 nm north of Wales. This ice appears to have originated from behind the barrier island outside of Ikpek Lagoon.
There is no sea ice in the immediate vicinity of Diomede. The closest ice is around 27 nm to the northeast near the mainland coast, as well as 26 nm to the northwest along the Russian coast.
Forecast Discussion
Ice Forecast
Remaining sea ice will continue to melt through the next week.
Wind Synopsis
Shishmaref Region:
North to northwest wind 10 to 20 knots (12 to 23 mph) Friday, May 31st will persist through Saturday, June 1st evening when the wind diminishes to 5 to 15 knots from the west. Wind will remain west to southwest 5 to 15 knots (6 to 17 mph) through Friday, June 7th.
St. Lawrence Island and Bering Strait Region:
Northeast wind 15 to 25 knots (17 to 29 mph) Friday, May 31st will diminish to northeast 5 knots (6 mph) Saturday night, June 2nd. Sunday, June 3rd through Wednesday, June 5th wind south to southwest 10 to 20 knots (12 to 23 mph) will shift west on Thursday, June 6th lasting through Friday, June 7th.
Temperature Trend
Temperatures for Shishmaref will range from highs in the mid 40s to lows in the mid 30s from Friday, May 31st lasting through Friday, June 7th.
Temperatures for St. Lawrence Island and the Bering Strait Region will range from highs in the upper 30s to lows in the lower 30s from Friday, May 31st through Friday, June 7th.
Daily Weather, Wind, and Temperature Updates
The National Weather Service provides twice-daily, text only updates on the weather, wind, and temperature conditions in specific geographical zones. An interactive weather map for access to other Alaskan zones can be found here: http://weather.gov/anchorage/ice
Wind maps are updated daily and can be viewed here: http://www.weather.gov/afg/SIWO_overview
Higher-resolution versions of satellite images can be viewed here: https://www.weather.gov/afg/SIWO_overview
Marine forecast for the West Coast and Arctic Coast
Remote Sensing Images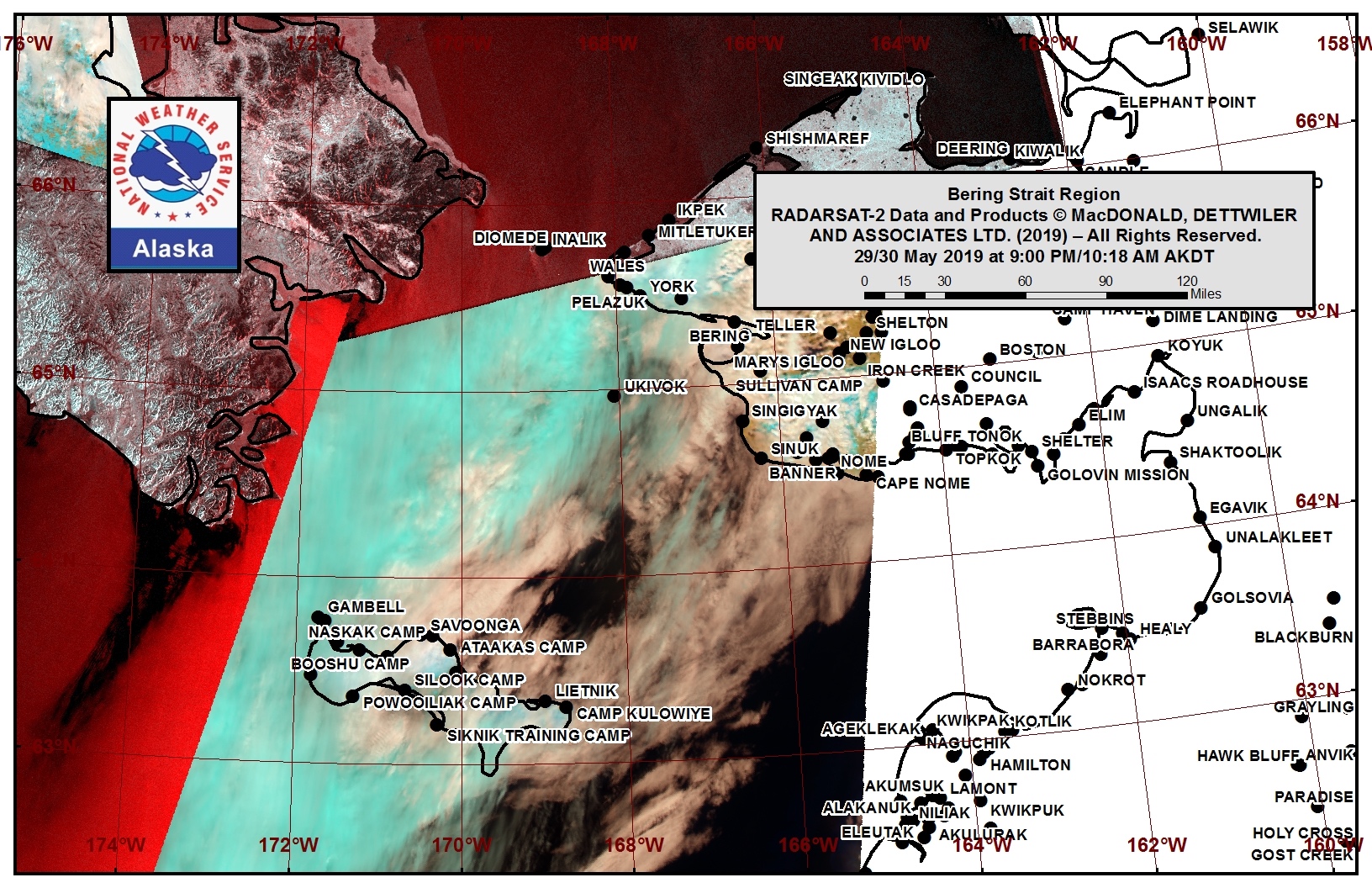 Observations and Comments
Observations of Sea Ice Development
Observations from Port Clarence and Brevig Mission
31 May 2019 – Marcus Barr
Strong northernly winds started yesterday and strong currents going out, we probably have no ice in our bay now. Ice in our lagoon is breaking and going out also.
Observations from Gambell
31 May 2019 – Clarence Irrigoo, Jr.
I haven't heard any boats that went out. The ice went farther north.
Observations from Wales
31 May 2019 – Robert Tokeinna, Jr.
This week and for the past month, we've been ice free with the exception of river and lagoon ice, but that has been unstable to travel on. There has been success in hunting couple boat crews went out, but unsure of amount catch. There has been all sorts of ducks and birds in the area, mostly Cranes which a sign of spring and the beginning of summer if it will warm up. For the better half of the month this month temperatures have been sticking in and around the mid to upper 20s and high as 40 degrees, but very humid temperatures and lots of cloud cover. No whaling this year due to low to insufficient levels of ice present or the instability of ice. This is the same for walrus and seal hunting, but heard that a boat or two were successful in a catch or two. Looking forward to the next season of subsistence which is upon us.