Date:
Assessment of Current Ice Conditions Relevant to Distribution and Access of Walrus
Click the name of each community below to view more frequently updated and detailed information from the National Weather Service.
Forecast Synopsis for 2–7 May 2019
Synopsis. Low pressure will persist across the southwest Bering Sea through Friday before dissipating. Another low will move northward through the eastern Bering Sea Wednesday through Saturday. Otherwise, high pressure will generally persist across the mainland.
Sea ice is generally open to very open pack ice consisting of ice cakes to medium floes from St. Lawrence Island north. The highest concentration ice is to the north and east of Savoonga where there is some close pack ice to consolidated pack ice consisting of medium to big floes.
Ice conditions consist of mainly open water in the Nome vicinity. There is an area of open pack ice approximately 12 nm offshore from Nome.
Shorefast ice extends 6 nm west of Brevig Mission, then there is an area of open water to approximately 30 nm from Brevig Mission. Beyond 30 nm west of Brevig Mission is consolidated pack ice consisting of medium to vast ice floes.
Compact pack ice extends up to 3 nm offshore. There is an area between Wales and Shishmaref of open pack ice consisting of big to vast floes just beyond the compact pack ice. Approximately 16 nm offshore from Shishmaref, there is an area of close pack ice consisting of big to giant floes. There is also an area of consolidated ice approximately 7 nm west of Wales. Otherwise there is a large area of open water offshore from Wales to Shishmaref.
Consolidated pack ice surrounds Diomede, 6 nm west and 15 nm east, and is in a band to the north and south of the island.
Forecast Discussion
Ice Forecast
As winds become more northerly at each location, sea ice will begin to drift southward. New sea ice is expected to grow, especially in areas that have had pack ice until the last week or so. The most likely locations to see new sea ice formation are surrounding St. Lawrence Island and north of the Seward Peninsula. Waters are warmer in Norton Sound so if any new sea ice grows near Nome it should be minimal.
Wind Synopsis
Southwest winds 5 to 15 kt (6 to 17 mph) on Friday, May 3rd becoming mainly southerly Saturday, May 4th. On Sunday, May 5th, winds will shift to the east and northeast 5 to 15 kt (6 to 17 mph) across the region and increase to 10 to 20 kt (12 to 23 mph) on Monday, May 6th. East to northeast winds 10 to 20 kt (12 to 23 mph) will persist through Wednesday, May 8th with the strongest winds from the Bering Strait to St. Lawrence Island. On Thursday May 9th, winds will shift back to the south and southeast 10 to 20 kt (12 to 23 mph) and continue into Friday, May 10th.
Temperature Trend
High temperatures Friday, May 3rd through Friday, May 10th will generally be in the 30's except into the lower 40's at times from Brevig Mission/Port Clarence to Nome. Low temperatures will be in the upper 20's to lower 30's Friday, May 3rd through Friday, May 10th, with coldest temperatures from the Bering Strait to St. Lawrence Island.
Daily Weather, Wind, and Temperature Updates
The National Weather Service provides twice-daily, text only updates on the weather, wind, and temperature conditions in specific geographical zones. An interactive weather map for access to other Alaskan zones can be found here: http://weather.gov/anchorage/ice
Wind maps are updated daily and can be viewed here: http://www.weather.gov/afg/SIWO_overview
Higher-resolution versions of satellite images can be viewed here: https://www.weather.gov/afg/SIWO_overview
Marine forecast for the West Coast and Arctic Coast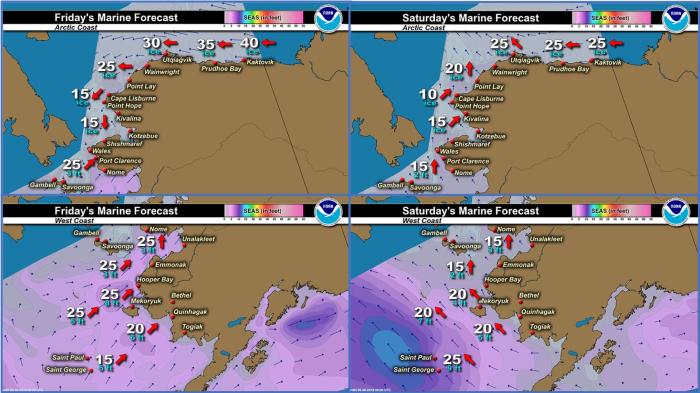 Remote Sensing Images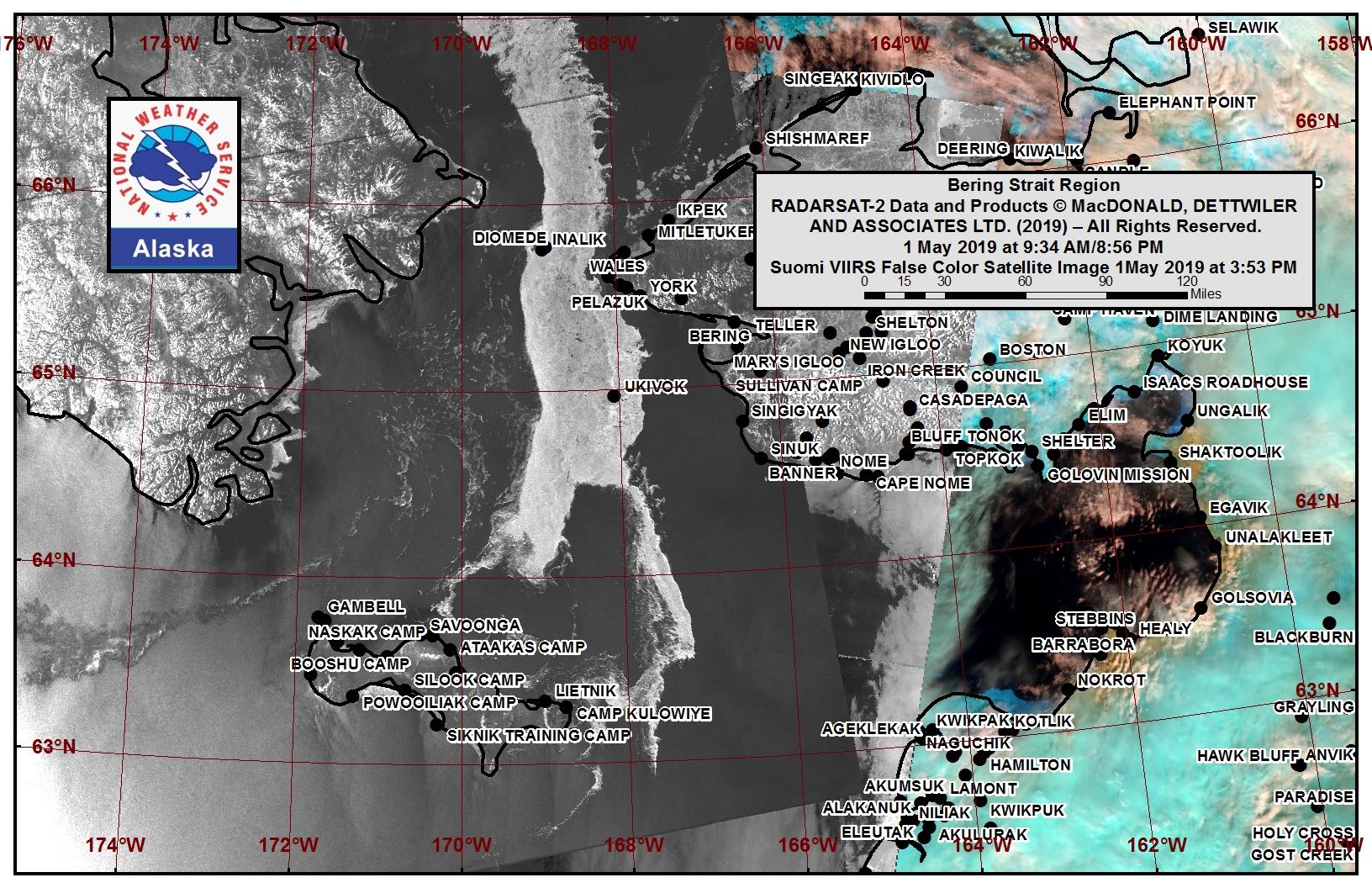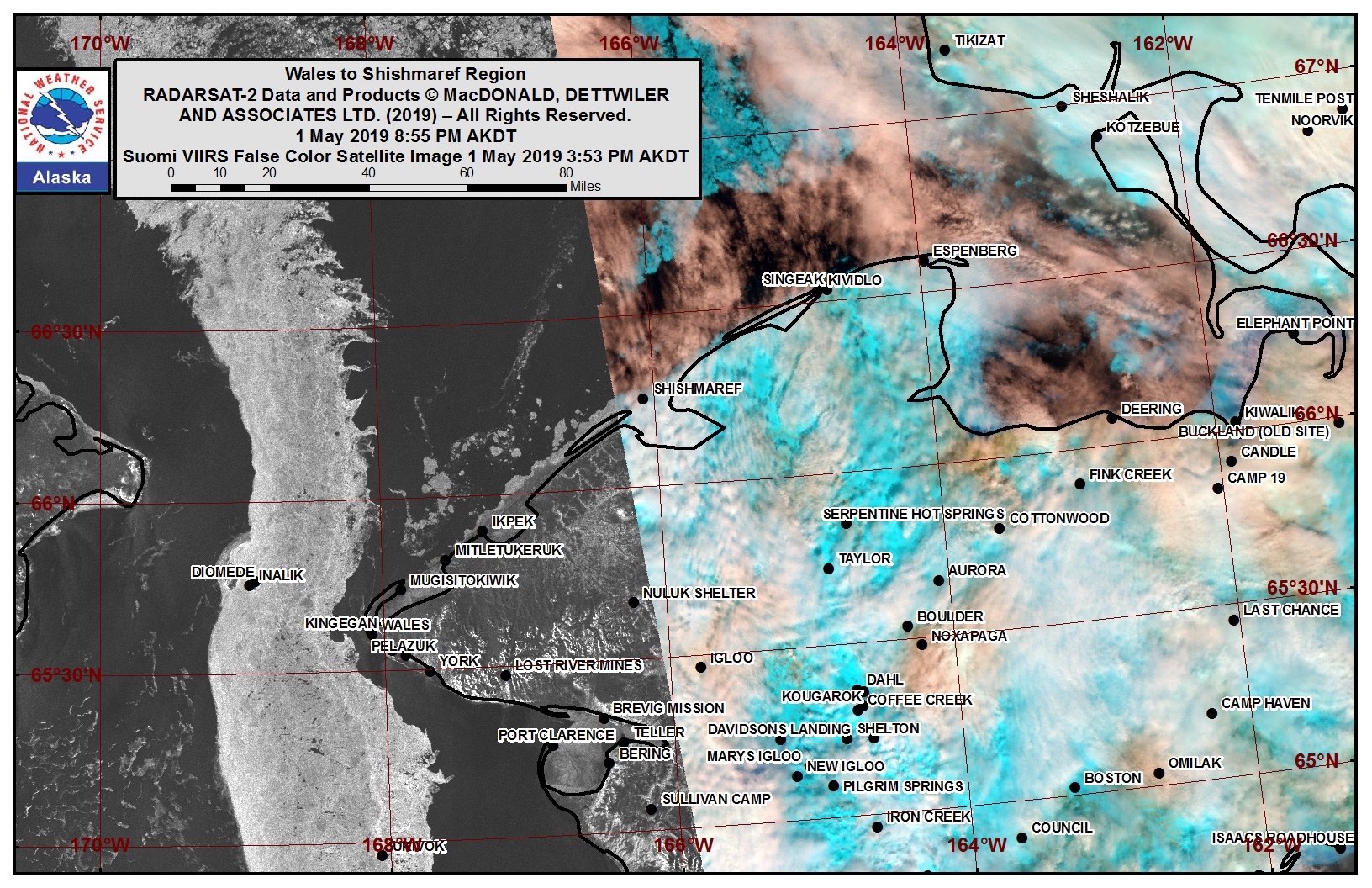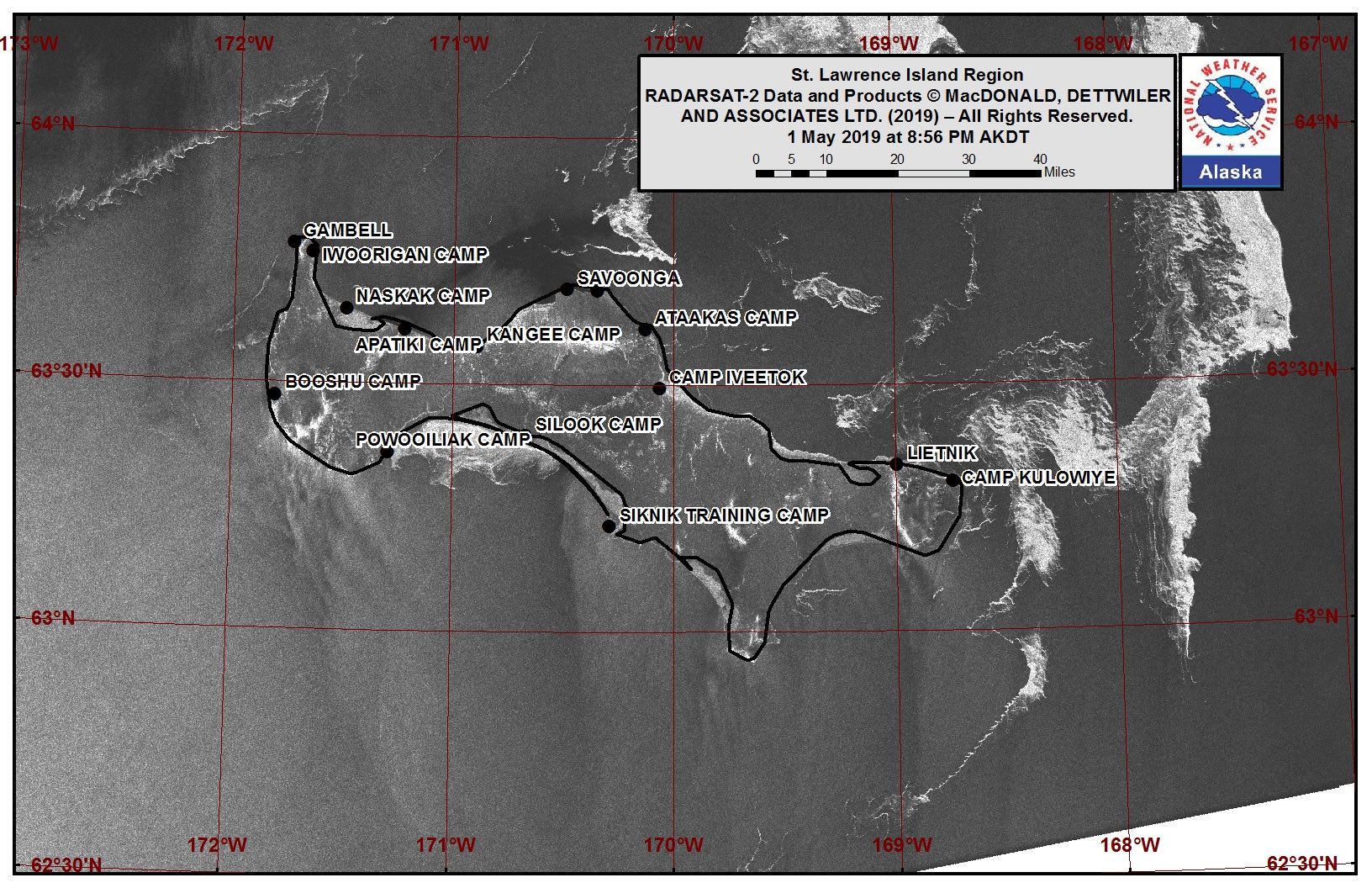 Observations and Comments
Observations of Sea Ice Development
Observations from Savoonga
2 May 2019 – Aqef Waghiyi
Went boating yesterday. Now there is open water. Yesterday the thin strips of ice were between 8-10 miles down. Ice seen yesterday was broken up ice, no older multi-year ice seen. Most of the boats got walrus yesterday, all between 8-10 miles north-northwest. No shorefast ice. Too foggy to see far today.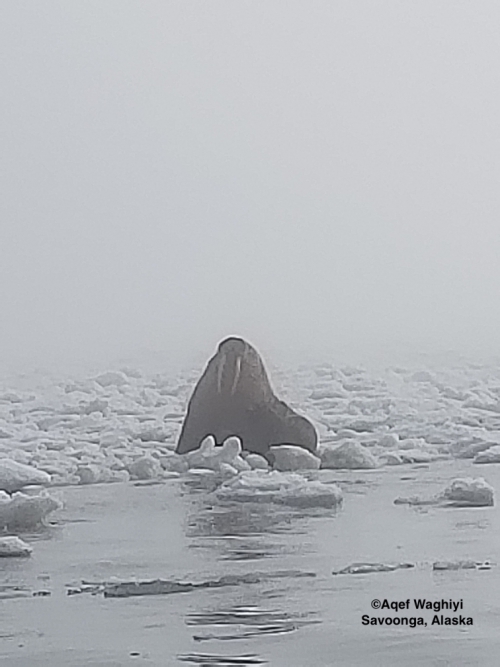 Observations from Gambell
3 May 2019 – Clarence Irrigoo, Jr.
This week been no boating everybody working on whale. Bad weather, very windy.
Observations from Port Clarence and Brevig Mission
3 May 2019 – Marcus Barr
For yesterday's update, the ice edge stayed the same about 5 miles west besides the thick slush that formed early in the week last week had melted.
Observations from Nome
3 May 2019 – Boogles Johnson
The Walrus have hit the Nome coast, this is the first time I've seen so many walrus so close to Nome. They are resting on the ice that hit our coast. It is a sight that I've not seen in my short time.
2 May 2019 – Boogles Johnson
I was pleasantly surprised that the sea ice that landed on our beaches this week. You could spot seals here and there. I honestly didnt think that we would see any more ice this week it just seemed to come out of nowhere. There's still time to catch seals & Oogruk in the Nome area. Good luck hunting!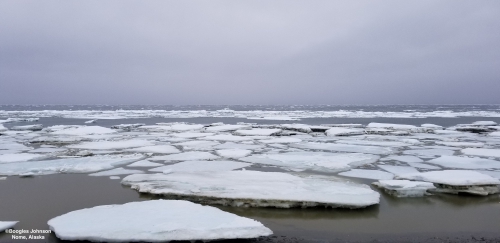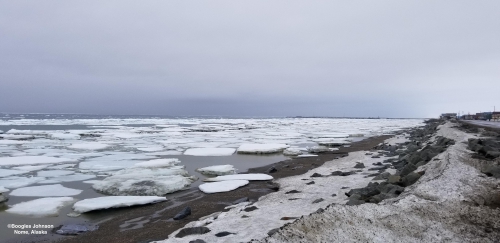 Observations from Wales
3 May 2019 – Robert Tokeinna, Jr.
This week was a warm, spring week. We've seen warm temperatures from upper 20s to mid to high 30s with dominant South winds with the occasional east to northeast winds. We have lost our super young ice and are seeing pools of water around the area circumferencing Wales with overflows and melting of snow. There was sighting of Walrus to the north and west of Wales with neighboring communities catching game. Anywhere from bowhead whales to ducks to seals were spotted in the area. In the distance there was flow ice between here and Diomede Islands and near Fairway Rock as seen in the photos included in this report.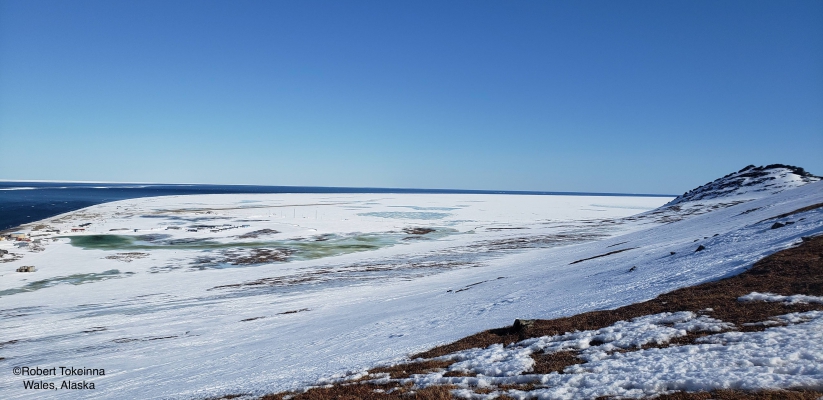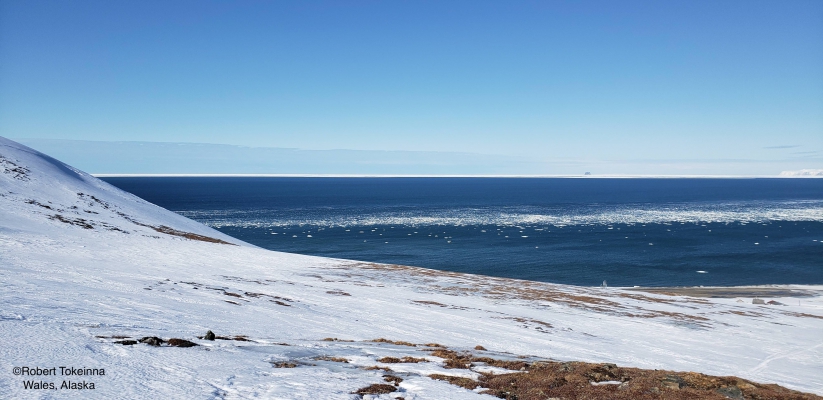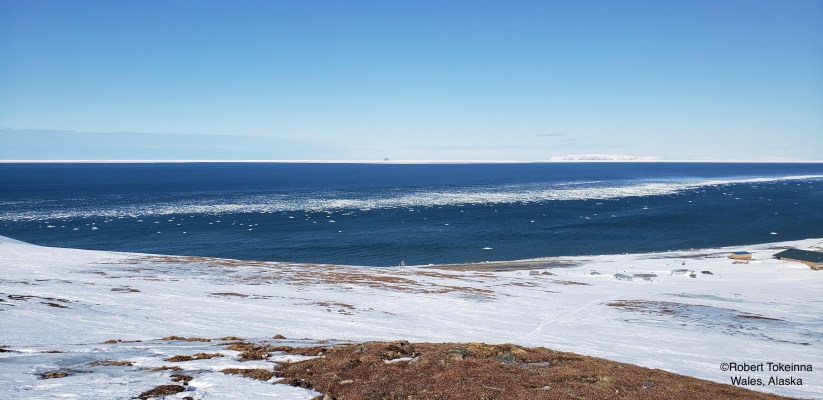 Additional Comments Provided by Local Experts and Other Contributors
3 May 2019 – Rick Thoman, Alaska Center for Climate Assessment and Policy