Date:
Assessment of Current Ice Conditions Relevant to Distribution and Access of Walrus
Click the name of each community below to view more frequently updated and detailed information from the National Weather Service.
Forecast Synopsis for 25 – 29 April 2019
Synopsis. High pressure will generally persist across the Arctic as well as the Bering Sea through Thursday. Both highs will begin to move eastward Thursday, continuing through Saturday as several lows move northward into the western Bering Sea.
Northerly winds have continued to bring the main area of consolidated pack ice consisting of big to giant floes against the northern coast. Open water exists from roughly 16 nm to the north/northwest of Gambell, and continues around to the southwest of Gambell. Along the western edge of the pack ice, some old ice has been identified on satellite imagery as well as by observers. The old ice consists of small to medium floes within the very close pack ice. From 3 to 16 nm southwest of Gambell, close pack ice exists with new and young ice as small ice cakes. Nearly all the area off the southern coast, up to 20 nm, is new grease ice, likely open pack ice with ice cakes and small floes.
Close pack ice exists off the coast of Nome. It is predominately new and young close pack ice. There is thicker ice, beginning around 6 nm south of Nome, out to around 20-30 nm southwest to southeast, comprised of medium to big floes. This ice is close pack ice.
Generally, shorefast ice exists from Brevig Mission to Port Clarence. Open water exists from Wales to 40 nm southeast of Port Clarence. The closest ice is 20 to 30 nm to the southwest in the form of close to very close pack ice with medium to vast floes.
Consolidated pack ice consisting of big to giant floes extends 60 nm north of the Wales to Shishmaref coastline. Close pack ice exists beyond that to the Cape Krusenstern to Point Hope coastline as a polynya forms and new sea ice quickly forms where there is open water. There is an area of open water from 8 nm west of Wales to about 20 nm north of Wales.
Very close pack ice extends to 8 nm from Wales coast, well into the Chukchi Sea, south to St. Lawrence Island, and 22nm west of Diomede.
Forecast Discussion
Ice Forecast
Southerly winds will melt most of the recently formed new/young ice over the next week. Expect any remaining older ice to be pushed up against south facing coastlines. The southerly wind will likely also form a polynya/open water from the Wales to Shishmaref coast and also along the north side of St. Lawrence Island. In general, expect the ice edge to retreat/melt 30-50 nm through Monday.
Wind Synopsis
From St. Lawrence Island up through Little Diomede Island, southwest wind 10 to 20 kts (11 to 23 mph) on Friday, April 26th morning will increase and shift southeast by Friday, April 26th late evening for the region. Saturday, April 27th St. Lawrence Island is expected to experience a south wind 20 to 30 kts (23 to 35 mph) in the morning diminishing later in the day to southeast 10 to 15 kts (11 to 16 mph). On Saturday, April 27th near Little Diomede, expect a south wind 25 to 35 kt (29 to 40 mph) to last through the day. For Sunday, April 28th southeast wind 15 to 25 kts ( 16 to 29 mph) will develop early in the morning and lasting through Wednesday, May 1st when the wind diminishes to southeast at 10 to 15 kt (11 to 16 mph) lasting through Friday, May 3rd.
Around Nome, south wind 5 to 15 kts (7 to 16 mph) will continue through the day and evening hours on Friday, April 26th. Saturday, April 27th southeast wind 10 to 15 kts ( 11 to 16 mph) can be expected for most of Norton Sound including Nome. Sunday, April 28th lasting until mid-day on Wednesday, May 1st, the Norton Sound area is expected to experience southeast wind 10 to 20 kts (11 to 23 mph). Late Wednesday, May 1st lasting into Friday, May 3rd, light west wind 5 to 10 kts (7 to 11 mph) is anticipated for Norton Sound and the greater Nome area.
Temperature Trend
In the region from Friday, April 26th through Monday April 29th, expect the maximum temperatures around the freezing mark of 32 with morning low temperatures in the low to mid 20s. Tuesday, April 30th expect the Nome area to near 40 for maximum temperatures with the Bering Sea locations remaining in the lower 30s. Lows in the 20s for all areas. Wednesday, May 1st through Friday, May 3rd, expect the temperature trend to remain steady for the region with highs in the 30s and lows in the 20s.
Daily Weather, Wind, and Temperature Updates
The National Weather Service provides twice-daily, text only updates on the weather, wind, and temperature conditions in specific geographical zones. An interactive weather map for access to other Alaskan zones can be found here: http://weather.gov/anchorage/ice
Wind maps (updated daily) and higher-resolution versions of satellite images can be viewed here: http://www.weather.gov/afg/SIWO_overview
Marine forecast for the West Coast and Arctic Coast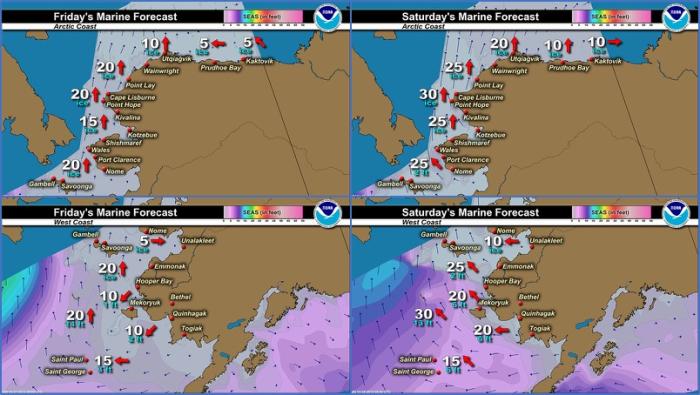 Remote Sensing Images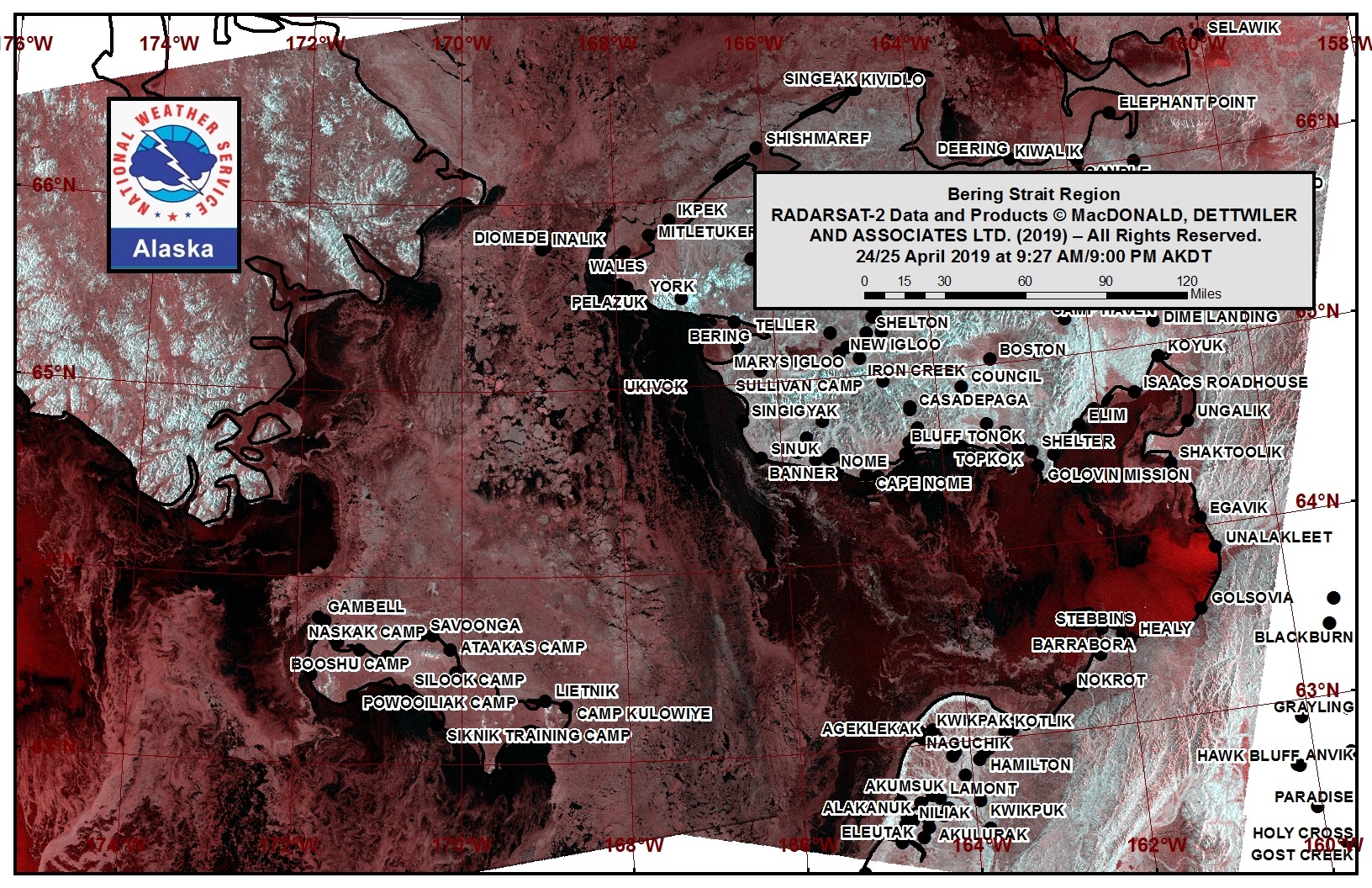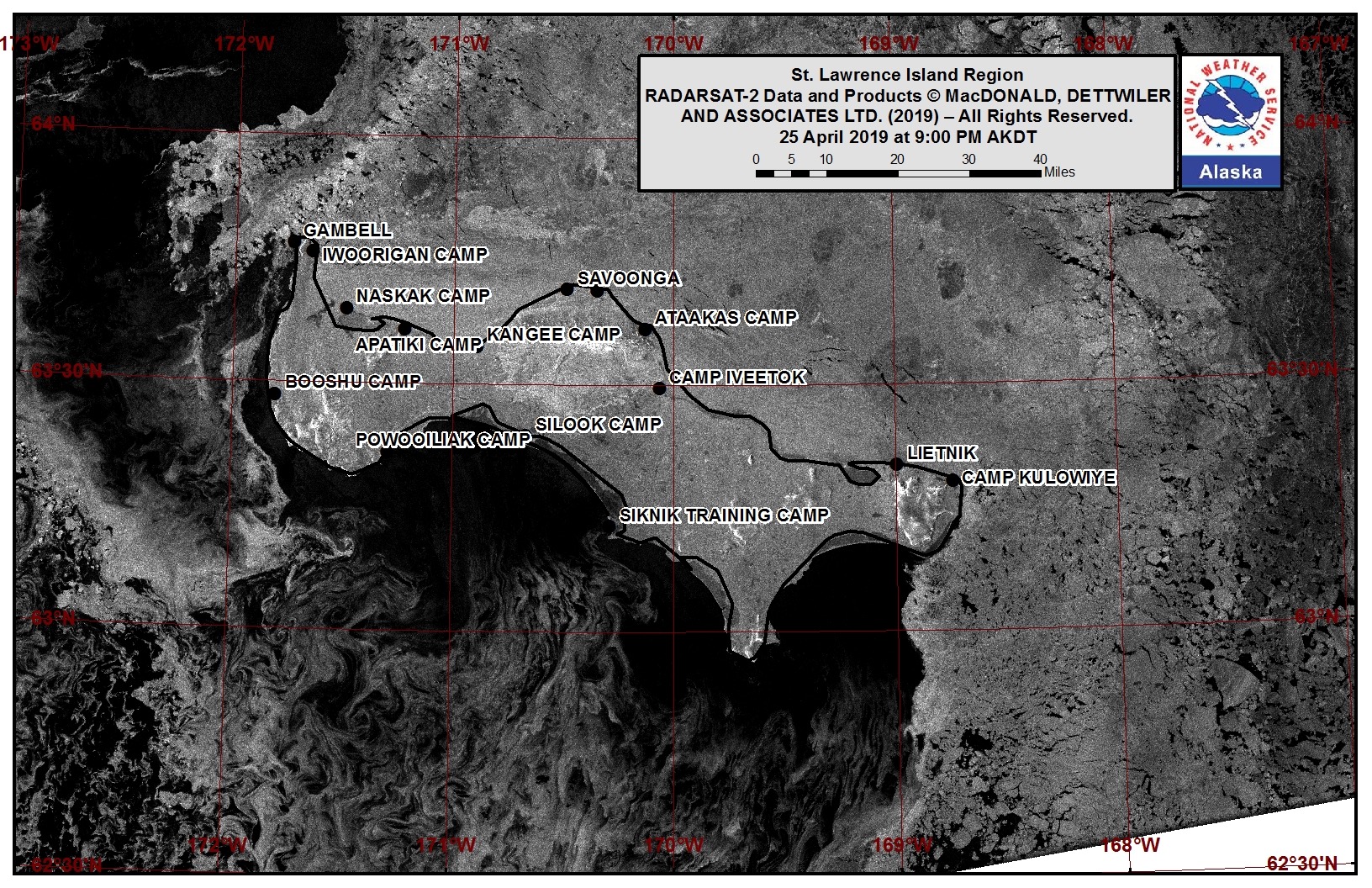 Observations and Comments
Observations of Sea Ice Development
Observations from Port Clarence and Brevig Mission
25 April 2019 – Marcus Barr
The first picture is 5 miles west of Brevig. Thick slush formed from the cold spell last Saturday and Sunday. Three boats including mine caught 3 beluga two days ago and couple of the crews caught walrus today.
The other two pictures were taken at Cape Douglas about 20 miles south of Brevig. I spotted quite a few shore fast ice more east of Douglas.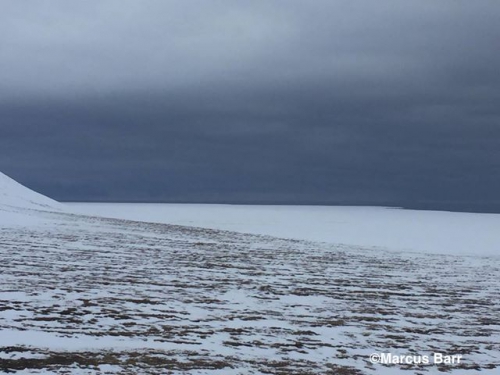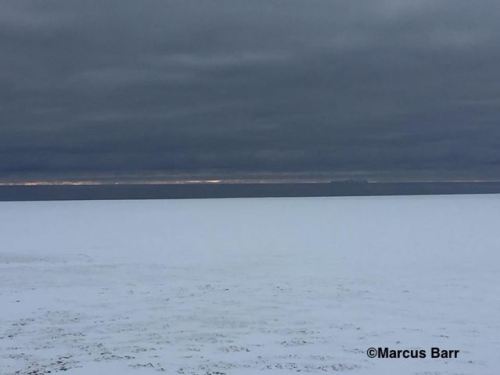 Observations from Gambell
25 April 2019 – Clarence Irrigoo, Jr.
We went out yesterday and had our harvest of walrus. Lots of bearded seals were on the ice and some of them are having their pups.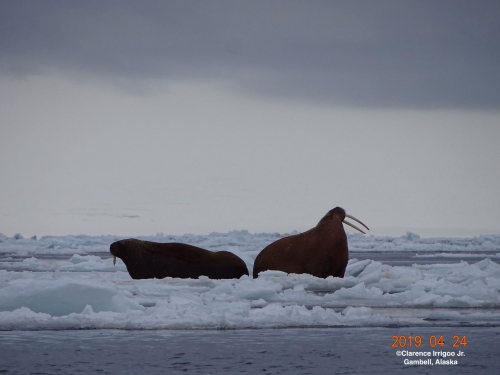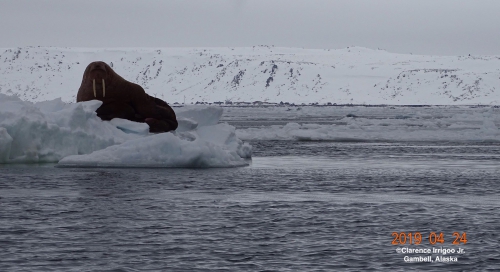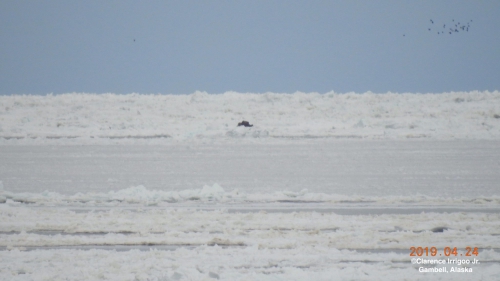 Observations from Savoonga
26 April 2019 – Aqef Waghiyi
Just returned from south side last night. No new updates. Savoonga is still closed in, iced in. Some open leads but not big enough to go boat.
Observations from Wales
26 April 2019 – Robert Tokeinna, Jr.
For this week, neighboring hunter was caught Belugas and walrus outside of Wales. Local hunting crews are digging out boats. There is a lot of flow ice lingering between Wales and Diomede Islands. There's still some young ice in front of their village. We've had predominantly Northerly winds with temperatures going low as minus single digit to upper 20s to lower 30s. As of yesterday, we've had southerly winds.
Additional Comments Provided by Local Experts and Other Contributors
Additional information from National Weather Service
22 April 2019 – Mary-Beth Schreck, NWS Alaska Sea Ice Program
New sea ice has been continuing to form south of St. Lawrence Island as well as throughout northern and western Norton Sound and west to the main ice pack this past weekend. These northerly winds will come to an end on Tuesday, and southerly winds will return by Wednesday. Much of this new sea ice is likely to quickly melt and the main ice pack will begin to drift northward once the southerly winds and warmer air return to the region.