Date:
Assessment of Current Ice Conditions Relevant to Distribution and Access of Walrus
Click the name of each community below to view more frequently updated and detailed information from the National Weather Service.
Forecast Synopsis for 11 – 15 April 2019
Synopsis. A strong low pressure will continue to move into the Bering Sea from the north Pacific. That system will weaken and move into the Gulf of Alaska on Friday, while a new system will enter the Bering on Saturday.
Northerly winds have brought the main area of very close pack ice back to the coast. The pack ice is up against the coast from Gambell through Ataakas Camp at which point there is very open pack ice through roughly Lietnik where open water begins. The very close pack ice extends at least 40 nm to the north, except for west/north of Gambell where some close pack ice exists with anywhere from small to vast floes. The open water continues around the east side and southerly sides of the island save for two isolated areas of close pack ice, one near Powooiliak Camp, the other on the far southeast tip of the island.
Open water exists from 10 to 15 nm in all directions. There is an area of open pack ice comprised of small to medium floes roughly 8 to 10 nm to the southeast.
Generally, shorefast ice exists from Brevig Mission to Port Clarence. Beyond Port Clarence, there is open water to 60 nm in all other directions.
While the area behind the barrier islands is generally shorefast ice, there are only a couple small areas beyond the barrier islands with shorefast ice extending up to 1.5nm from the coast. There is open water or very open pack brash ice up to 1 nm off shore as of April 10th. Beyond 1 nm offshore up to 22 nm off shore, close pack ice exists with medium to vast floes.
Very close pack ice with small to big floes extends from the north side of the islands up to 2 nm offshore. The remainder of the islands are surrounded by very open pack ice with brash to ice cakes. Beyond 0.5 nm to the east is open water. Beyond 2 nm to the west lies very close pack ice with medium to big floes.
Forecast Discussion
Ice Forecast
Sea ice will generally drift 30 to 50 nm south over the next week. There is some possibility for new ice growth in Kotzebue Sound, primarily during the overnight hours.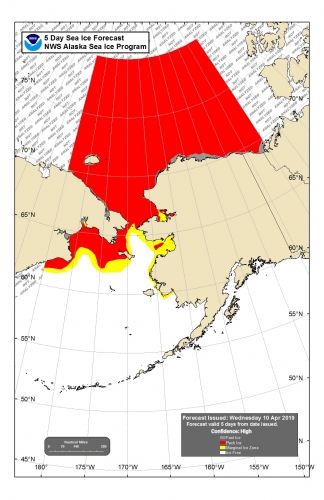 Wind Synopsis
On Friday, April 12th, northerly wind 15 to 25 kt (17 to 29 mph) with wind decreasing near Nome to 10 kt (11 mph) trending down at all locations by Saturday evening, April 13th to 5–15 kt (7 to 17 mph). On Sunday, April 14th, wind increases from a northerly direction from Little Diomede to Wales to 15 to 25 kt (17 to 29 mph) while other locations in the Bering Strait region increase on Monday, April 15th to 15 to 20 kt (17 to 23 mph). On Tuesday, April 16th wind continues 15 to 25 kt (17 to 29 mph) with the strongest wind in the Bering Strait. The trend on Wednesday, April 17th northerly wind will diminish through the day to 5 to 15 kt (7 to 17 mph). Thursday, April 18th lasting into Friday, April 19th north to northwest wind 5 to 10 kt ( 7 to 12 mph) at all locations.
Temperature Trend
Maximum temperatures will be in the 20's starting on Friday, April 12th lasting through Sunday, April 14th. The exception will be Nome with maximums in the lower 30's. Beginning on Monday, April 15th as cooler air from Siberia moves into the region, maximum temperatures will fall into the 20s for all areas continuing through to Friday, April 19th. Low temperatures will mainly be in the teens to upper 20's Friday, April 12th through Friday, April 19th, with coldest temperatures through the Bering Strait.
Daily Weather, Wind, and Temperature Updates
The National Weather Service provides twice-daily, text only updates on the weather, wind, and temperature conditions in specific geographical zones. An interactive weather map for access to other Alaskan zones can be found here: http://weather.gov/anchorage/ice
Wind maps are updated daily and can be viewed here: http://www.weather.gov/afg/SIWO_overview
Marine forecast for the West Coast and Arctic Coast
Remote Sensing Images
Observations and Comments
Observations of Sea Ice Development
Observations from Savoonga
11 April 2019 – Aqef Waghiyi
No open water. Ice looks the same as last week. No one can get out except on south and east side of the island. No one hunting this week.
Observations from Gambell
11 April 2019 – Clarence Irrigoo, Jr.
Very windy. Lots of ice floes moving. Right now it's moving south. 24, NNE 26 mph, some boats went hunting. Some boats are getting ayveqs.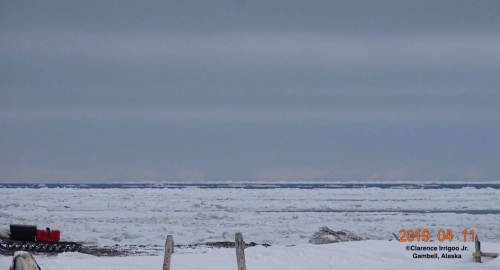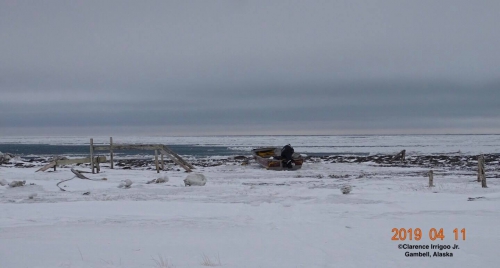 Observations from Port Clarence and Brevig Mission
12 April 2019 – Marcus Barr
Strong north winds and strong current broke up ice faster. One day of south wind brought shorefast ice back in but went back out after another strong northerly wind. More variety of sea birds started to show up. More beluga was spotted but not within the last few days. None of the locals caught walrus yet but still get bearded seals.
Observations from Wales
11 April 2019 – Robert Tokeinna, Jr.
This week some motion with the ice. The last of the shorefast ice left the land and pretty much all flow ice with the exception of what's on the beach. Local reported seeing Beluga whales out on a flight to Nome. Temperature has been lingering in the mid-teens to upper 20°F and predominantly north/northeast winds with the occasional south or east winds. Seen more snow birds and seen couple sea gulls.