Date:
Assessment of Current Ice Conditions Relevant to Distribution and Access of Walrus
Click the name of each community below to view more frequently updated and detailed information from the National Weather Service.
The waters surrounding St. Lawrence Island are sea ice free. There is some remaining open water--with ice concentration less than 1/10--approximately 40 to 50 nm northeast of Gambell.
The waters around Nome are sea ice free. The 2018 SIWO season has ended for this area as of 10 May.
Open water extends approximately 12 nm offshore from Shishmaref. Beyond that is ice free to Russian waters.
The waters around Diomede are ice free. There are areas of open water along either mainland coast.
Forecast Discussion
Ice Forecast
Waters will remain open or sea ice free.
Wind Synopsis
Northeast winds 15 to 20 kt (17 to 25 mph) on Friday, May 25th will be strongest through the Bering Strait near Diomede. Winds will shift to the north and northwest on Sunday, May 27th and decrease around 10 to 15 kt (12 to 17 mph). This wind pattern will persist through Monday, May 28th Memorial Day. Winds will then shift to the northeast 15 kt (17 mph) through the Bering Strait and northeast 10 kt (12 mph) near Shishmaref by Tuesday, May 29th. The winds will become easterly on Wednesday, May 30th, 5 to 10 kt (6 to 12 mph) and remain light but switch to southerly at 5 to 10 kt (6 to 12 mph) on Thursday, May 31st and Friday, June 1st.
Temperature Trend
High temperatures Friday, May 25th will start out cooler with lower to mid 30's then steadily increase to mid 30's through the holiday weekend through Monday, May 28th. Temperatures will continue to increase from Tuesday, May 29th through Friday, June 1st with highs in the mid 30's along the Bering Strait to lower 40's near Shishmaref. Overnight lows around 30 Friday, May 25th through Tuesday, May 29th and gradual increase from mid 30s Wednesday, May 30th through Friday, June 1st. The warmest temperatures will be along the Seward Peninsula.
Daily Weather, Wind, and Temperature Updates
The National Weather Service provides twice-daily, text only updates on the weather, wind, and temperature conditions in specific geographical zones. An interactive weather map for access to other Alaskan zones can be found here: http://weather.gov/anchorage/ice
Wind maps are updated daily and can be viewed here: http://www.weather.gov/afg/SIWO_overview
Marine forecast for the West Coast and Arctic Coast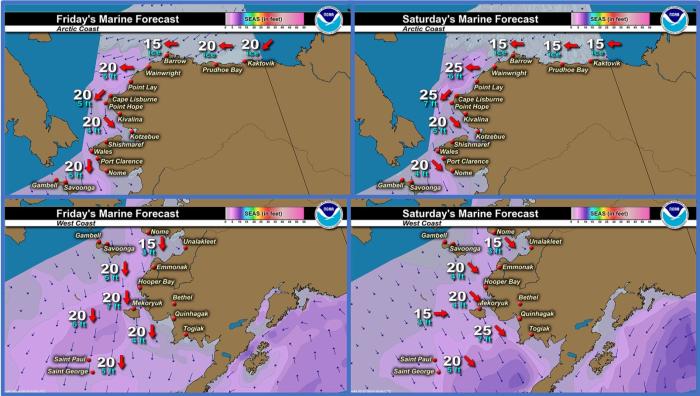 Remote Sensing Images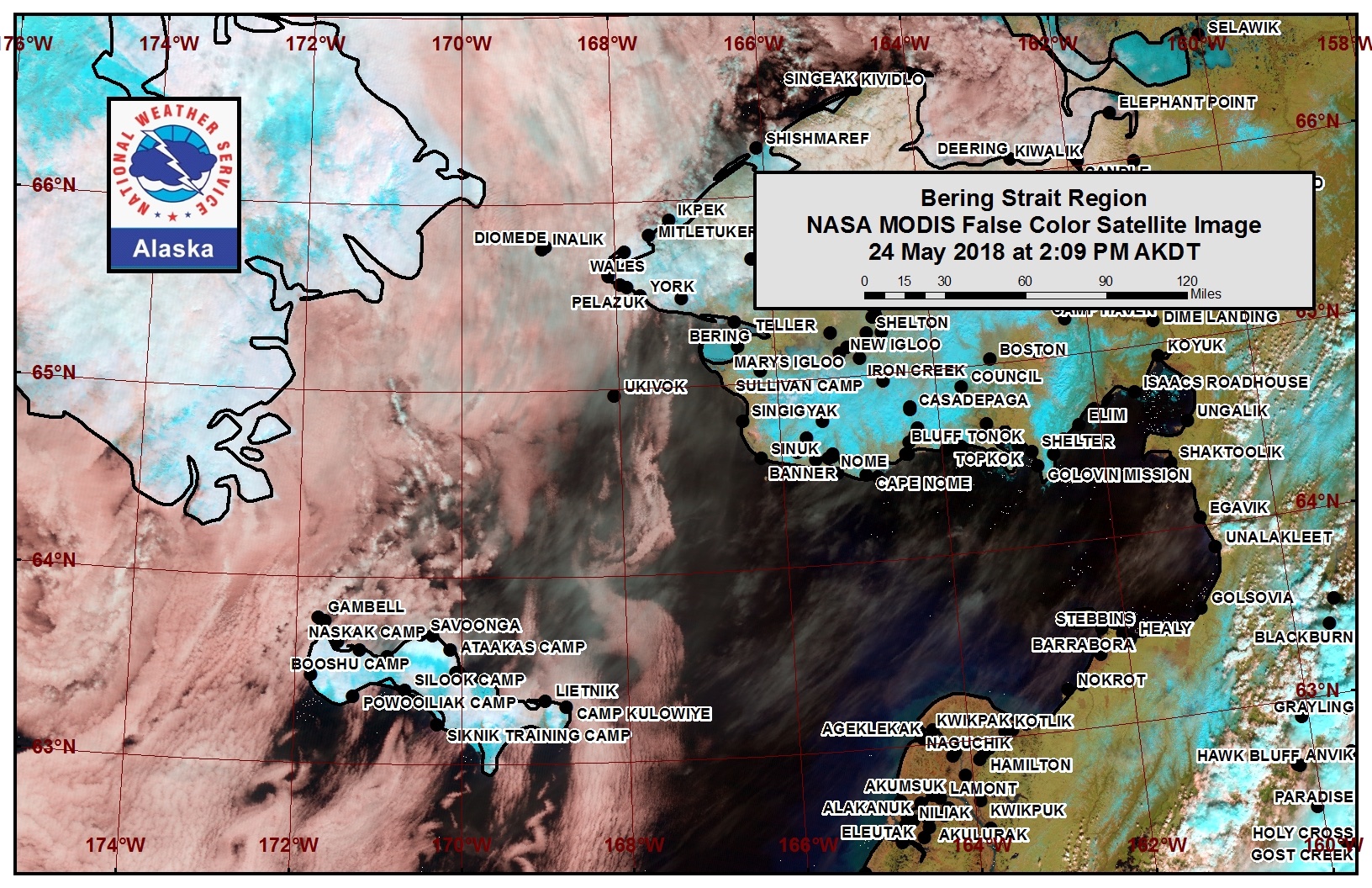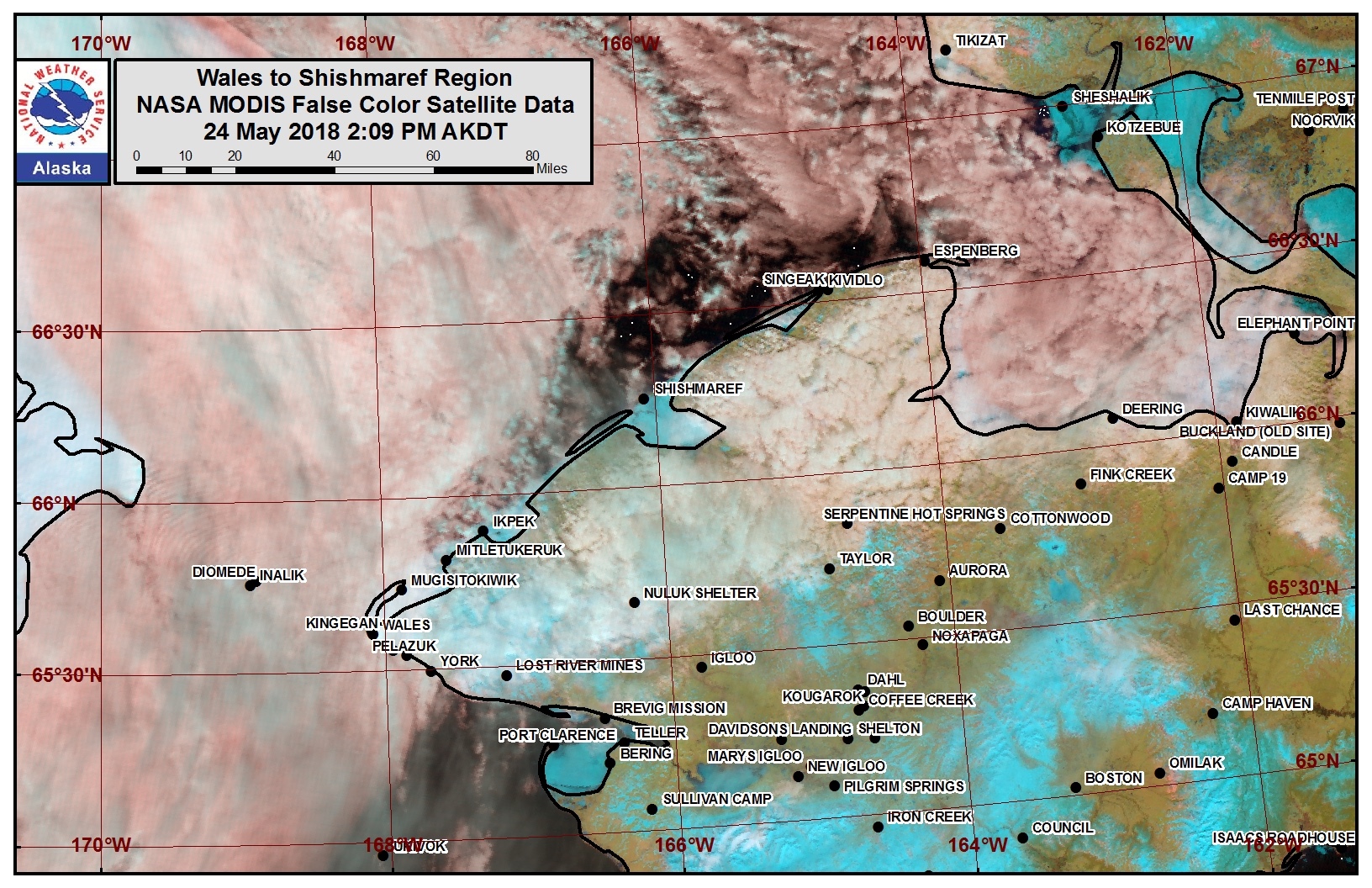 Observations and Comments
Observations of Sea Ice Development
Observations from Wales
24 May 2018 – Robert Tokeinna, Jr.
This week local hunters were successful catching more walrus and bearded seals. I have noticed Snow Geese flying over the village and some swallows were appearing too. Ice has been going up, down, back, and forth to and from the village. Lots of water drained from the local creek and neighboring ponds and streams. Some locals started to collect icicles for a clean water source since the local water source has been compromised by wash out and ground water runoff. This ends my report.
Observations from Shishmaref
24 May 2018 – Curtis Nayokpuk
Nothing to report this week but sea calm today with light snow flurries. Hunting limited or done for the year with no ice except along beach to Wales. Recent 8 ft. plus seas with north wind kept crews waiting for "storm" to subside but looks like any ice from past week (25 mi. NW) where hunters caught last of season Bearded Seals has broken up and melted with rough seas. Have a good summer fishing.
Observations from Gambell
25 May 2018 – Clarence Irrigoo, Jr.
Very windy this week and people haven't seen any walrus.