Date:
Assessment of Current Ice Conditions Relevant to Distribution and Access of Walrus
Click the name of each community below to view more frequently updated and detailed information from the National Weather Service.
The only sea ice remaining around St. Lawrence Island is near Naskak Camp and along the coast near Camp Iveetok. Otherwise, waters to 30 nm away from the island are sea ice free. This will be the last update for the 2018 SIWO season for this area.
The only sea ice remaining near Nome is very open pack ice with brash ice 20 nm west of Nome. This area is otherwise sea ice free. This will be the last update for the 2018 SIWO season for this area.
Shorefast ice extends approximately 0.5 to 1 nm northwest of the coast from Wales to Shishmaref. Close pack ice with big to vast floes remains offshore from Wales to 30 nm northeast of Wales, with open water up to 30 nm offshore from Shishmaref.
Diomede Island is surrounded by open water.
Forecast Discussion
Ice Forecast
Sea ice will continue to gradually melt out, with sea ice free conditions expected within the next week around St. Lawrence Island, the Nome area, and Diomede area. For the Wales to Shishmaref coast, the close pack ice is expected to drift southwestward and decrease in concentration during the next week.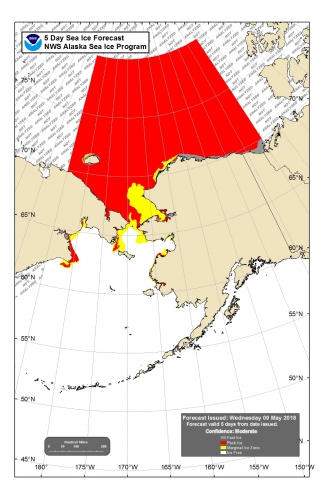 Wind Synopsis
Northerly winds 15 to 25 kt (17 to 29 mph) on Friday, May 11th from St. Lawrence Island through the Bering Strait will diminish to 10 to 20 kt (12 to 23 mph) on Saturday, May 12th. Variable winds around 10 kt (12 mph) near Nome on Friday, May 11th will shift to southeast 15 kt (18 mph) on Saturday, May 12th. Winds will become variable to light northerly 5 to 15 kt (6 to 12 mph) on Monday, May 14th across the region and continue through Friday, May 18th.
Temperature Trend
High temperatures Friday, May 11th through Friday, May 18th will be in the mid to upper 30's, except in the lower 40's near Nome. Expect overnight lows in the upper 20's to upper 30's with the warmest temperatures near Nome.
Daily Weather, Wind, and Temperature Updates
The National Weather Service provides twice-daily, text only updates on the weather, wind, and temperature conditions in specific geographical zones. An interactive weather map for access to other Alaskan zones can be found here: http://weather.gov/anchorage/ice
Wind maps are updated daily and can be viewed here: http://www.weather.gov/afg/SIWO_overview
Marine forecast for the West Coast and Arctic Coast
Remote Sensing Images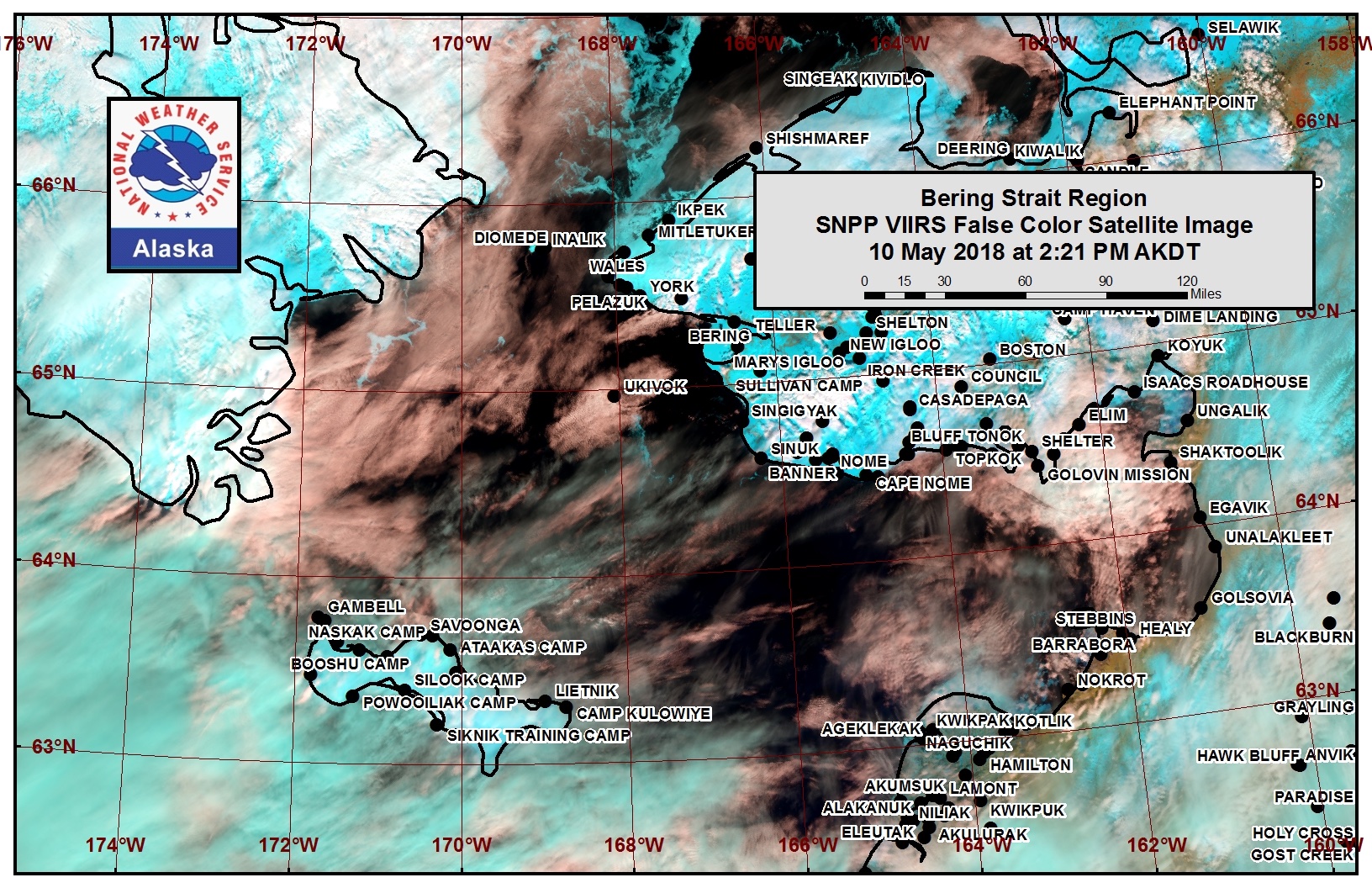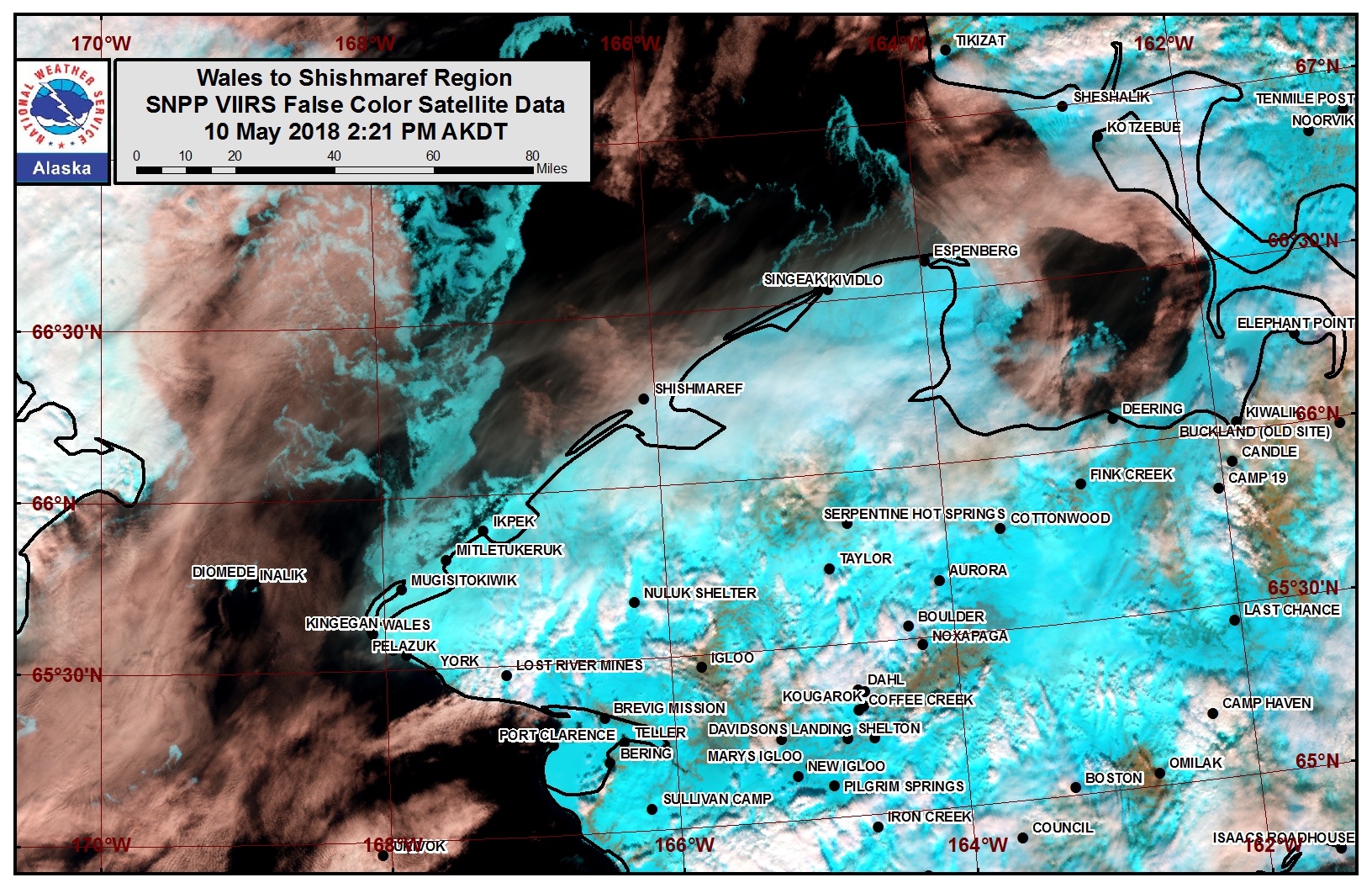 Observations and Comments
Observations of Sea Ice Development
Observations from Nome
12 May 2018 – Boogles Johnson
We went out yesterday to the location on the map and didn't see any ice as far as the eye can see with binoculars. We did find walrus swimming. They are migrating west and north from the Norton Sound to their summer grounds and having to sleep in the water. This is the first time I've ever seen walrus sleep in the open water. We thought the walrus were a boat since they were sleeping in a group and can be seen from a great distance. Hunters that have made it out have been successful this year.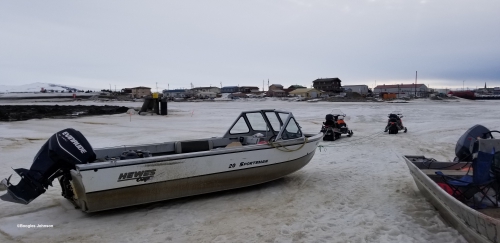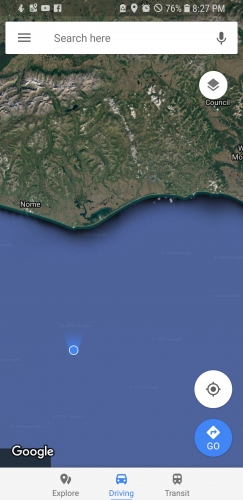 Observations from Wales
11 May 2018 – Robert Tokeinna, Jr.
This week around Wales, I see the cranes have arrived meaning spring is here to stay. Local heavy equipment crew has been removing snow from roadway. There were couple local hunters who caught some common seals and heard of walrus be caught also. Currently, we lost our shorefast ice in front of the village but there is still some intact to the beach couple miles up the coast. Locals have been utilizing icicles for water since the thaw process has started. It has been raining past couple days and before that it had snowed a couple inches. This week it started out cool, breezy and cold but now warm and foggy with temperatures from lower teens to mid 30's to end the week. Here ends my report.
Observations from Shishmaref
11 May 2018 – Curtis Nayokpuk
Fog and 3 ft. chop with north wind at 14 this morning. Crews have been hunting 25 to 30 miles east or west in remaining pack ice now with ocean ice free in front of Shishmaref. Poor weather and lack of close pack ice resulting in below average Bearded Seals and handful of Walrus brought in. With good weather the birds have shown up and are in full spring migration.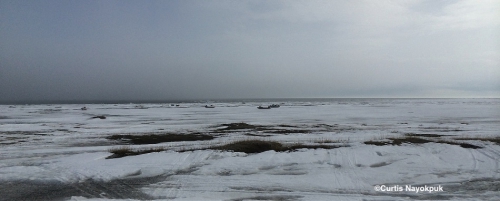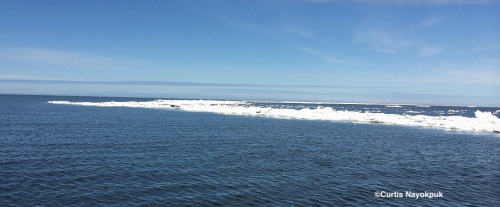 Update: As of 3 PM, sea building to 6 ft. and all crews safely home.
Observations from Gambell
11 May 2018 – Clarence Irrigoo, Jr.
Yesterday some boats went out and got some walrus and bearded seal too foggy to take pictures. A little ice is still around toward west.
Observations from Savoonga
11 May 2018 – Aqef Waghiyi
Went boating yesterday. No ice. Saw a few bearded seals, no walrus, barely any murres too. Went about 20 miles east. There were seals alright but couldn't get them in the fog. Last week of work for the walrus monitors (USFWS).