Date:
Assessment of Current Ice Conditions Relevant to Distribution and Access of Walrus
Click the name of each community below to view more frequently updated and detailed information from the National Weather Service.
Big to giant floes of open pack ice are present off the north-central coast of St. Lawrence Island, extending approximately 1 to 20 nm offshore between Savoonga and Ataakas Camp. The waters surrounding the rest of the island are sea ice free.
Giant floes of very close pack ice extend 1 to 1.5 nm offshore near Nome. Beyond that is 1-3 nm of close brash ice, followed by open water and sea ice free conditions beyond that.
Shorefast ice extends approximately 0.5 to 1 nm northwest of the coast from Wales to Shishmaref. Big to vast floes of open to close pack ice are present up to 25 nm offshore beyond the shorefast ice, with open water beyond that.
Diomede Island is surrounded by open water.
Forecast Discussion
Ice Forecast
Sea ice in the southern Chukchi Sea is expected to be pushed south towards the Bering Strait region by northerly winds through Monday, May 7. The wind and wave action during this time is expected to cause more melting of the remaining pack ice in the northern Bering Sea. The remaining shorefast and close pack ice along the coast from Norton Sound to the Bering Strait will also continue to deteriorate.
Wind Synopsis
Brisk northerly winds 20 to 35 kt (23 to 40 mph) on Friday, May 4th will diminish to 15 to 25 kt (17 to 29 mph) on Saturday, May 5th. The strongest winds will be at St. Lawrence Island and through the Bering Strait. Winds will become mainly variable 5 to 15 kt (6 to 12 mph) on Sunday, May 6th. Brisk east to northeast winds 15 to 30 kt (17 to 35 mph) will develop on Monday, May 7th and persist through Friday, May 11th. The strongest winds will be at St. Lawrence Island.
Temperature Trend
Temperatures from Friday, May 4th through Monday, May 7th will remain relatively steady, with afternoon highs in the lower 30s and overnight lows in the 20s. Temperatures will warm slightly on Tuesday, May 8th with highs in the mid 30s to around 40, and lows in the lower 30s through Friday, May 11th.
Daily Weather, Wind, and Temperature Updates
The National Weather Service provides twice-daily, text only updates on the weather, wind, and temperature conditions in specific geographical zones. An interactive weather map for access to other Alaskan zones can be found here: http://weather.gov/anchorage/ice
Wind maps are updated daily and can be viewed here: http://www.weather.gov/afg/SIWO_overview
Marine forecast for the West Coast and Arctic Coast
Remote Sensing Images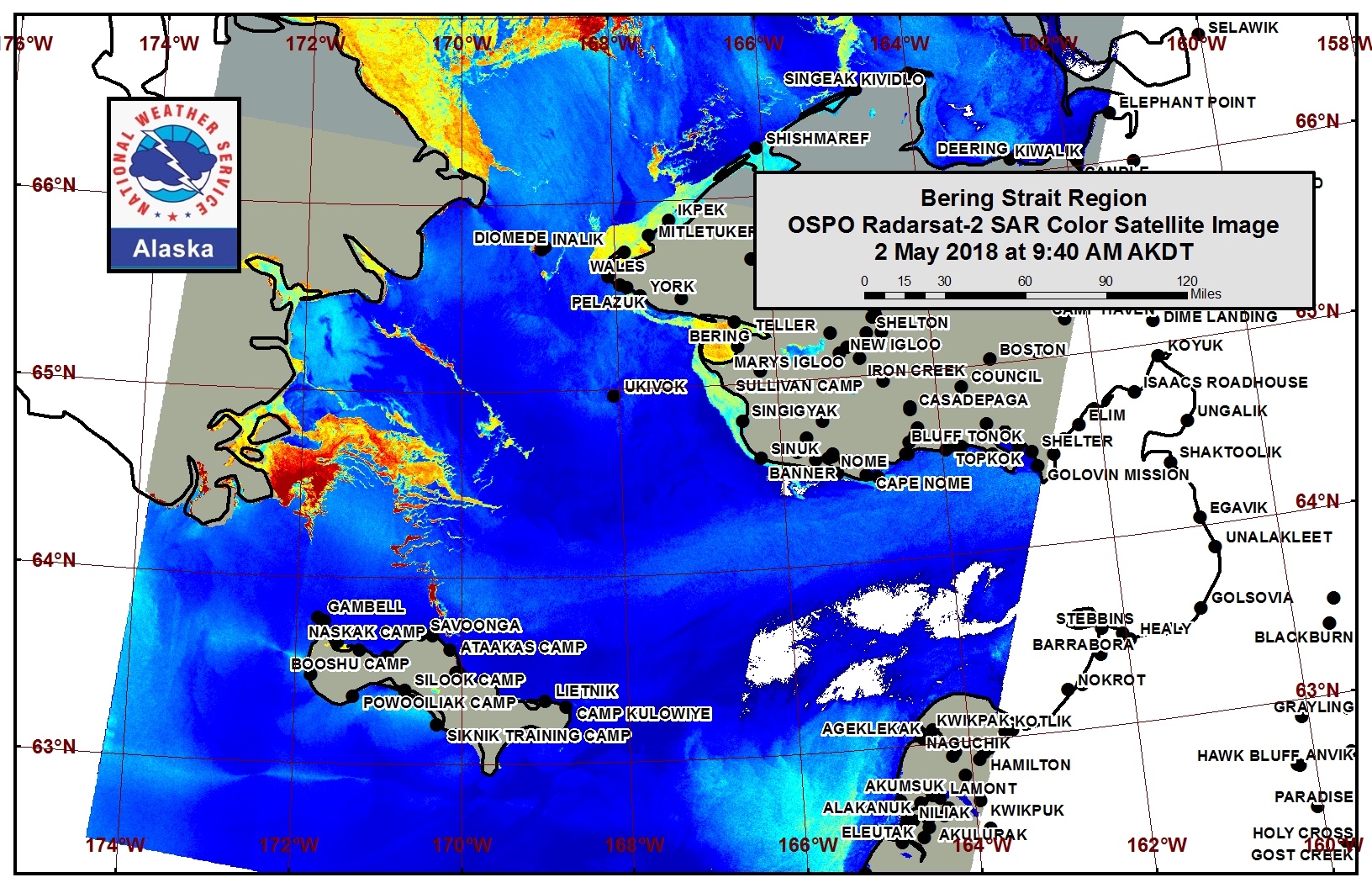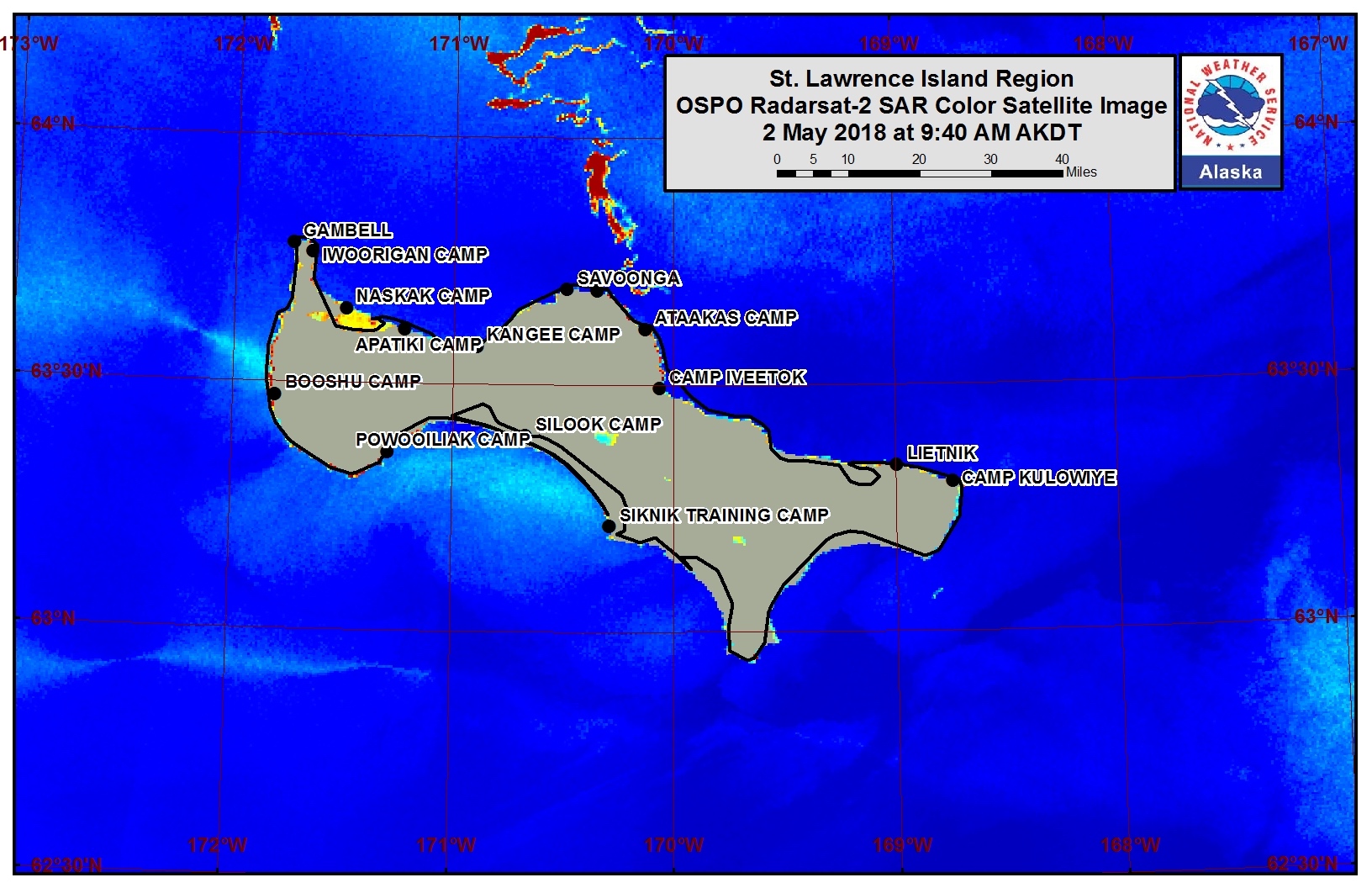 Observations and Comments
Observations of Sea Ice Development
Observations from Gambell
4 May 2018 – Clarence Irrigoo, Jr.
Some ice showed up on 28 April 18. I don't know how boats went out, most of them got some walrus. Couple days ago two boats went out got stuck at Savoonga because the weather over here at Gambell picked up.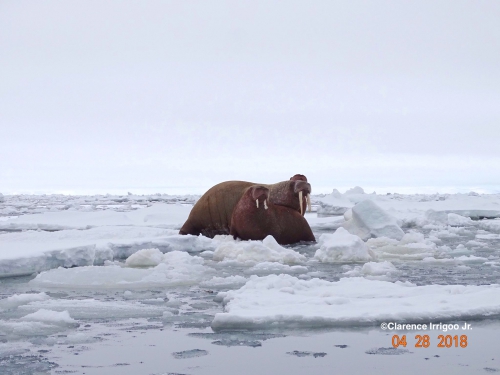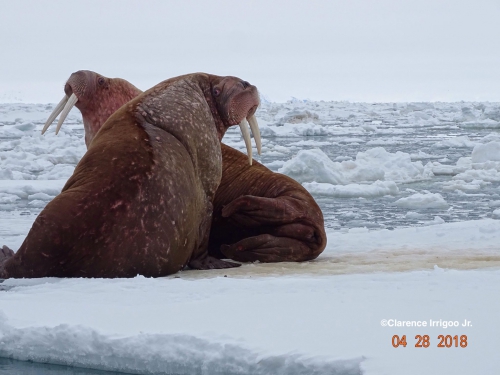 Observations from Savoonga
3 May 2018 – Aqef Waghiyi
Yesterday people went out boating. They got walrus 25 miles out to the northwest. Some people got them closer, about 12 miles out northeast. There was ice, but not too good. People got qasiqaq and mukluk too.
Observations from Brevig Mission
2 May 2018 – Marcus Barr
May 1st 2018, Shorefast ice blocked in the launch area from WSW winds. Ice breakup is getting closer to town which is about 8 miles west of Brevig.

Observations from Nome
4 May 2018 – Boogles Johnson
As of last night, the ice went out from the Nome coast due to the high north winds we are having. The seas have been rough breaking up the ice. Our spring hunting is in full swing. A few boats have gotten walrus so far this spring and the window to get them is closing fast since the ice is traveling south out to where there's current.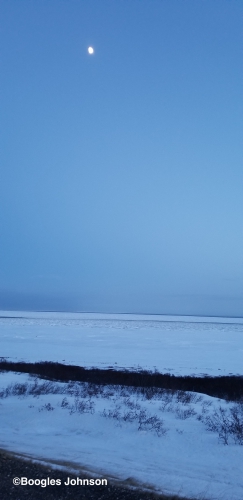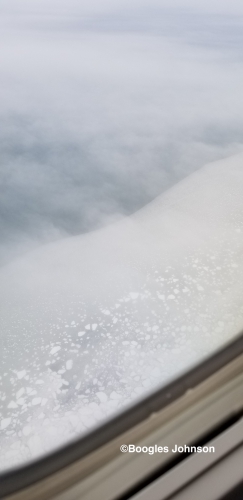 Observations from Wales
4 May 2018 – Robert Tokeinna, Jr.
This week we lost our shorefast ice. Really super early. My educated guess was hoping for the middle of the month. Photo 1 was courtesy of Octaivia Wilson, my fiancée, flew in on Friday, April 27th. You can see the difference between the other pictures. Weather was decent, windy and a little bit of snow. Handful of local hunters were hunting from the shore ice and couple successful catch of seals were made. Local residents spot boats out in the water with report of walrus spotted on ice. This ends my report.
Observations from Diomede
4 May 2018 – Opik Ahkinga
On May 2nd, herds of walrus and calves drifted north with the ice floe over the International Dateline. Locals stood on the helipad to watch them pass. At 8:45PM, one boat went out to hunt until late in the night. By early morning the ice had passed and it's open ocean again. I was told by one of the crewman that 5 were brought back. The boat crew divided their share; This will feed their families well. We are grateful for this hunt and hope to see another ice floe.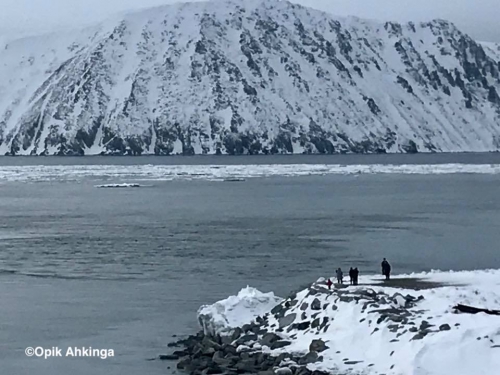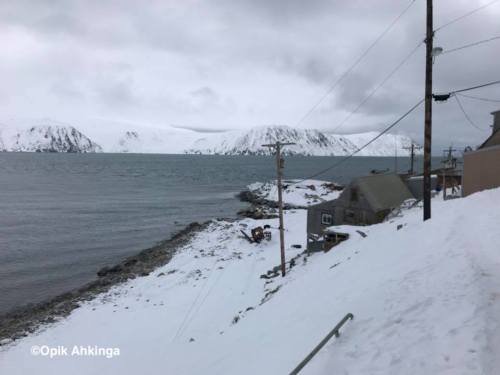 Observations from Shishmaref
4 May 2018 – Curtis Nayokpuk
April 29
Crews rush out to take advantage of light winds turning to glass calm waters by sunset. Few boats that made it to scattered ice 25 miles along coast toward Wales caught on average three Bearded Seals per boat before dark. Some crews stayed out till morning but returned by 9 AM due to wind and swell from West and mist/ fog hampering hunting. No Walrus reported seen by crews.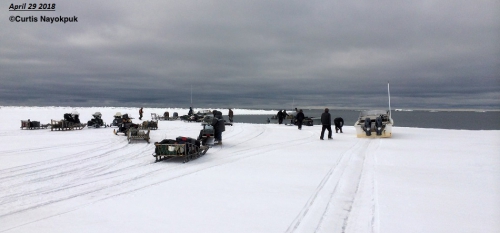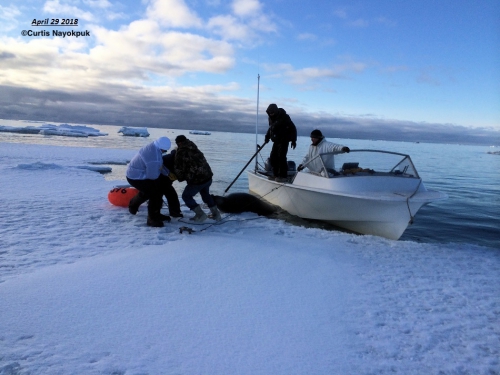 May 2
Crews move boats to beach from wave / swell breaking up shore fast ice at launch area and tide surge and overflow / flooding along beach.

May 4
Crews waiting for fractured ice to open up along coast and sea building today with forecast Northeast winds to gust 30-40 next few days will have wave and swell holding loose ice close in blocking access to open sea.