Date:
Assessment of Current Ice Conditions Relevant to Distribution and Access of Walrus
Click the name of each community below to view more frequently updated and detailed information from the National Weather Service.
There is a giant flow of close pack ice off the northwest coast of the island, extending from 3 nm east of Gambell to 17nm east of Gambell. There is also open pack ice extending up to 5 nm offshore from the north-central coast of the island, beginning approximately 12 nm east of Savoonga. Otherwise, open water surrounds the remainder of St. Lawrence Island.
Very open pack ice with medium to vast floes extends up to 6 nm offshore from Nome, then close pack ice comprised of vast to giant floes extends up to 30 nm offshore beyond that.
Shorefast ice extends up to 1.5 nm northwest of the coast from Wales to Shishmaref. Beyond the shorefast ice is 20 to 30 nm of open pack ice, then very close pack ice with vast to giant floes beyond that.
Very open pack ice surrounds Diomede Island with medium to big floes.
Forecast Discussion
Ice Forecast
Sea ice will retreat northward through Saturday, April 28th, then begin to move back to the south through Tuesday, May 1. The wind and wave action during this time is expected to cause more ice melting, especially in the area between St. Lawrence Island and the Bering Strait.
Wind Synopsis
Light south to southwest winds of 5 to 10 kt (6 to 12 mph) on Friday, April 27th will become variable and remain light on Saturday, April 28th. Winds will become northerly 10 to 20 kt (12 to 23 mph) on Sunday, April 29th, strongest at St. Lawrence Island. Northerly winds will diminish to 5 to 15 kt (6 to 17 mph) by Tuesday, May 1st. Generally light northerly winds 5 to 10 kt (6 to 12 mph) or variable winds will persist through Friday, May 4th.
Temperature Trend
Temperatures from Friday, April 27th through Friday, May 4th will remain relatively steady, with afternoon highs in the 30s and overnight lows in the 20s.
Daily Weather, Wind, and Temperature Updates
The National Weather Service provides twice-daily, text only updates on the weather, wind, and temperature conditions in specific geographical zones. An interactive weather map for access to other Alaskan zones can be found here: http://weather.gov/anchorage/ice
Wind maps are updated daily and can be viewed here: http://www.weather.gov/afg/SIWO_overview
Marine forecast for the West Coast and Arctic Coast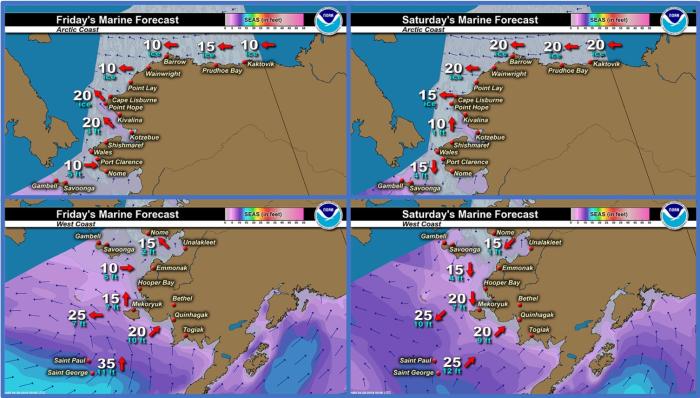 Remote Sensing Images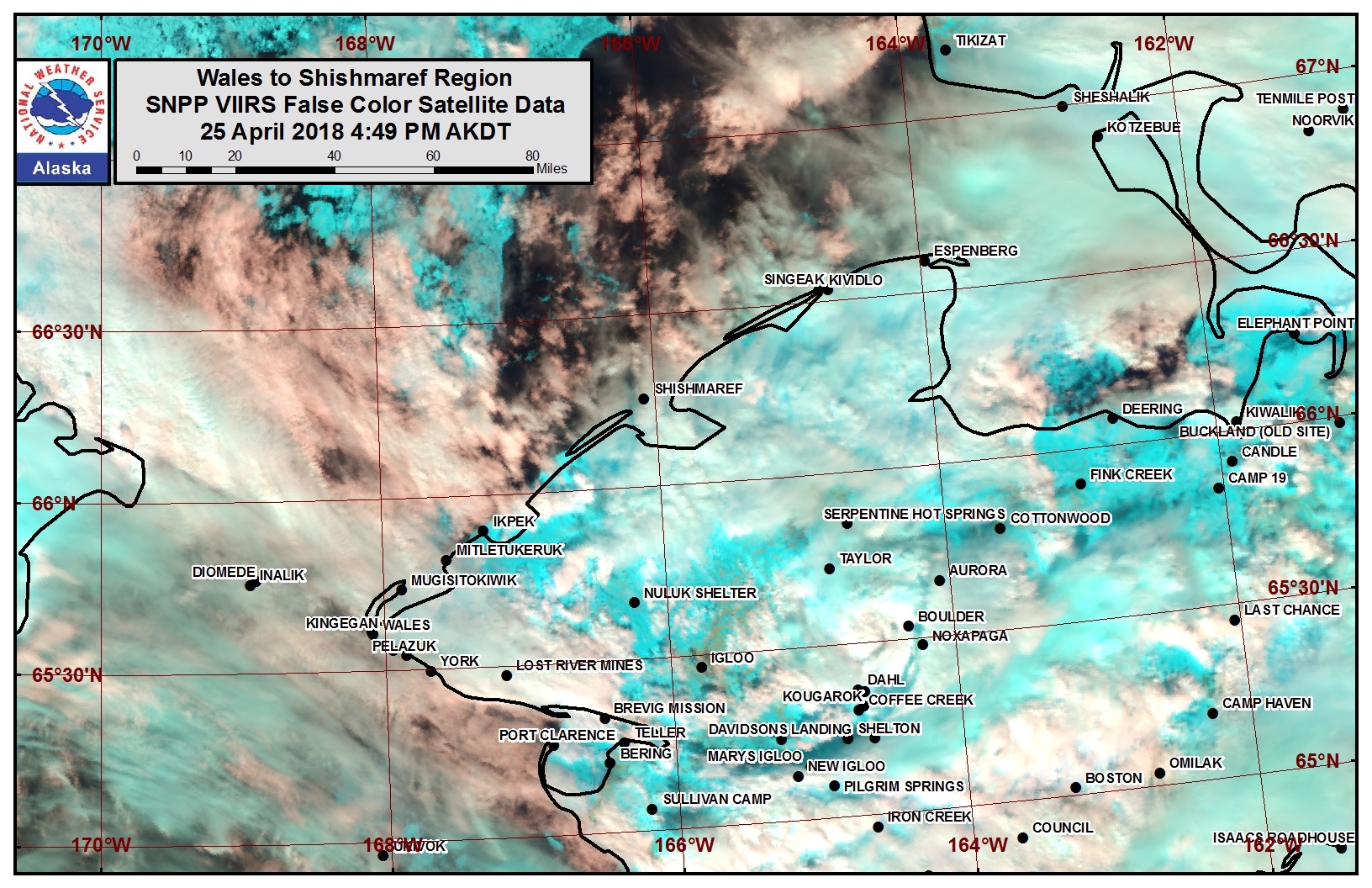 Observations and Comments
Observations of Sea Ice Development
Observations from Diomede
27 April 2018 – Opik Ahkinga
Small ice chunks and floating ice with walrus pass north through the Strait today. Several walrus herds and seals were sited. Boat hunting was not possible.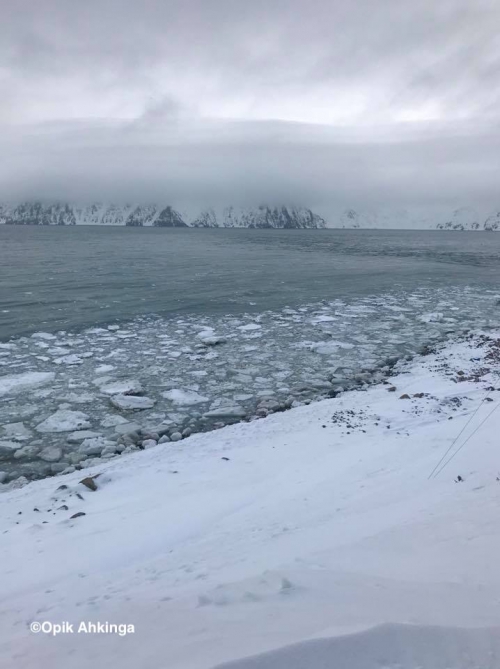 Observations from Wales
27 April 2018 – Robert Tokeinna, Jr.
This week I had the opportunity to fly from Shishmaref to Wales with decent pictures of the ice. This week we continue to lose more ice in front of the village and its surroundings. From the air, the ice seems young and thin with 3 month freeze to 1 month freeze. You can differentiate between the two in the pictures. Neighboring communities are catching game. Wales boat crews are still digging out boats and readying their equipment. Winds were cold and brisk this past week with prevalent northeast winds and turning south as weather fronts pass from calm winds to brisk 30-40 knot winds. Temperatures remain in the 20s to teens and dipping lower with wind chill factors in. Seen number of Sea gulls and a friend in Brevig Mission sighted Cranes which for Wales means the definite spring in full action. Local crew dug out the local creek trench to alleviate excessive overflow in the low-lying areas. This ends my report.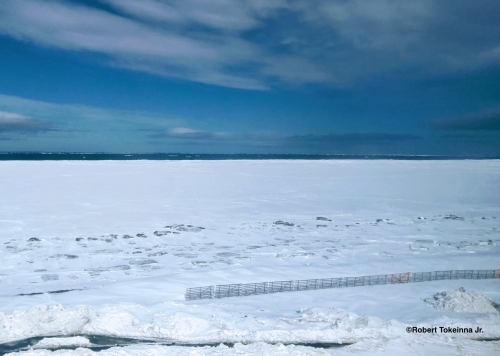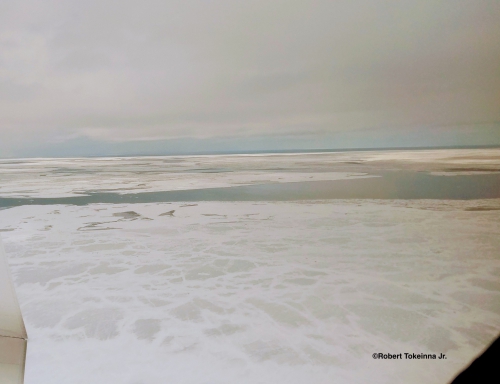 Observations from Shishmaref
27 April 2018 – Curtis Nayokpuk
As of 8 AM, light snow and east wind at 16 mph. A handful of boats ready to launch but east to southeast winds gusting to 20 plus all week keeping crews working to get hunting gear ready for forecast of light and variable winds next few days. Forecast of winds switching to north (Monday-Wed.) will shut down hunting efforts with open sea waves along northern shore. Latest satellite (Gina) pictures don't show much detail with cloud cover and from last sat. pictures from clear wx the past week shows remaining pack ice at least 30 miles to Nw.
Looking out the window forecast wx on the way with broken scattered clouds and sun out to the East.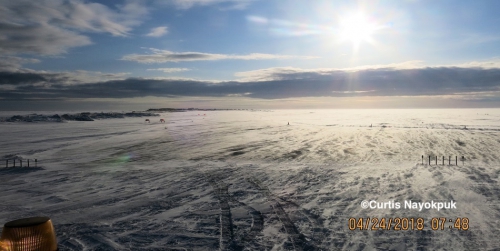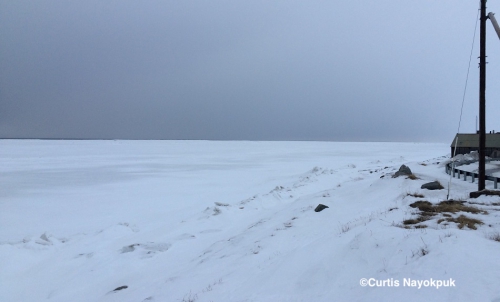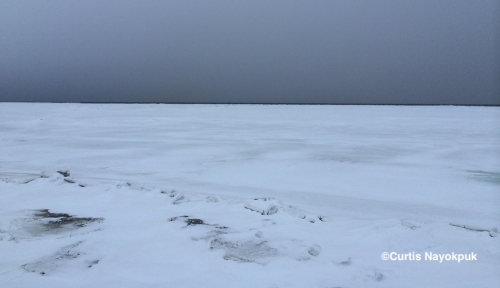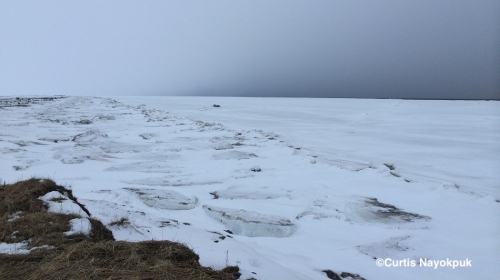 Observations from Savoonga
26 April 2018 – Aqef Waghiyi
Nobody's been going boating for a while. Bad weather, windy. First from the north now from the south. If the weather is good maybe tomorrow people will go out boating. No ice in sight.
Observations from Gambell
26 April 2018 – Clarence Irrigoo, Jr.
Yesterday boats went out and caught some walrus about 10-15 miles NE of Gambell.