Date:
Assessment of Current Ice Conditions Relevant to Distribution and Access of Walrus
Click the name of each community below to view more frequently updated and detailed information from the National Weather Service.
Across the eastern end of the island there is an area that is 45 miles wide, stretching from Nome, to 50 miles south of the island. This contains very close pack ice that includes primarily big to vast floes up to 28 inches thick. West of Lietnik (including Gambell and Savoonga), there is open water mainly west of Lietnik. North and east of Lietnik is widespread close to very close pack ice.
Shorefast ice extends up to 2 nm offshore from Nome. Beyond the shorefast ice is very close pack ice that extends 50 nm south, 8 nm east and 80 miles to the west. This very close pack ice consists of small to giant floes.
Shorefast ice extends up to 2 nm northwest of the coast from Wales to Shishmaref. Beyond the shorefast ice is widespread very close pack ice with a mixture of small to giant floes.
Very close pack ice consisting of a mixture of small to giant floes is present from Diomede north. This very close pack ice also extends up to 10 nm east of Diomede. Beyond this pack ice is close pack ice consisting of widespread new ice. There is an area of close pack ice to the south and southwest of Diomede consisting of ice cakes to medium floes.
Forecast Discussion
Ice Forecast
Sea ice will drift southward through Sunday, April 15th, then begin to move westward to northwestward Monday, April 16th through Thursday, April 19th. Sea ice is expected to move away from north and west-facing coastlines during this time, and compact toward south and east-facing coastlines.
Wind Synopsis
Expect strong northeast winds 25 to 40 kts (29 to 46 mph) on Friday, April 13th. Winds will diminish Friday evening and Friday night, with northeast winds becoming 15 to 20 kts (17 to 23 mph) from Shishmaref to Diomede to Wales. Winds will remain stronger southeast of Wales and Diomede to Gambell, where winds remain 25 to 30 kts (29 to 35 mph). Winds will become easterly 15 to 20 kts (17 to 23 mph) on Saturday, April 14th. Stronger east to southeast winds of 20 to 30 kts (23 to 35 mph) will develop late Saturday across St. Lawrence Island and spread northeast to the Bering Strait Saturday night. These stronger southeast winds will continue through Sunday, April 15th. Winds diminish to 10 to 20 kts (12 to 23 mph) on Monday, April 16th. Winds become east to northeast 15 to 20 kts (17 to 23 mph) on Tuesday, April 17th and continue through Thursday, April 19th. East to northeast winds will gradually diminish Friday, April 20th.
Temperature Trend
Daytime highs on Friday, April 13th will range from 20 to 30 degrees. Temperatures trend upwards Saturday, April 14th with high temperatures ranging from the mid 20s to mid 30s and continue an upwards trend on Sunday, April 15th with highs in the lower to mid 30s. Daytime high temperatures will range from the upper 20s to lower 30s Monday, April 16th through Friday, April 20th.
Daily Weather, Wind, and Temperature Updates
The National Weather Service provides twice-daily, text only updates on the weather, wind, and temperature conditions in specific geographical zones. An interactive weather map for access to other Alaskan zones can be found here: http://weather.gov/anchorage/ice
Wind maps are updated daily and can be viewed here: http://www.weather.gov/afg/SIWO_overview
Marine forecast for the West Coast and Arctic Coast
Remote Sensing Images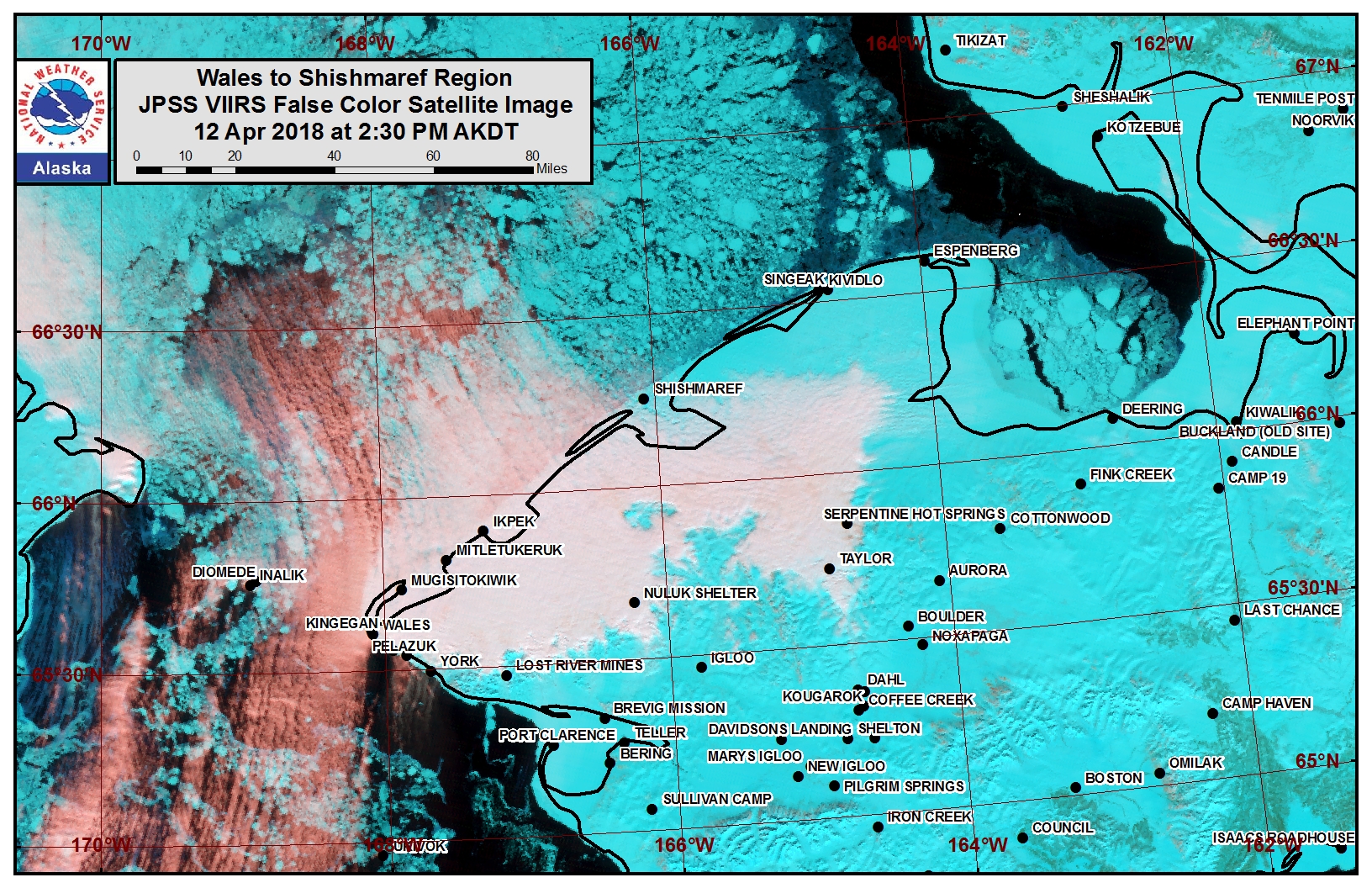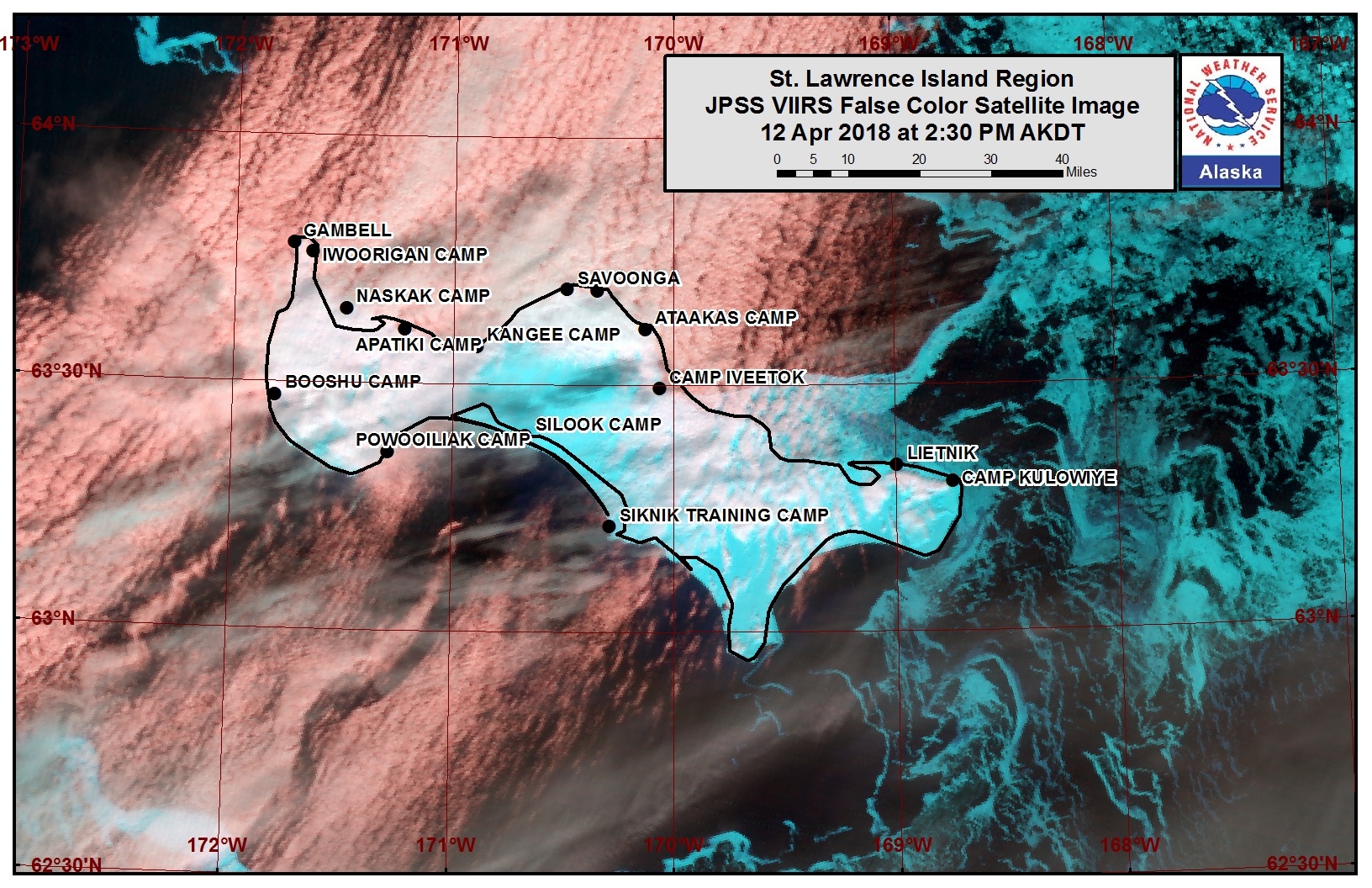 Observations and Comments
Observations of Sea Ice Development
Observations from Wales
12 April 2018 – Robert Tokeinna, Jr.
This week was a cold one for Wales. Beginning of the week on Friday, the school brought a handful of kids to jig for fish. A couple residents have walked out to the edge. I am not sure what they have seen, but I am sure game was spotted. Snow birds have made their presence known, I have spread crumbs on a nearby snowbank and have successfully took a photo of one. Temperatures ranged from minus single digits to upper 20 above with winds north to east, east to south winds ending with gusty northeast winds.
Yesterday, I have noticed the outer pressure ridges near our point has broken off and turned into flow ice. I have noticed in the past couple years that sometimes the outer shorefast ice pressure ridges either in front of the village or near our point have been breaking off early in the season due to either formation of the ice or thickness the ice plays a factor, this is just a guesstimation.
I went to what we call "High Hill" which is about 6 miles north of Wales and is the highest lookout point near the ocean. You will see Photo 1 is in reference to this that the abundant ice and this area is usually the last set to leave the area so to its location outside the main current. Shown in middle of this image is Little and Big Diomede Islands. This ends my report.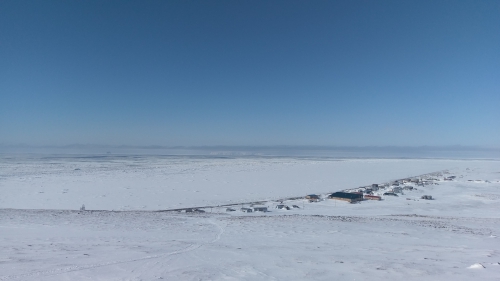 Observations from Shishmaref
12 April 2018 – Curtis Nayokpuk
Solid rough ice approximately three miles out past stable (held by piled ridges) young shorefast ice and blowing snow today.
Observations from Nome
11 April 2018 – Boogles Johnson
I was out on the ice on April 8th checking my crab pots with the family, the ice is still 3-3 1/2 ft thick approximately 500 yards from shore. The crab holes are not getting smaller so we are in spring. I would venture to guess our ice around Nome will be moving more when we have some strong south winds that bring the water up followed up by north winds. There are seal hunters finding seals successfully now.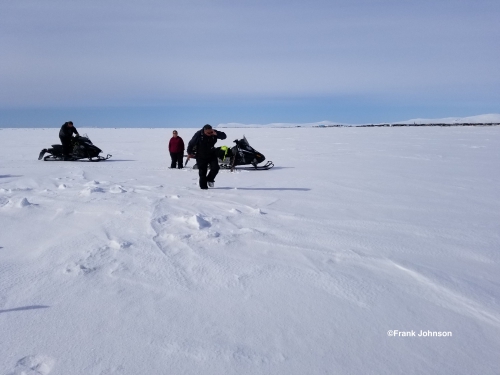 Observations from Gambell
13 April 2018 – Clarence Irrigoo, Jr.
Very windy all week in Gambell.
Observations from Savoonga
13 April 2018 – Aqef Waghiyi
North winds this week. No ice. Nothing even though it's north wind for a few days.
Additional Resource
12 April 2018 – Rick Thoman, National Weather Service
Spectacular high-resolution satellite photo from Thursday afternoon over western Alaska. Very little ice in eastern Norton Sound, clouds streaming through the Bering Strait.