Date:
Assessment of Current Ice Conditions Relevant to Distribution and Access of Walrus
Click the name of each community below to view more frequently updated and detailed information from the National Weather Service.
South of the island, there is a polynya that extends 3 to 12 nm south that has begun to fill in with new (0 to 4 inches thick) and young (4 to12 inches thick) ice, then there is an area 8 to 14 nm wide of very close pack ice that includes primarily big to vast floes up to 28 inches thick. South of this area is an area of close pack ice up to 20 nm wide with strips of ice. To the west and north of Gambell, there is very close pack ice consisting of new ice then an area of very open pack ice beyond that. To the north of Savoonga, very close pack ice extends 2 to 4 nm from shore, then there is an extensive area of close to very close pack ice. East of the island is widespread close to very close pack ice.
The forecast has not yet begun in this region for the 2018 season. Please check back later for updates.
The forecast has not yet begun in this region for the 2018 season. Please check back later for updates.
The forecast has not yet begun in this region for the 2018 season. Please check back later for updates.
Forecast Discussion
Ice Forecast
As winds gradually shift around to the west and north, the very mobile ice pack surrounding St. Lawrence Island will drift to the east and then so the south. This will result in a polynya forming on the east side of the island, then on the south side of the island. As colder air moves southward early next week, new ice will likely form within many of the open water areas within and near the ice pack.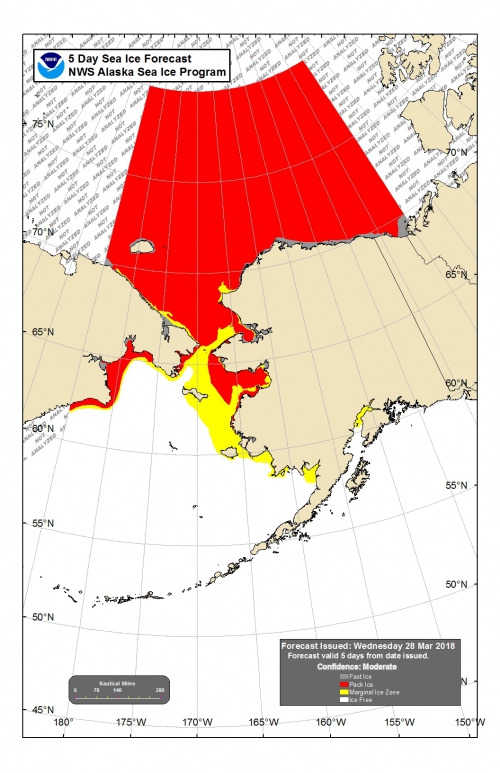 Wind Synopsis
Winds on Friday, March 30th will be brisk from the southwest 20 to 30 kt (25 to 35 mph) diminishing to 15 to 20 kt (17 mph to 23 mph) Friday night. Winds will shift to the west 10 to 20 kt (12 mph to 23 mph) by Saturday, March 31st. Winds will continue to diminish as they shift west-northwest 5 to 10 kt (6 to 12 mph) on Sunday, April 2nd. Winds shift to the north-northeast on Tuesday, April 3rd at 10 to 15 kt (12 to 17 mph) and steadily increase on with northeast winds 20 to 30 kt on Friday, April 6th.
Temperature Trend
High temperatures will be in the mid-30s through Saturday, April 1st with lows in the upper 20s to near 30. A gradual cooling trend will occur in temperatures on starting Sunday, April 2nd and continue through Friday, April 6th. Expect high temperatures on Sunday, April 2nd in the lower to mid 30s with lows in the lower to mid 20s with high temperatures in the mid to upper 20s and lows in the mid to upper teens by April 5th.
Daily Weather, Wind, and Temperature Updates
The National Weather Service provides twice-daily, text only updates on the weather, wind, and temperature conditions in specific geographical zones. An interactive weather map for access to other Alaskan zones can be found here: http://weather.gov/anchorage/ice
Wind maps are updated daily and can be viewed here: http://www.weather.gov/afg/SIWO_overview
Marine forecast for the West Coast and Arctic Coast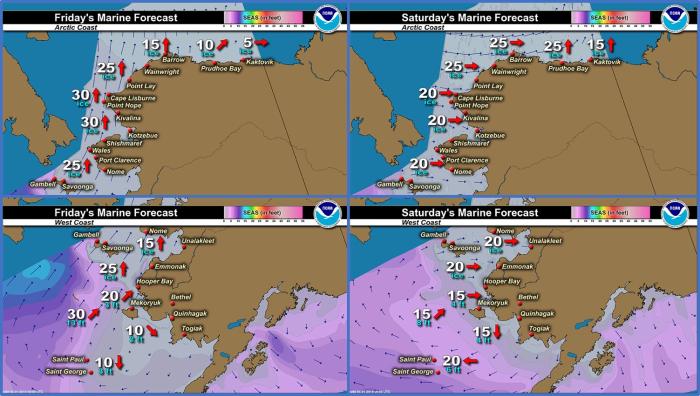 Remote Sensing Images
Observations and Comments
Observations of Sea Ice Development
Observations from Savoonga
29 March 2018 – Aqef Waghiyi
There's ice out there about five miles out maybe. A couple of boats got walrus. Better weather this week. Took pictures from on top of the cliffs and from town and took a few videos. Will send those soon.
Observations from Gambell
29 March 2018 – Clarence Irrigoo, Jr.
Three or four boats went out today and I never go see what they got, it started snowing. This morning I saw about 4 herds of walrus on the ice and the boats never went to see them, kinda windy and start snowing heavy. Yesterday I think couple boats went out and got some bearded seals and one boat was going after a small whale and I guess they never see it again. The ice is near the land is slush and about a mile out is thicker not very big.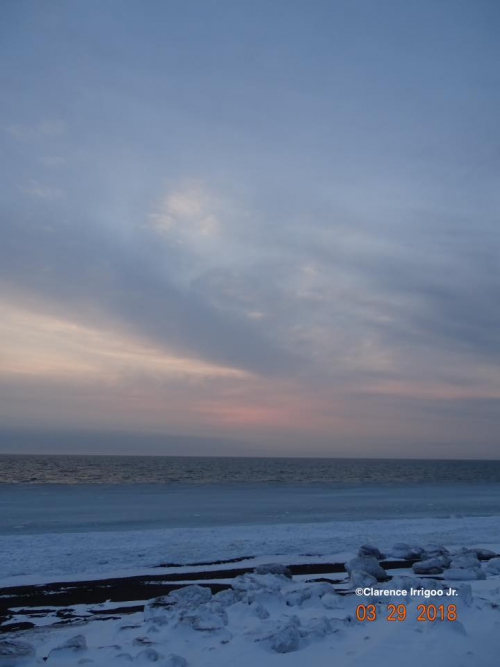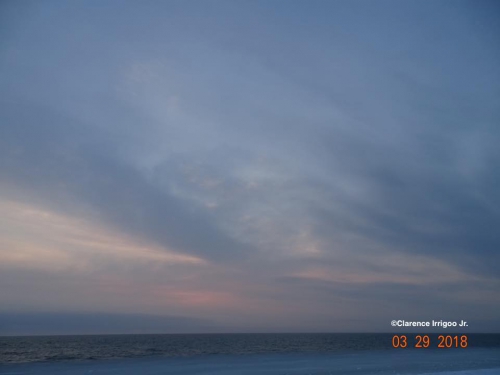 Observations from Wales
29 March 2018 – Robert Tokeinna, Jr.
This week I've had the opportunity to look on the southeast side of Cape Mountain. The ice seems to be in cakes and chunks other than broken up into pieces. This week it started out windy, snowy and ended with warm, southerly winds. Temperatures were in lower single digits to lower 30s. One local hunter walked to the edge of the ice and seen a number of seals and whales. Another local resident has seen snow birds which are signs of turn of the season from winter to spring. I have noticed during our warm up this past Monday of overflow on our creek that runs in middle of town. Still no full open water but some open leads as seen in the pictures. This ends my report.