Date:
Assessment of Current Ice Conditions Relevant to Distribution and Access of Walrus
Click the name of each community below to view more frequently updated and detailed information from the National Weather Service.
The polynya on the north side of the island has filled in with very close pack ice (thicker young and first year thin) as northwesterly winds have pushed the pack against the coast. The very close pack ice is mainly big and vast floes. On the west side of the island the ice is new and young ice, but close pack ice. The south side of the island is mainly new and young ice as well, with a polynya between Silook Camp and Siknik Training Camp. 
The forecast has not yet begun in this region for the 2018 season. Please check back later for updates.
The forecast has not yet begun in this region for the 2018 season. Please check back later for updates.
The forecast has not yet begun in this region for the 2018 season. Please check back later for updates.
Forecast Discussion
Ice Forecast
Sea ice to the south of St. Lawrence Island that has broken off from the strong northerly winds will begin move back to the north and compacting along the shore starting Saturday afternoon. With stronger southerly winds starting Saturday, ice along the north side of St. Lawrence Island may begin to break off and move to the north through Tuesday.
Wind Synopsis
For St. Lawrence Island, north-northeast winds of 15-20kts (20-25mph) are expected Friday and Friday night as a low pressure system develops over the northwestern Pacific. Winds will become more northeast and strengthen to 20-25kts (25-30mph) on Saturday as the system pushes a front northward toward the Island.  The front will move north across St Lawrence Island on Saturday afternoon, with winds shifting to the south and decreasing to 10-15kt (10-20mph) for Saturday night through Sunday night. The main low pressure system will then track just south of St. Lawrence Island on Monday and winds will shift to the north and northwest through the day behind a cold front. Expect speeds of 15-20kts (20-25mph) Monday morning, easing to 5-10kts (5-10mph) through the day. Northwest winds of 5-10kts (5-10mph) should persist through much of Tuesday. Another system developing out west will shift winds across the Island back to the southeast late Tuesday, with speeds increasing to 15-20kts (20-25mph) for Wednesday and Thursday.
Temperature Trend
High temperatures on Friday will only be 0-5F, but will warm up to 15-25F on Saturday and then 25-30F on Sunday.  The cold front moving through on Monday will bring high temperatures back into the teens for Monday through Thursday. Low temperatures tonight and Friday night will drop to -10 to 0F, then rise back into the teens for Saturday & Sunday nights. Temperature will then fall back to -5 to 5F on Monday night, rising back to 5-15F for Tuesday & Wednesday nights.
Daily Weather, Wind, and Temperature Updates
The National Weather Service provides twice-daily, text only updates on the weather, wind, and temperature conditions in specific geographical zones. An interactive weather map for access to other Alaskan zones can be found here: http://weather.gov/anchorage/ice
Wind maps are updated daily and can be viewed here: http://www.weather.gov/afg/SIWO_overview
Marine forecast for the West Coast and Arctic Coast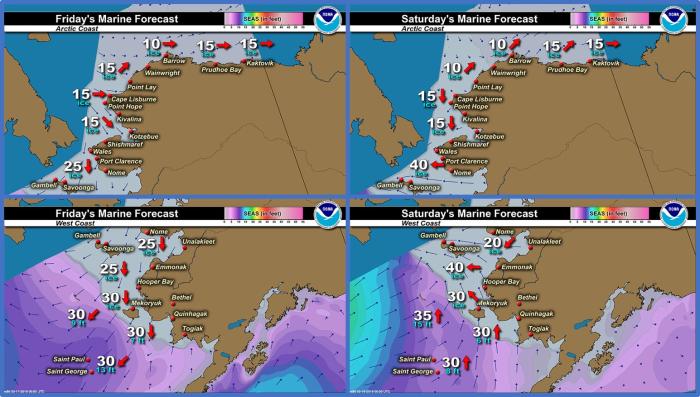 Remote Sensing Images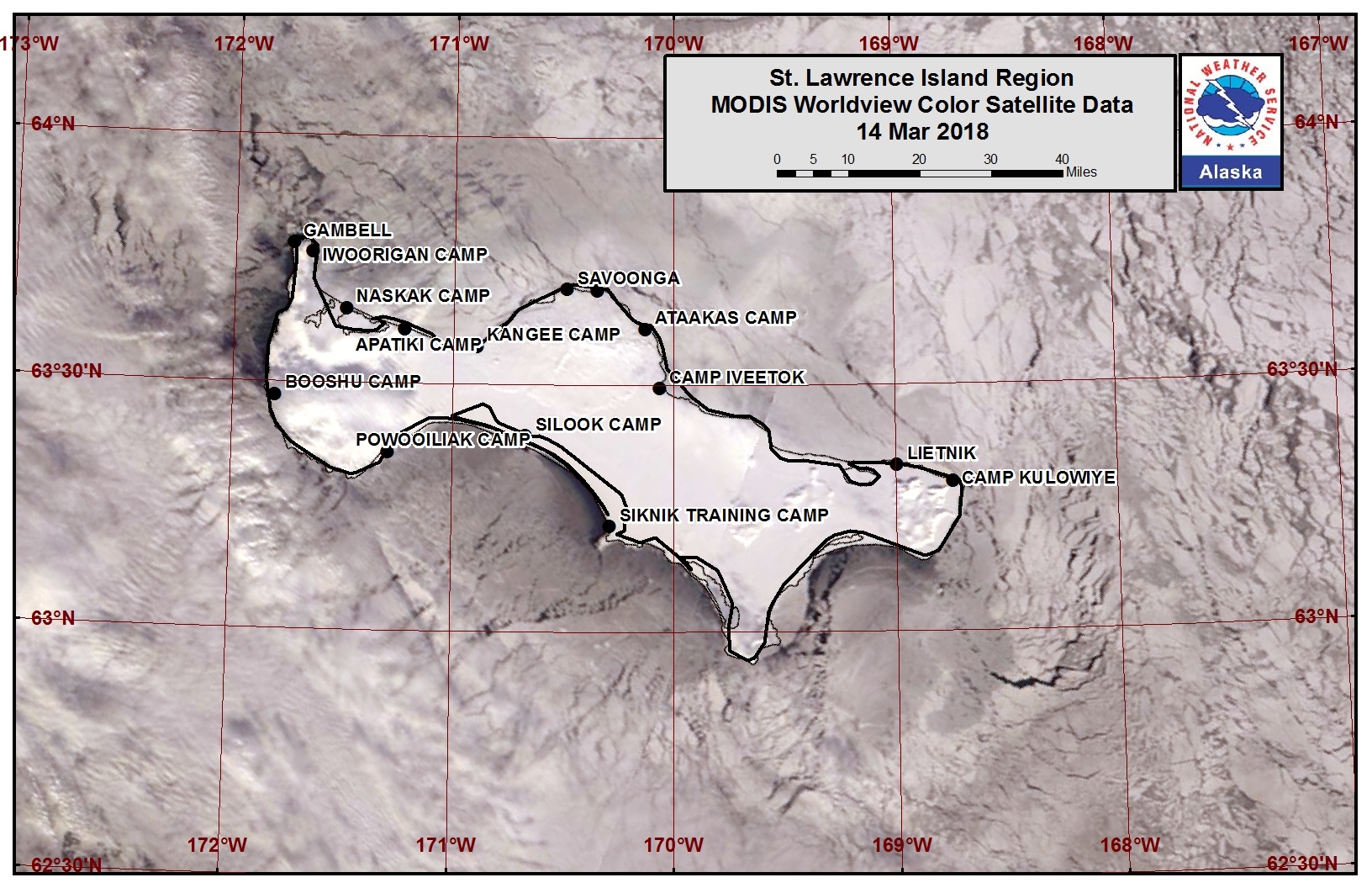 Observations and Comments
Observations of Sea Ice Development
Observations from Gambell
16 March 2018 – Clarence Irrigoo, Jr.
About 5 miles out walrus on ice and lots of seals on the flat ice (about 40). NW 5 the young ice pushing toward land. Still walrus are feeding in the water.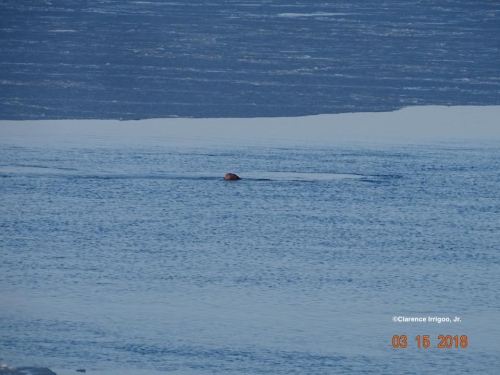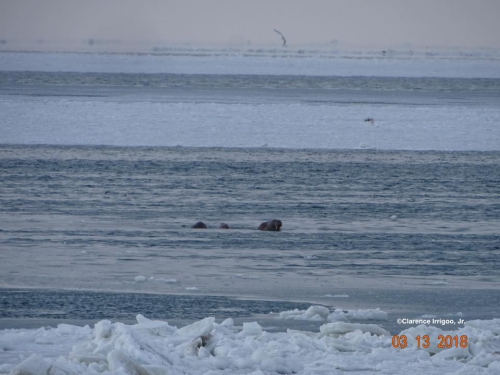 Observations from Savoonga
16 March 2018 – Aqef Waghiyi
After last Friday's report, the ice came back in the next day. It is all broken up, not too good. No flat pieces and it is real rough. There are patches of open water here and there. Biggest open patch in front of town is maybe as big as a football field. People probably won't go boating until it opens up. Some people went ice fishing for kayupik (bullhead/sculpin), but no luck. Today a couple of people went out to walk on the ice to try to fish. Heard a boat in Gambell got walrus yesterday. Calm wind today.
Observations from Wales
16 March 2018 – Robert Tokeinna, Jr.
Ice is stable for now, this year we had a late freeze up of late January which is a month later than last year. I seen couple of local fisherman on the ice fishing. Local Polar Bear patrol has set out their hair traps in attempt to collect hair samples. It has been cold weather for the past week or so with some growth of ice and pressure ridges growing along our shorefast ice. With winds switching from south to north winds, we have seen more snow in the making as February and March sets in. This is all I have to report.

Observations from Shishmaref
17 March 2018 – Curtis Nayokpuk
 
-10 below with north winds and blowing snow today. Still early for our seasonal hunting to be out on sea ice. Most efforts are to go out after the Caribou moving out of the area. With cold Northerly winds and open sea freezing up the past few weeks, sea birds around looking for open leads and hunters report sea birds on bare frozen river ice while hunting Caribou inland.  
Pictures from Feb. 22 open sea and overnight freeze five days later when cold wind returned.