Date:
Assessment of Current Ice Conditions Relevant to Distribution and Access of Walrus
NEW FOR 2017: Click the name of each community below to view more frequently updated and detailed information from the National Weather Service.
Sea ice is shorefast along the north, east, and southeast coasts of St. Lawrence Island out 2 to 7 miles from the coast. A polynya continues to expand on the south side of the island now up to 115 miles offshore. While there is close pack ice of new and young ice forming on the eastern side of the polynya, the western side of the polynya west of Silook Camp is very open pack ice with new ice. The north and east sides of the island beyond the shorefast ice is very close pack ice. There is open pack ice with small to vast floes north and west of Gambell, while southwest of Gambell is close ice pack with vast and giant floes mixed with brash ice. 
Shorefast ice extends up to 6 miles from the Nome area coast. There is a polynya to the west that extends up to 12 to 20 miles from the shorefast ice. Otherwise there is close to very close pack ice throughout the northern portion of Norton Sound with big to giant floes. 
Shorefast ice extends to approximately 10 to 12 miles from the coast between Wales and Shishmaref. Beyond the shorefast ice is very close to consolidated pack ice. To the west of Wales, the pack is beginning to loosen a bit as the persistent northerly winds are moving ice in the Bering Sea southward.
Close to very close pack ice surrounds Little Diomede Island, however it is beginning to loosen a bit as the persistent northerly winds are moving ice in the Bering Sea southward. A polynya has formed to the south of Diomede, approximately 3 miles south of the island extending up to 10 miles south. The polynya consists of open pack ice of big floes as well as new ice.
Forecast Discussion
Ice Forecast
Sea ice will continue to loosen through the Bering Strait through April 12th, and the polynya on the south side of the island will likely expand southward. Near the Wales to Shishmaref coast, sea ice is expected to remain as very close to consolidated pack ice. The polynya off the Wales to Nome coast will likely continue to expand as well, with areas of new ice forming especially at night or during periods of light winds. For St. Lawrence Island, the polynya on the south side of the island is expected to persist and the pack ice on the west side of the island may continue breaking up and becoming open pack ice.
Wind Synopsis
Winds on Friday, April 7th will be moderate from north to northeast 15 to 25 kt (15 to 30 mph)  with the strongest winds through the Bering Strait. North to northeast winds will diminish to 10 kt (10 mph) in most areas Sunday, April 9th and then shift to south to southeast 10 to 15 kt (10 to 15 mph) on Monday, April 10th. A weather front moving into the Bering Sea Tuesday, April 11th will cause south to southeast winds to increase to gale force 35 kt (35 to 40 mph) south of the Bering Strait by Tuesday evening. From the Bering Strait northward, south to southeast winds will increase to 15 to 25 kt (15 to 30 mph) Tuesday evening April 11th. Strong south to southeast winds will diminish Thursday, April 13th and begin to shift to the east to southeast 10 to 20 kt (10 to 20 mph) on Friday, April 14th.
Temperature Trend
During the forecast period, temperatures are anticipated to fall to normal readings Saturday, April 8th and persist through Monday, April 10th. There will be a rapid warming Tuesday, April 11th with above normal temperatures (5 to 10 degrees warmer than normal) and most areas rising into the 30s. Warmer than normal temperatures will continue through Friday, April 14th.
Daily Weather, Wind, and Temperature Updates
The National Weather Service provides twice-daily, text only updates on the weather, wind, and temperature conditions in specific geographical zones. An interactive weather map for access to other Alaskan zones can be found here: http://weather.gov/anchorage/ice
Wind maps are updated daily and can be viewed here: http://www.weather.gov/afg/SIWO_overview
Marine forecast for the West Coast and Arctic Coast
Remote Sensing Images
Observations and Comments
Observations of Sea Ice Development
Observations from Wales
5 April 2017 – Robert Tokeinna, Jr.
Enclosed with this email is a recent photo of the ice 10 nautical miles north of Wales, Alaska at about 2,000 feet also known locally as Siinuraq otherwise First Inlet. As you can see in the photo, there's prominent open water from the shorefast ice. The little patch of fog located up top and center of the photo is clouds forming off of our Cape Prince of Wales Mountain. There is some young flow ice formed from our more recent cold spell of weather. It has since warmed up and more and more dark clouds above the open water. Some local residents reported some overflow from our local Village Creek which all these signs are meaning of warming of the water around Wales. More snow birds are showing up near the village with sea gulls to follow. Our local hunters are now watching the ice for a possible boat launch site so they can all utilize during the spring hunt. During the flight you can see open water from Nome to Wales so signs of spring is upon us in Wales though slow at first but none the less we see signs of warming of the water.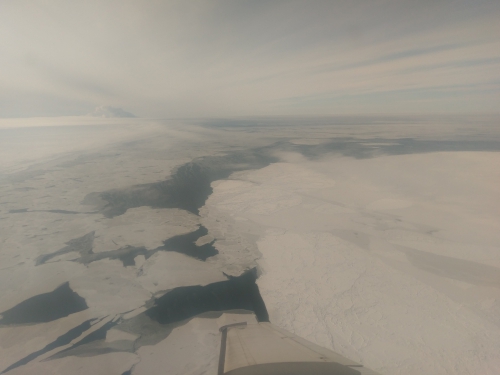 Observations from Savoonga
7 April 2017 – Aqef Waghiyi
There was thin ice with patches of open water between Nome and Savoonga three days ago (observed from plane). From the looks of it, ice will disappear fast and there will probably be a short window for walrus. It is whaling season now, but hunters will get walrus in the evening if they have a chance and there are no whales.
Observations from Gambell
7 April 2017 – Clarence Irrigoo, Jr.
Snowing and a little blizzard today [on Friday] in Gambell (more information/photos later this week after weather clears).
Here are some updated photos from Clarence: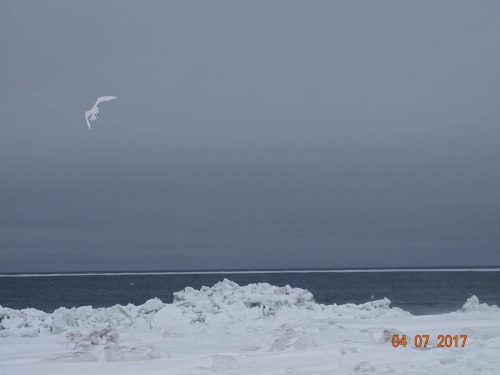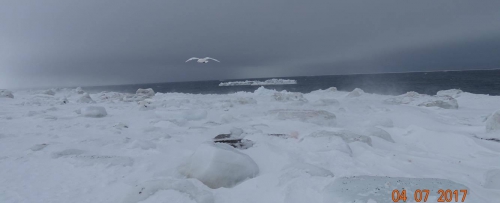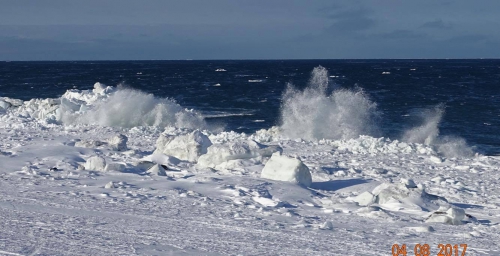 7 April 2017 – James Walunga
This year is the most worse year I've ever seen in my experience as a hunter. All winter long we did not get shore ice at all. Even in really calm weather the current alone pushed the shore ice right off and the ice I see out there today is really poor. Mostly young ice. Looks to me walrus can't even use it to haul out! But despite all that hunters have been successful early this spring. One bowhead whale was landed and several walruses and seals were harvested.
Observations from Nome
8 April 2017 – Boogles Johnson
Looking ESE towards Council on the Nome-Council Highway, Cape Nome on the left side of the picture.  Picture taken from the new road pull-off/campsite turnoff, Rob & Peggy Luce on the right side of the picture and the yellow cabin is Rick and Hannah Costeau.  This is the first visible open lead of the season as seen from this vantage point.  The spring hunting is starting with the presence of open water.
Observations from Shishmaref
8 April 2017 – Curtis Nayokpuk
Seals sunning on ice measured two foot near shore. Travel limited to three miles in front of Shishmaref encountering a line of jagged ice and ridges up to 50 ft. Seals out and hunters reported Polar Bears feeding off of whale 20 miles West along the beach toward Wales. Tracks show they moved N-NE back out on the ice.