Date:
Assessment of Current Ice Conditions Relevant to Distribution and Access of Walrus
Near St. Lawrence Island
Sea ice conditions near St. Lawrence Island have continued to decline this week. The shorefast ice along the northern coastline of the island is currently limited to Niyakpak Lagoon, a narrow shorefast strip near Savoonga up to 1 mile offshore, and a belt of shorefast ice from near Ataakas Camp on over to Camp Kulowiye extending up to 4 miles offshore. The shorefast ice along the southern coastline of the island is limited to the lagoons.
Open water to very open pack ice conditions lie beyond the shorefast ice to the north and northeast of the island. The boundary of an area of close pack ice consisting of mainly first year ice floes lies roughly 10 to 20 miles off the coast of the island from Ataakas Camp to Camp Kulowiye. To the west, south and east of the island, waters are mainly free of sea ice with some open water conditions very near shore.
Wales to Shishmaref
Shorefast ice remains in place along the northwest Seward Peninsula. The shorefast ice edge extends roughly 10 miles off the coast from Mugisitokiwik, 13 miles from Ikpek, and 1.5 miles off the coast from Shishmaref. Beyond the shorefast ice edge from Shishmaref to Kotzebue Sound lies a region of close to very close pack ice consisting mainly of first year ice floes. Beyond the shorefast ice edge from Ikpek to Shishmaref lies a region of open to close pack ice consisting of first year ice floes with new and young sea ice filling in around the floes. The ice pack remains very mobile through the Bering Strait region with very open pack ice shifting through the eastern Bering Strait from Little Diomede Island to Wales on to the south.
5 to 10 Day Forecast
Weather System/Wind Synopsis
With high pressure over the Arctic, a low-pressure system in the Southern Bering Sea will bring east winds of 15 kt (<20 mph) Friday, 15 May. The low will strengthen on Saturday the 16th with southeast winds increasing to 15 to 20 kt (20 to 25 mph). The low will move toward Russia Sunday, 17 May with southeast winds remaining near 20 kt (25 mph). These conditions will persist through Monday. Weak high pressure will settle into the area Tuesday, 19 May with southeast winds of 15 to 20 kt (20 to 25 mph). A low-pressure system will move into the Southeast Bering Sea on Wednesday, 20 May with northeast winds of 15 kt (20 mph). These conditions will persist through Thursday, 21 May. The low in the southeast Bering Sea will dissipate, as a large low will move into the central Aleutians and remain there through Monday, 25 May. East winds of 15 to 20 kt (20 to 25 mph) will persist from Friday, 22 May through Monday, 25 May.
Temperature Trend & Ice Forecast
Temperatures will be around 5 to 10 degrees above normal with daytime temperatures around 40 to 50° F. Overnight temperatures in the 30s are anticipated.
The wind direction will be generally out of the east through much of the period. Therefore, we expect that shorefast and compact sea ice will destabilize along the northern coastline of St. Lawrence Island, with the open waters south and west of the coastline experiencing some ice floes from the large ice expanse just off the west coast of Alaska. During this time the shorefast ice edge from Wales to Shishmaref will destabilize and may result in some breaks from the shorefast and compact ice along this area. Ice floes near Wales along the Bering Strait will shift out and decrease into the Bering Strait and toward Russia. Independent ice floes will push to the southern coast of St. Lawrence Island as well. Meltwater ponds will start to form on the surface of shorefast ice in the Bering Strait region due to the warmer temperatures during this period.
Marine forecast for the West Coast and Arctic Coast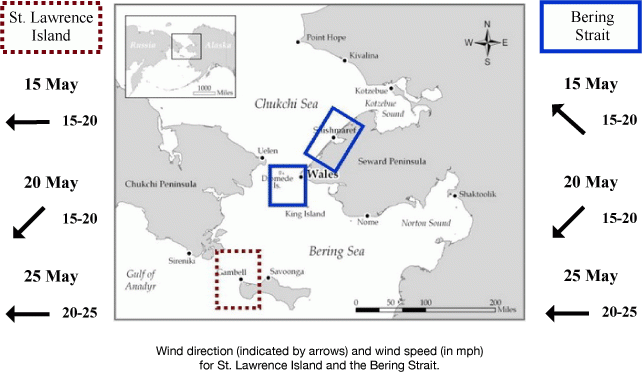 Remote Sensing Images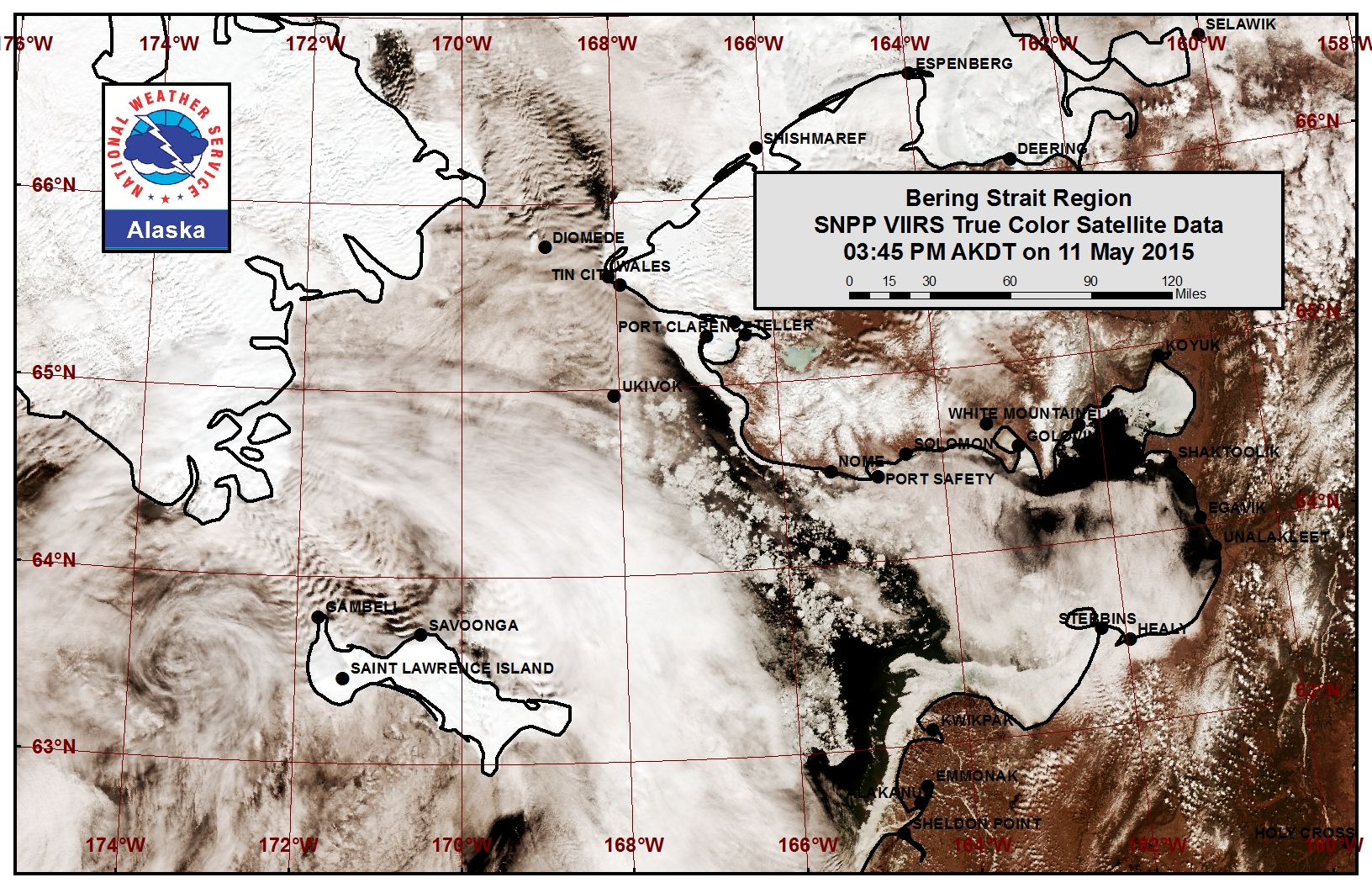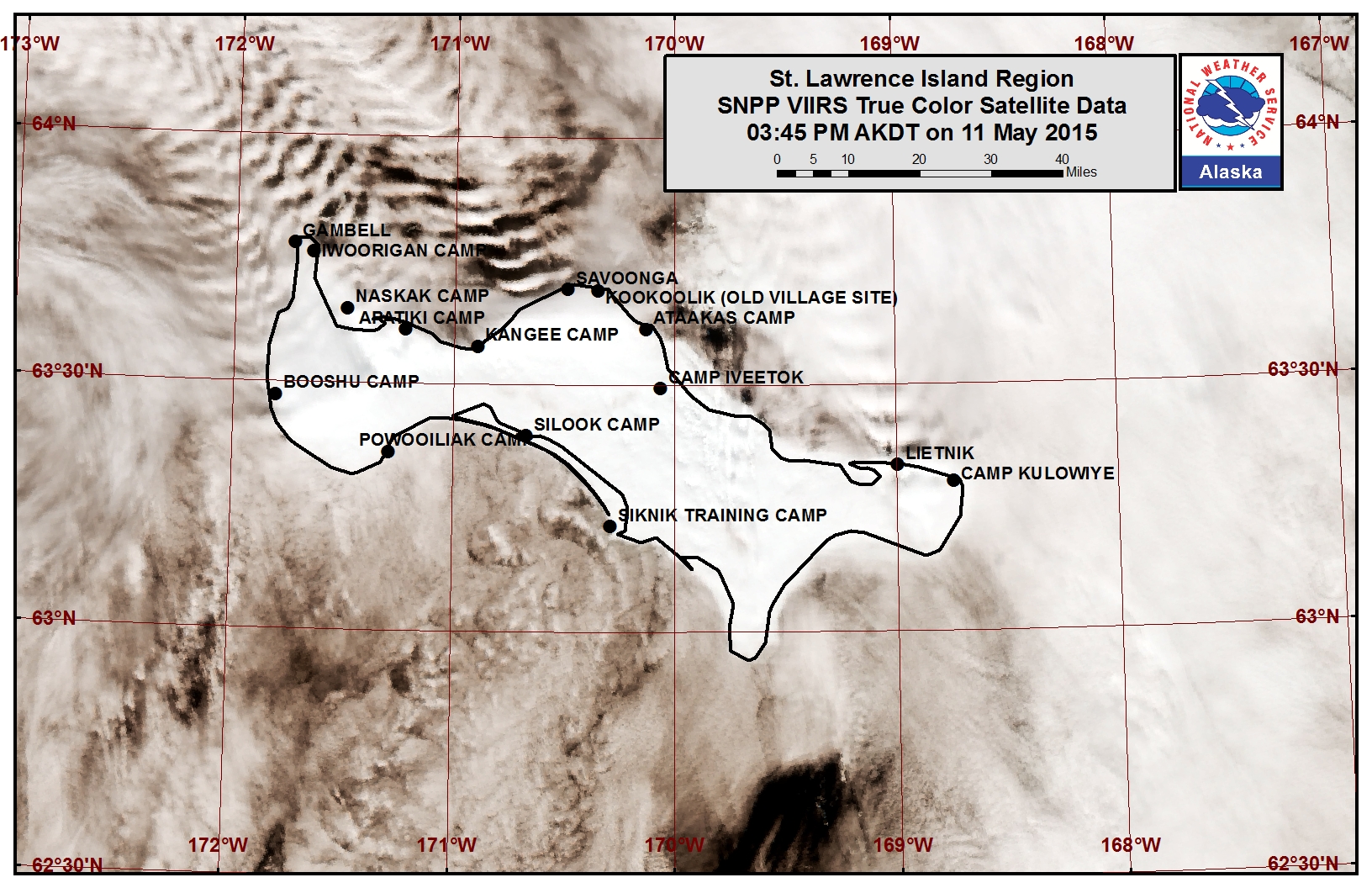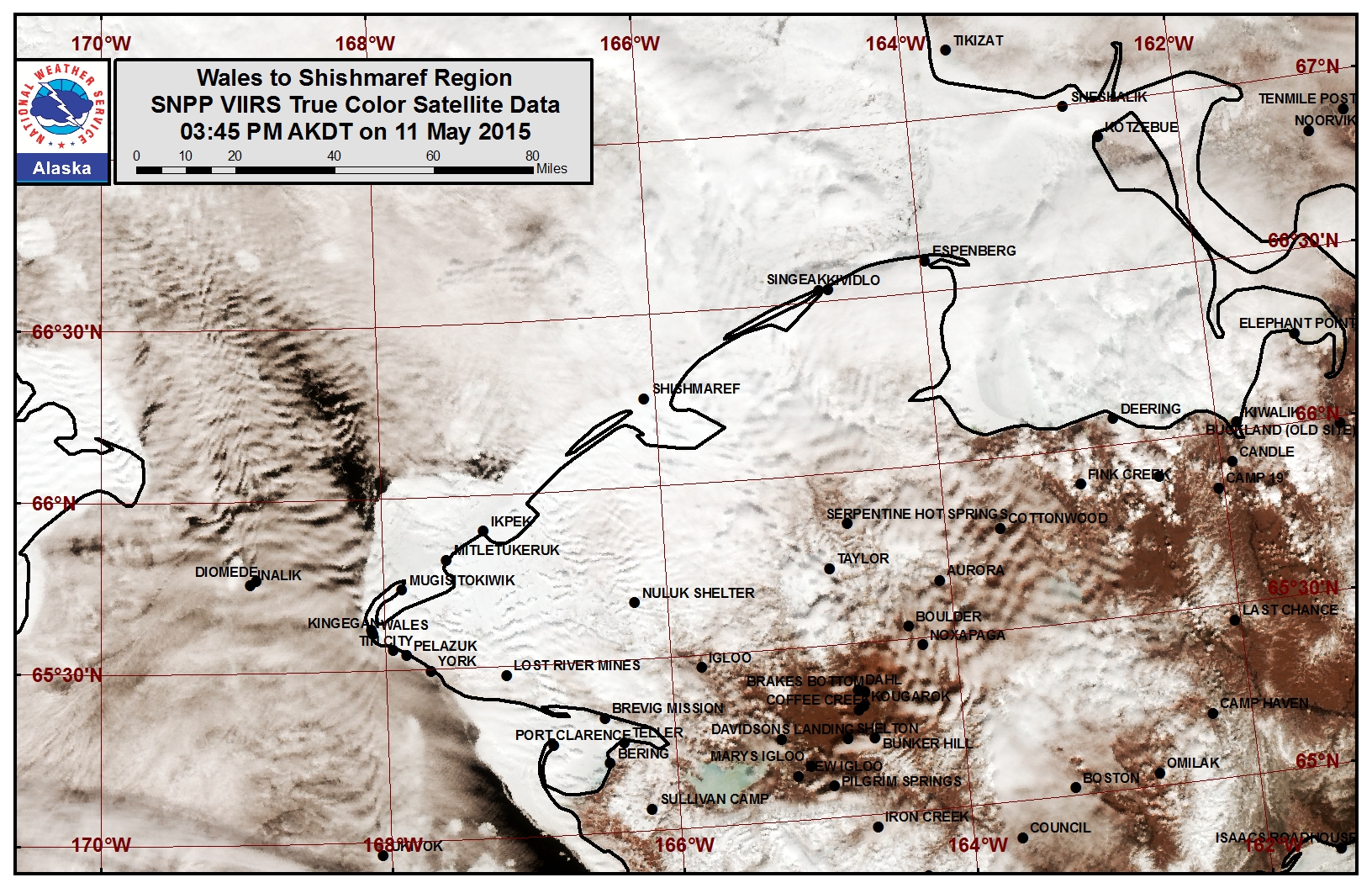 Observations and Comments
Observations of Sea Ice Development
Observations from Shishmaref
18 May 2015 - Curtis Nayokpuk
There is standing water pooled over an average of one-foot thick shorefast ice. Other "flat ice" leads (to haul boats) that froze over are about 4 inches thick thus limiting access to open sea. We may need to take pick axes and shovels to clear a path through ice ridges over stable ice if need be. Rain and mist again this morning.

The satellite image of Shishmaref, below, shows evidence of the flooding due to rain described by C. Nayokpuk. Wet ice is evident in level ice regions. It appears a darker shade of grey than dry, unflooded ice or ice that is rough and better drained than level ice. The boundary between the flooded level ice (darker in the satellite image) to the South and the rougher ice (brighter in the satellite image) to the North is clearly visible.
Image courtesy of the Japanese Aerospace Exploration Agency. Further imagery available at: http://www.arcus.org/search-program/siwo/jaxa.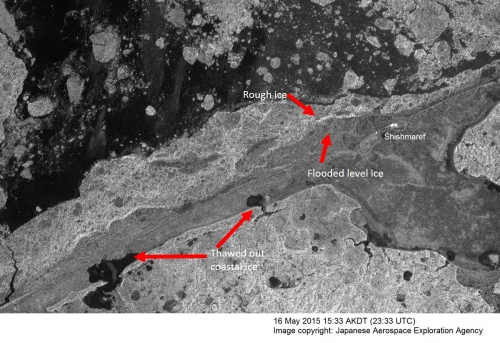 17 May 2015 - Curtis Nayokpuk
Reports from few boats out, access to launch area will be unstable with continued rain as the only flat ice to haul boats is thin (4 inches) and rest of shorefast ice is rough crushed piled ridges blocking travel. Handful of bearded seals brought home so far hampered by high S-SE winds and rain, fog.
15 May 2015 - Curtis Nayokpuk
High southerly/easterly winds this past week delayed trips (ice might break off) out to shorefast ice edge so we have been inland at camps before rivers go out. Drizzle and fog this morning and the forecast is same for next couple days. Should be out on the ice by Sunday launching boats.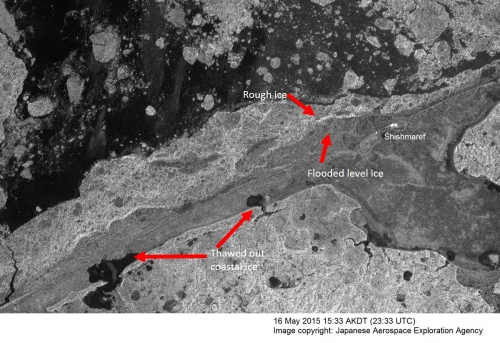 Observations from Nome
15 May 2015 - Fred Tocktoo
Shore ice is gone but going back and forth within the Norton Sound and around Nome southern shores, and will be gone within three weeks. Nome is finally seeing temperatures over 40 degrees with fog and rain.
15 May 2015 - Boogles Johnson
The shore ice around Nome has broken off and is going out and coming back. Currently it is raining out. The way the ice is, we will have more foggy days till the ice is gone. The ice should hang around and hunters should have excellent opportunities to find game and sufficient ice to butcher on. I can see the ice staying around till we have some sufficient winds from the east or north to push it into the Bering Strait. This warm weather has been aggressively melting the ice and it seems a little early this year due to the warm weather.
Observations from Wales
15 May 2015 - Winton Weyapuk Jr.
This morning visibility over the strait is obscured by fog. We have had open water with steady fields of mostly slightly ridged pack ice drifting north with the current. The pack ice has been 1/2 to 1 mile from the edge of the shorefast ice or more depending on wind strength from the northeast. Shorefast ice is beginning to thaw although it is still quite solid in most places with a few melted holes here and there, most noticeable below the mouth of Village Creek.