Valerie Alia
Organization
Series Editor for Edinburgh University Press
Email
valerie.alia

[at]

gmail.com
Address
61 Yorkville Avenue
Brief Biography
Valerie Alia is an award-winning journalist, academic, author, and photographer. She is known internationally for defining the discipline of political onomastics the politics of naming and for her work on media ethics, Indigenous Arctic cultures, identities, and communications.
Alia's latest books are The New Media Nation: Indigenous Peoples and Global Communication and Names and Nunavut: Culture and Identity in the Inuit Homeland. She wrote and narrated the documentary, Nunavut: Where Names Never Die, for CBC, and is listed in Who's Who in America and Who's Who in the World. Alia states, "I have spoken on Arctic issues, media ethics, and other topics as a keynote speaker and invited guest speaker, and have given readings in public libraries and other places; I have been making public presentations for more than thirty years; I enjoy speaking, fostering and encouraging public dialogue." Alia is interested in addressing academic audiences, graduate seminars, and the general public. A few representative lecture titles are:
The New Media Nation: Indigenous Networks
Outlaws and Citizens: Indigenous people and 'The New Media Nation'
Names, Numbers, and Northern Peoples / The Politics of Naming in the Arctic
Media Ethics in the Arctic
Alia was born in New York and raised in Oklahoma City, where she was active in the civil rights movement, participating in one of the first successful lunch counter sit-ins. She has a BA from the University of Cincinnati, an MA from Michigan State, and a PhD from York University (Canada). Alia has taught in universities in the US, UK, and Canada; is Adjunct Professor of Social Sciences at Royal Roads University (Victoria, Canada) and Visiting Professor at Leeds Metropolitan University (UK); and was the Running Stream Professor of Ethics and Identity at Leeds Metropolitan, Distinguished Professor of Canadian Culture at Western Washington University, and Senior Associate of the Scott Polar Research Institute, Cambridge.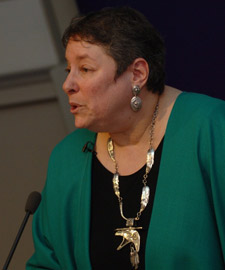 Science Specialties
communications, sociology, Inuit culture
Current Research
Aboriginal print and broadcast media (especially in Canada).Arts.Inuit names.Nunavut cultural policy.Representations of Native people by themselves and others.