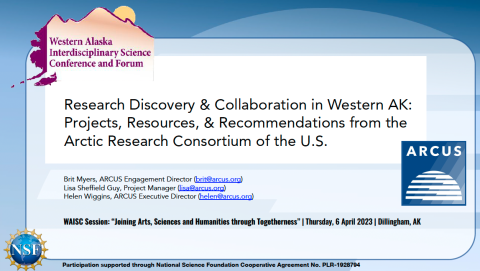 ARCUS was pleased to participate and present at the 15th Western Alaska Interdisciplinary Science Conference and Forum (WAISC), 3–4 April 2023.
Brit Myers (ARCUS Strategic Engagement Director) and Tonia Osborne (Arctic Indigenous Scholar) travelled to wonderful Dillingham, AK, to learn about, meet, and collaborate with others working in Western Alaska.
ARCUS Presentation:
"Research Discovery & Collaboration in Western Alaska: Projects, Resources, & Recommendations from the Arctic Research Consortium of the U.S", Myers, B., Sheffield Guy, L., and Wiggins, H.
A recording of the presentation and session is available through the Alaska Sea Grant YouTube channel.
Our participation was supported through NSF award #1928794.