Dear ARCUS Community,
First of all, I wanted to say thank you and welcome to all of you who have just registered to attend the ARCUS 2020 Annual Meeting and who may be receiving this monthly report for the first time. We have been so delighted to see the community interest in this year's event—with over 160 registrations so far and two months still left to go!
As others of you know, the ARCUS Annual Meeting is something that we have held in-person as a side-event to the American Geophysical Union Fall Meeting for the past few years. However, last winter we made the conscious decision to move this year's event online—before COVID-19—because we knew that those in-person events were not equally accessible to all ARCUS community members. We were missing the participation of Arctic social scientists, our Indigenous community partners, our international colleagues, and many others who simply can't make it to AGU due to other commitments, priorities, or lack of travel funding.
Looking over our current list of registrations, I know we've made exactly the right decision. More of our Members are going to be able to attend or send colleagues on their behalf. The variety of institutions, disciplines, and career levels represented is also wonderful to see—and I can't wait to find out what kind of conversations and collaborations emerge!
If you haven't yet registered, we sincerely hope you will be able to join us, too.
Best wishes,

Helen V. Wiggins
Executive Director
---
ARCUS News & Announcements: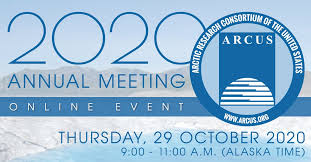 ARCUS Annual Meeting - Please Save The Date! The 2020 ARCUS Annual Meeting will take place virtually this year on Thursday, 29 October 2020, 9–11am AKDT, 10am–12pm PDT, 11am–1pm MDT, 12–2pm CDT, 1–3pm EDT. ARCUS Annual Meetings serve as an important opportunity for the Council of ARCUS Institutional Member Representatives, ARCUS Individual Members, and other members of the broader Arctic research community to connect with one another, the ARCUS Board of Directors, and staff. The meeting will be open to all interested participants and there is no cost to attend. Register here.
Witness Community Highlights - The August 2020 issue of Witness Community Highlights is now available online. This issue includes two articles: "Activity Updates from the Arctic Domain Awareness Center," an overview of the Center's mission-driven research efforts and projects; and "Co-producing Knowledge of Shorefast Ice in Uummannaq Bay, West Greenland," describing research efforts to combine remote sensing technology with community-based monitoring and local and Indigenous knowledge to better understand how shorefast ice has changed as the Arctic warms and how these changes matter to individuals and communities in the Uummannaq region. Read the Issue.
August 2020 Sea Ice Outlook Report - The 2020 August Sea Ice Outlook (SIO) Report, published by the Sea Ice Prediction Network (SIPN2), is now available online. The Sea Ice Outlook provides an open process for those interested in Arctic sea ice to share predictions and ideas. Thirty-nine contributions were received for the August report, which included predictions of sea-ice extent for both theNew Alaska Region and pan-Antarctic, sea-ice probability, first ice-free date, and other indicators. For the pan-Arctic, the median August Outlook value for September 2020 sea-ice extent is 4.30 million square kilometers. Read the report here.
---
Requests for Arctic Research Community Input:
IARPC Call for Info on Recent Arctic Research Activities - IARPC has begun its yearly effort to gather information on relevant research activities that have occurred over the last fiscal year. All are invited to contribute information on recent work that is relevant to the IARPC Arctic Research Plan. Contributions should be submitted by 4 September 2020. Learn more here.
Regional Arctic Ocean Decade Action Plan Development - To implement the United Nations Decade for Oceans Science (UNDOS) in an Arctic Ocean context, a Task Force is presently preparing the development of an Arctic Ocean Action Plan. This process is a part of a global preparation process for the UN Ocean Decade, and will offer an opportunity for working group members to formulate, discuss and prioritize concrete proposals for actions in support of the Decade. Through a series of workshops, each working group will identify what the challenges and solutions are for the Arctic region, for a particular societal outcome of the UNDOS. The deadline to register for working group participation is 25 September 2020. Learn more.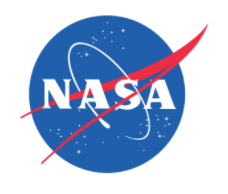 NASA Survey on Surface Topography Observational Needs - In response to the National Research Council's A Decadal Strategy for Earth Observation from Space, NASA is conducting a study to help define surface topography observational needs for the coming decades. A large portion of the study is dedicated to defining needs for cryosphere observations. Input from the Arctic research community is critically important as it will guide future NASA investments. If you are interested in providing input, please take the time to fill out the Google survey found here.
---
Member News & Announcements:
We are very happy to share the announcements and achievements of our members! If you have something that you would like us to include our next monthly newsletter &/or through other ARCUS communication channels, please contact Brit Myers at brit@arcus.org.