2014 Sea Ice Prediction Workshop
1-2 April 2014
National Center for Atmospheric Research
Boulder, Colorado
Post-Workshop Survey
The SIPN leadership team invites workshop participants to participate in a post-workshop survey on data needs and networking. We will use these responses to better plan future SIPN activities, including this year's Sea Ice Outlook. The survey will be closed at the end of the business day on Friday 9 May 2014. To take the survey, go to:
Overview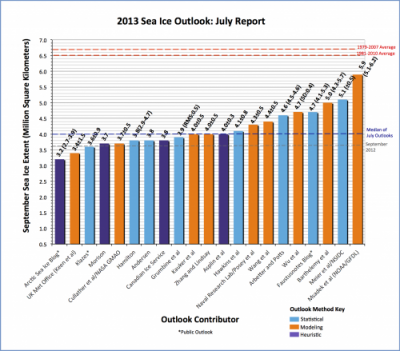 Distribution of individual Pan-Arctic Sea Ice Outlook values (July Report) for September 2013 mean sea ice extent (values are rounded to the tenths).
The workshop goal was to plan for the 2014 SEARCH Sea Ice Outlook (SIO) and to advance the science of sea ice prediction by coordinating experiments, defining and developing data sets for initialization and validation, creating new and better metrics for evaluation, and discussing stakeholder needs.
The workshop was funded, in part, by the Department of Energy.
Webcast Archive Videos
The Sea Ice Prediction Workshop was webcast by UCAR. The recorded videos for workshop sessions (except for breakout group sessions) are below.
2014 Sea Ice Prediction Workshop Keynote
Ed Hawkins, Reading University. "Climate Variability and Arctic Predictability"
2014 Sea Ice Prediction Workshop Day 1 Morning 1
2014 Sea Ice Prediction Workshop Day 1 Morning 2
2014 Sea Ice Prediction Workshop Day 1 Afternoon
2014 Sea Ice Prediction Workshop Day 2 Morning
2014 Sea Ice Prediction Workshop Day 2 Mid Morning
2014 Sea Ice Prediction Workshop Day 2 Afternoon
Agenda
SIPN Tentative Workshop Agenda (PDF 40 KB, Last updated 24 March)
Participant List
SIPN 2014 Workshop: Participant List (XLSX 35 KB)
SIPN 2014 Workshop: Participant List (PDF 50 KB)
Travel Information
SIPN 2014 Workshop Travel Information (PDF 643 KB)
Challenge for the Workshop
We would like to invite groups that submitted a 2013 SIO to participate in a sensitivity test for discussion at the workshop. This sensitivity test is designed to better understand differences across prediction methods (whether numerical or statistical) that yield a considerable range of September values throughout the Outlook years (2008 to present). Theoretically, differences in both initial conditions and model physics / statistics will contribute to this range of predicted values, and by applying a fixed perturbation to the initial conditions, we hope to learn about the relative importance of each. This challenge is open to any Outlook contributor – whether or not you are attending the April workshop.
As a first attempt for such an experiment, we propose a -1 meter thickness anomaly on the initialization date that was used by each group for the 2013 SIO (i.e., this could be May 1, June 1, or some other spring date). We note that along the sea ice edge, this anomaly number will have to be modified where the initial thickness is less than one meter.
We also propose that groups that do not use ice thickness as an explicit input variable perform an experiment where they perturb a roughly equivalent variable (e.g., statistical models that use ice age).
Please email a short written explanation of your results to Edward Blanchard-Wrigglesworth at: ed [at] atmos.washington.edu.
For more information or questions about the workshop, please email Cecilia Bitz at bitz [at] uw.edu.