ARCUS Member Highlight — Cold Climate Housing Research Center and the National Renewable Energy Laboratory
The Cold Climate Housing Research Center (CCHRC) was formed in 1999 by Alaska homebuilders who identified the need for applied research and testing to create better buildings for the north. Its mission is to promote and advance healthy, affordable, sustainable shelter for Alaskans and circumpolar people. In 2006, CCHRC's LEED Platinum Research and Testing Facility was built in Fairbanks to demonstrate a wide array of cold-climate technologies, including an adjustable foundation on permafrost, solar thermal storage, a ground source heat pump, and many different insulation and ventilation strategies. CCHRC's work benefits circumpolar communities by helping to define the building practices, standards, and policies that shape housing in the north, and working hand-in-hand with communities to ensure housing reflects local climate and culture.
Figure 1. Fall Colors: CCHRC's Research and Testing Facility in Fairbanks, Alaska is considered the farthest-north LEED Platinum building in the world, demonstrating innovations such as geothermal, solar, and cold-climate building science. Photo Courtesy of CCHRC.
In 2020, CCHRC joined the Department of Energy (DOE) National Renewable Energy Laboratory (NREL), a world leader in energy efficiency, clean energy, and systems integration. NREL researchers are leading the nation's transformation from a national electrical grid consisting of large centralized power generation to a more integrated and flexible system with greater diversity of resource generation, millions of variable distributed resources, dynamic smart loads, and new energy storage technologies. This partnership brings together NREL's decades-long history working with clean energy technologies and CCHRC's deep experience developing sustainable, culturally appropriate housing with people of the north. It also strengthens collaborations with the University of Alaska as well as federal agencies including Department of Defense, Department of Homeland Security, Department of Housing and Urban Development, and many others who work in the Arctic.
Guiding this work is an Arctic strategy that focuses on transforming communities, strengthening economies, and enhancing resilience and security. The research and experience gained in the Arctic will be applied to create healthy, resilient, sustainable homes and communities worldwide.
Products & Services
The Building Science Research Program tests and vets building envelopes, foundations, heating and mechanical systems, and other elements essential to healthy, durable housing in cold climates. The history of Alaska has shown many building failures from technologies inappropriate for our climatic extremes and soil conditions. CCHRC's building scientists focus on issues like moisture control, thermal performance, heating and domestic hot water, ventilation, and indoor air quality.
Figure 2. CCHRC works with remote Alaska communities to demonstrate affordable, culturally appropriate homes and train local workforces. In 2013, researchers built two high-efficiency homes with the Yup'ik community of Atmautluak in southwest Alaska. Photo Courtesy of CCHRC.
The Sustainable Northern Communities Program applies the knowledge gained in the lab to housing challenges throughout Alaska and the circumpolar north. Designers work with housing authorities and communities to develop energy efficient buildings that emphasize local resources and local labor, reducing energy use by 80% on average while reducing construction costs dramatically. A "holistic approach" ensures housing and development projects are driven by local communities in accordance with culture, lifestyle, and traditional knowledge.
Figure 3. CCHRC partnered with the Yup'ik community of Quinhagak in 2010 to build a super-insulated home that could withstand the cold, wet climate of the Bering Sea Village. Photo Courtesy of CCHRC.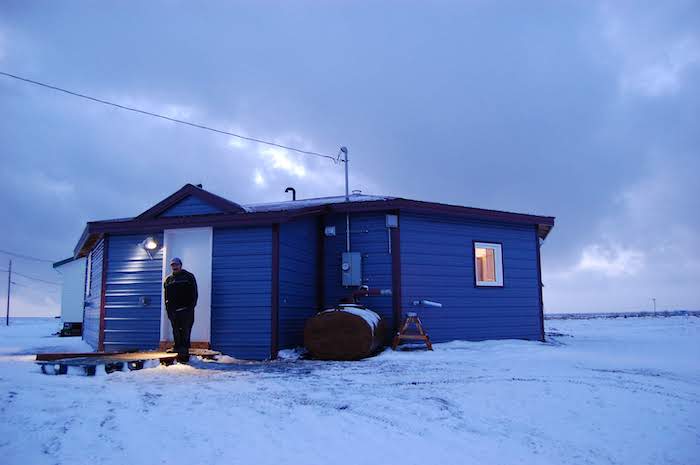 Figure 4. The octagon-shaped home in Quinhagak was based on the traditional round design of winter shelters built by the local people. Photo Courtesy of CCHRC.
The Social and Economic Analysis Program analyzes and packages data on homes and buildings that is used to inform housing policy and programs. This work provides a deeper understanding of Alaska's housing and commercial building stock, energy use, and potential for energy savings. CCHRC regularly updates Alaska's regional residential energy standards to reflect the best building science and economic considerations. As a direct result, a home built today uses 30% less energy on average than a new home constructed 20 years ago. Durability and indoor air quality have also improved at little additional cost to homeowners.
CCHRC's Multifaceted Outreach Program disseminates research and best practices to the public through trade shows, classes, and consulting with contractors and homeowners. CCHRC also maintains a robust library of publications, videos, and multimedia.
CCHRC's Diverse Staff support the wide range of programs and services.
For Further Information, contact:
CCHRC Regional Director: Bruno Grunau, Bruno.grunau [at] nrel.gov
CCHRC Communications Director: Molly Rettig, molly.rettig [at] nrel.gov
CCHRC Arctic Strategic Program Manager: Sherry Stout, sherry.stout [at] nrel.gov