Toolik Field Station Operations and Research Adjust to Impacts of COVID-19
By: Faustine Bernadac, Toolik Field Station Facility Supervisor/Station Manager and Amanda B. Young Spatial and Environmental Data Center Manager for Toolik Field Station.
The Toolik Field Station, operated and managed by the Institute of Arctic Biology at the University of Alaska Fairbanks and supported by the Division of Polar Programs, Directorate for Geosciences at the National Science Foundation (NSF), provides housing, meals, laboratory facilities, and support services (mapping services, technical assistance, and collection of standardized environmental data) to Arctic scientists, educators, and students from universities, institutions, and agencies from throughout the US and the world.
The 2020 field season was not spared by the impacts of the COVID-19 pandemic but months of teamwork and collaboration between the NSF, the Arctic logistics contractor, station staff, researchers, and a strict approach to COVID-19 management, have allowed the station to function at a limited capacity while providing remote access support to researchers who were not able to travel to the station.
When COVID-19 started to spread in mid-March, and consequently closed the State of Alaska, Toolik Field Station Management made the decision to close the station to researchers and operate with a minimal team with the added responsibility of providing remote access assistance to researchers not able to perform their work at Toolik. Subsequently, much effort was spent evaluating options for a safe and reasonable reopening to prevent a COVID-19 outbreak in camp.
Figure 1. Gina Carani, Sous Chef, dressed in protective gear receiving a food delivery. Once the food (or any kind of delivery) was unloaded TFS staff in protective gear would move it to a quarantine location for three days prior to distribution. Photo courtesy of Joe Franich.
The model agreed upon was a strict 14-day quarantine with two negative COVID tests during quarantine. Anyone wanting to go to Toolik had to comply with the protocol. As a result of this massive planning effort, the station successfully and safely reopened on 15 July. The population peaked at 43 people which, despite being a significant decrease compared to the 156-person population peak in 2019, was a manageable amount of people to accommodate and support in these times of uncertainty and allowed for a productive and successful season. Additional precautionary measures were implemented in camp such as: hand sanitizing, face covering, individual housing, and decontamination protocols for deliveries. Creative collaboration with local companies like the Northern Alaska Tour Company allowed safe transport of samples, freight, and other items to and from the station.
The researchers who came to Toolik this summer were primarily graduate students and research assistants, who are all passionate about Arctic research and Toolik. Due to the reduced population, a lot of quality time was spent discussing how to make Toolik a better place for its community; this resoundingly came down to more proactive communication and improving inclusivity and diversity. There is a severe lack of diversity in Arctic research and Toolik is no different. The Toolik Field Station is committed to improving diversity, equity, inclusion, and belonging at the station, so everyone no matter race, background, gender identity, ability, experience, or discipline, feels welcome and part of the Arctic research community at Toolik Field Station. Actions for how Toolik will begin to become a more welcoming community will involve more proactive communication between the staff and the researchers, training on diversity and inclusivity for both staff and researchers, as well as concerted efforts to involve people from all walks of life in a variety of group activities in camp.
Figure 2. Kinkela Vicich, SEDC technician, recording soil properties (moisture and temperature) for a remote access MS project on examining the importance of moisture on the greenness of mosses and how that influences landscape greenness indices. Photo courtesy of Amanda Young.
Figure 3. Cézanna Semnacher and Dave Wesolowski, SEDC Technicians, measuring stream discharge for the Arctic LTER research group along the Kuparuk River. Photo courtesy of Kela Vicich.
The remote access support mentioned above was provided to researchers who could not come to Toolik. The term remote access has been borrowed from the INTERACT programin which the researchers themselves do not visit but have staff from a research station perform the sampling or data collection for them. Toolik Field Station Staff provided 2,344 hours of remote access from April through September 2020 to 29 funded projects, including: large long-term monitoring projects such as Arctic LTER, NEON, and ITEX-AON; as well as smaller short term projects such as Team Vole, Arctic RIOS, and a variety of INTERACT projects. Projects' activities varied from ice fishing and snow measurements in April/May, to water sampling and plant phenology in June/July, to permafrost probing and soil sampling in August/September, and met station downloads throughout. Due to the limited number of hands-on field seasons that go into students' degrees, a concerted effort was made to support post-docs, graduate students, and undergraduate projects. Some of these projects were within larger projects while others were standalone projects. Support was directly provided within these projects to four post-docs, 12 PhD students, four MS students, and at least six undergraduate researchers. These post-doc and student supported projects encompassed roughly one-third of the remote access provided.
With winter upon us, the Toolik Field Station is continuing to enforce quarantining and testing prior to any visits to the field station. The station will host fewer researcher groups than in years past this winter, however, projects will continue to be supported through remote access with increased staffing. If you have any questions about Toolik Field Station's COVID-19 policies or remote access please reach out to uaf-iab-toolik [at] alaska.edu.
---
About the Authors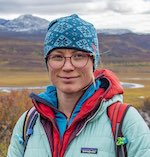 Faustine Bernadac (fcbernadac [at] alaska.edu) is the Toolik Field Station Facility Supervisor/Station Manager. She has worked in support of science in the Arctic and sub-Arctic regions since moving from her home country France to Alaska in 2008, managing projects all over Alaska, the Canadian High Arctic, Greenland, Svalbard, and Russia. Photo courtesy of Seth Adams.
---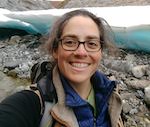 Amanda B. Young (ayoung55 [at] alaska.edu) is the Spatial and Environmental Data Center Manager for Toolik Field Station. She is a plant enthusiast and is particularly interested in how tools from dendrochronology and ecophysiology are used to address questions in biogeography and community ecology. In her position at TFS, her focus has expanded to include: data stewardship for both short- and long-term projects, remote access to a field research station, and many aspects of how to continue facilitating science during a pandemic. Photo credit: Amanda B. Young.