Addressing Priority Needs for Arctic Research Support & Collaboration with ARCUS Members
By: Brit Myers, ARCUS Project Manager
The Arctic Research Consortium of the U.S. (ARCUS) is a 501c3 not-for-profit consortium of leading Arctic research institutions and individual members that share the belief that a well-connected and highly collaborative Arctic research community is the most effective way to advance knowledge about the circumpolar Arctic and the many connections it has to lower latitudes. ARCUS programs are dedicated to increasing the capacity of Arctic researchers to undertake productive collaborations, bridge knowledge systems, and promote greater community inclusivity.
In small groups, community members discussed priority needs for Arctic research support and coordination during the 2018 ARCUS Annual Meeting. Photo courtesy of Joed Polly, ARCUS.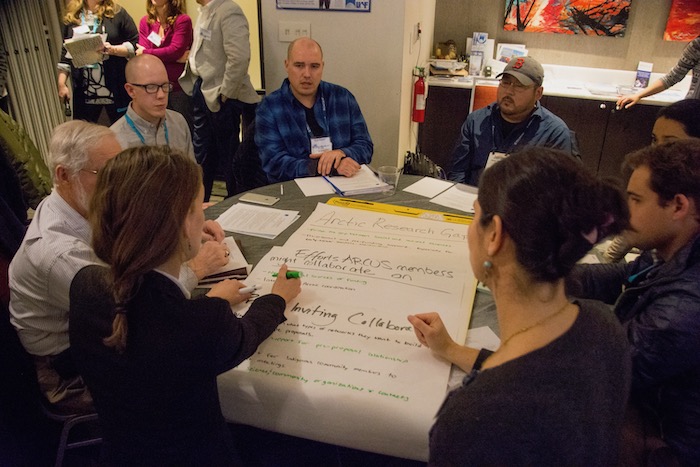 In separate table discussions, ARCUS community members shared ideas about how to identify Arctic research gaps and how best to collaborate. Photo courtesy of Joed Polly, ARCUS.
At the 2018 ARCUS Annual Meeting, 80 institutional member representatives as well as other active participants in the Arctic research community came together to discuss priority needs for Arctic research support and coordination. As outlined in the meeting report, an emphasis was placed on creating programming that would:
Bring people together for proposal and early project development
Identify opportunities to share resources
Facilitate networking across disciplines or sectors
Develop opportunities for greater inclusion of Indigenous community members
Improve ways for research groups to communicate with each other
Improve the research community's ability to share information with decision-makers
Help with broader impacts by communicating research findings with relevant stakeholders and communities and/or assisting with outreach plans
Improve Arctic educational opportunities for K-16 students
Increase involvement of teachers in Arctic research
Increase capacity for education and citizen science in northern communities
Over the past few months, ARCUS staff, our Annual Meeting Task Force team, and the ARCUS Board of Directors have been working together to develop a handful of new ARCUS project ideas inspired by the priorities outlined above. As they continue to develop, ARCUS members will receive priority invitations to help inform, take part, and lead in these new activities and initiatives.
ARCUS members are individuals and organizations that want to join with a larger community to tackle Arctic research challenges, respond collaboratively to emerging opportunities, and explore both the frontiers and intricate interconnections of the Arctic system in an interdisciplinary way. If you or other Arctic researchers in your institution have any collaboration opportunities to discuss with the broader Arctic research community, we invite all interested parties to join us either in-person or virtually for the next ARCUS Annual Meeting, scheduled for December 2019 (date TBD) in San Francisco, CA. We also invite you take advantage of ARCUS' many communication channels (such as ArcticInfo, Witness the Arctic, our Member newsletter, or the Polar Educators listserv to help bring your news and ideas to the attention of our subscribers throughout the year.
For additional information about current Arctic Research Consortium of the U.S. activities or how to get more involved as a member, please contact Brit Myers at brit [at] arcus.org.
---
About the Author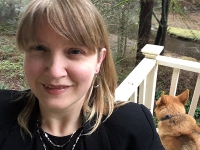 Brit Myers is a currently a AAAS Community Engagement Fellow (#CEFP2019) and has been a Project Manager at ARCUS since 2015 , supporting both the SEARCH program and the ARCUS Board's membership and development activities. Connect with her on LinkedIn, Twitter (@quixoticroads), or in-person the next time you are in the Seattle area.