Suicide Prevention Among Arctic Indigenous Communities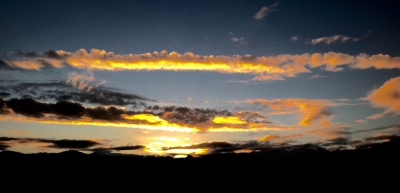 Sunrise over Anchorage; Photo by Beverly Pringle
By: Roberto A. Delgado, Health Science Administrator and Program Officer, Office for Research on Disparities and Global Mental Health, National Institute of Mental Health and National Institutes of Health
Under the 2015–2017 U.S. Arctic Council Chairmanship, the Reducing the Incidence of Suicide in Indigenous Groups – Strengths United through Networks (RISING SUN) initiative used a community-based and consensus-building process to identify common outcomes and their measures for evaluating suicide prevention efforts across the circumpolar North. Specifically, RISING SUN was designed to develop a web-based toolkit comprising the key correlates associated with successful suicide prevention interventions across Arctic states. The toolkit will include:
Information on the determinants of suicide across the Arctic.

A general introduction to suicide prevention efforts in circumpolar indigenous communities.

Information about what can be done to alleviate this public health threat and lessons learned from communities that have successfully implemented effective suicide prevention interventions.

A collection of prioritized outcomes and measures to assess the impact and effectiveness of suicide prevention interventions being implemented across the circumpolar Arctic.

A strategy with best practices for using the toolkit.
Evon Peter, Vice Chancellor for Rural, Community and Native Education at UAF, leading a drum dance; UAF Photo by Todd Paris
RISING SUN employed diverse approaches, including an adaptation of the consensus-building technique known as Delphi. Following selection of a Scientific Advisory Group, RISING SUN recruited and selected members for a Delphi panel—from the eight Arctic States and five of the six Permanent Participants of the Arctic Council—to represent the diverse advocacy, clinical, indigenous, policy, and research groups, as well as communities whose interests are covered within the initiative's scope of suicide prevention among Arctic indigenous groups.
A process was added to incorporate the viewpoints of key local stakeholders through face-to-face meetings across circumpolar regions. In addition, to achieve a shared vision and inclusive priority-setting, the RISING SUN initiative held a series of regional meetings in September 2015 (Anchorage, USA), May 2016 (Tromsø, Norway), and March 2017 (Iqaluit, Canada). Collectively, participants at these meetings reviewed the international community's understanding of suicide. Participants also learned about and assessed various local activities over the past five years pertaining to evidence gathering and intervention strategies. During the final meeting, project co-leads reported on the findings from RISING SUN including:
The outcomes from the Delphi process.

A discussion of methodological approaches.

The form and function of the proposed RISING SUN toolkit.

The knowledge gaps that remain.

Future opportunities for dissemination, implementation, and research.
Overall, the findings from the Delphi process revealed that panelists identified and prioritized outcomes resulting from family- and community-level interventions. To supplement information collected through the Delphi process, several regional focus group discussions were convened. These focus groups were designed to ensure that additional community and indigenous participants (who did not otherwise attend the workshops or participate in the Delphi) could provide input and feedback to the RISING SUN initiative. These activities included interviews conducted with indigenous leaders, elders, youth, and other stakeholders. The purpose was to evaluate what local assets are already in place and that lead to the outcome of healthy communities, and to prioritize the outcomes identified through the Delphi process. In a qualitative analysis of the interviews, one emergent theme arose acknowledging the wide variety of relationships that are held sacred and kept in balance when it comes to the health and wellbeing of indigenous communities.
Common outcomes and their measures, developed through engagement with Arctic Council Permanent Participants and community leaders and mental health experts, will facilitate data sharing, assessments, and interpretation of research findings across service systems in the Arctic region. The principal goal was to generate shared knowledge to aid health and community workers in better serving their communities, and to help policy-makers measure progress, evaluate interventions, and identify regional and cultural approaches to implementation. Arriving at common outcomes, their measures, and reporting systems is important in the Arctic. The vast geography, high number of remote communities, and breadth of cultural diversity pose challenges for systematic and evidence-based approaches to suicide prevention and the delivery of mental health care services in the Arctic.
In the United States, the National Institute of Mental Health (NIMH) is committed to furthering research focused on reducing the burden of suicide and promoting resilience among indigenous youth. Specifically, through cooperative agreements (e.g., RFA MH-17-350), NIMH aims to provide funding to establish and support regional collaborative hubs whose research teams will (a) conduct preventive interventions research, including strengths-based/resilience-focused approaches, with the goal of reducing suicide in indigenous youth, and (b) conduct outreach and dissemination activities to promote community engagement in research activities and enable community decision-makers to use science-based information to develop and assess mental health policies and programs.
More information on RISING SUN is available here.