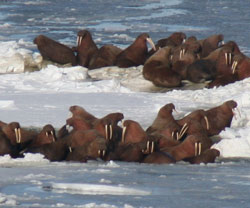 Photo by Maggie Prevenas - PolarTREC/ARCUS
The Sea Ice for Walrus Outlook (SIWO), an activity of the SEARCH Sea Ice Outlook started in 2010, is a resource for Alaska Native subsistence hunters, coastal communities, and others interested in sea ice and walrus. The SIWO provides weekly reports from April through June with information on sea ice conditions relevant to walrus in the Northern Bering Sea and southern Chukchi Sea regions of Alaska.
If you are a local hunter, expert, or a scientist with observations on sea ice, please send your comments to creek [at] arcus.org (Kristina Creek); your comments will be posted to this page.
This collaboration includes weather and ice forecasters, climate scientists and sea-ice researchers at NOAA, the National Weather Service, the University of Alaska, and the Arctic Research Consortium of the U.S. (ARCUS, with funding from the National Science Foundation's Division of Arctic Sciences), who are teaming up with Alaska Native sea-ice experts and the Eskimo Walrus Commission.