Weekly Outlook
Assessment of Current Ice Conditions Relevant to Distribution and Access of Walrus:
Near St. Lawrence Island
Satellite imagery shows extensive sea ice around St. Lawrence Island. Northerly winds have pushed the sea ice pack up against the north shore of St. Lawrence Island, and it is tightly packed against the shorefast ice. Satellite imagery and the sea ice models show that there has been a push of sea ice from the Bering Strait, southeastward and extending along the east coast of St. Lawrence Island, that has fractured into various sized floes. Just west of Gambell, there are numerous thick broken floes from very small to very large with lots of young and new ice between the floes. These floes have moved very little the last three days. The predominant northerly winds have fractured the sea ice pack south of St. Lawrence just offshore of the shorefast ice, producing open leads. This is seen in the satellite imagery by the formation of low clouds being formed just offshore and extending southward.
Wales to Shishmaref
The southward push of sea ice out of the Bering Strait into the Bering Sea, in response to persistent northerly winds, has produced a heavy fractured area of ice that extends 65 miles north of the Diomedes into the Chukchi Sea. There is a lot of young and new ice between the various sized floes. The shorefast ice from Wales to the Cape Prince of Wales is narrow and only extends a mile or two offshore in the satellite imagery. Shorefast ice south of Wales extends more than 3-4 miles offshore. The vast shorefast ice off of Shishmaref is very compact with few leads.
5 to 10 Day Forecast
Air temperatures are expected to rise through the weekend, but stay below freezing. A low pressure system Saturday in the western Bering Sea will increase the pressure gradient across the region and winds will increase to SE 40-45 knots through the weekend and into Monday morning for the area. This will result in the sea ice pack being pushed up against the south shore of St. Lawrence Island, and compaction of the sea ice in the Bering Strait. Winds will weaken to 20 knots Monday evening and Tuesday as a high pressure ridge builds over the Central Bering Sea on Wednesday, 11 April, and remains through Saturday, 14 April. This will result in northerly winds (20-25 knots), cooler temperatures, and loosening of the sea ice pack. A low will move into the Chukchi Sea Sunday, 15 April, resulting in warmer temperatures and SE winds through Monday, 16 April. Overall, there will be little floe movement of any distance over this period due to the heavy concentration and extent of sea ice in the Bering Sea
Observations and Comments
Observations of Sea Ice Development:
Comments From Nome
10 April 2012 - Fred Tocktoo, National Park Service
In conversation with Hajo Eicken and Greg Deemer, UAF
Overall while it has been colder than usual this winter, the landfast and offshore ice conditions at Nome are typical of what has been observed in recent years. Thus, beyond the landfast ice edge, at a quarter to half a mile offshore, there has been quite a bit of ice movement. According to Mr. Tocktoo, hunters will be getting ready for the bearded seal hunt in about 1 to 2 weeks' time. With sunny weather and temperatures well above freezing today the nearshore ice was experiencing surface melt, with runoff from snowmelt from the land.
Comments From Wales
12 April 2012 - Hajo Eicken, UAF
Flying out from Nome to Wales showed closed pack ice in eastern Norton Sound. South of Cape Mountain, winds out of the northeast (9 mph out of NE at 6:00 p.m. at airport Wales) had opened a lead. Open water extended around the mountain, narrowing to less than a few hundred yards off of Wales (see photos). According to Winton Weyapuk, Jr., the shorefast ice at Wales is rough and more extensive this year than in the recent past. Local hunting crews have scouted for locations to put in a trail to launch boats in the next week or two.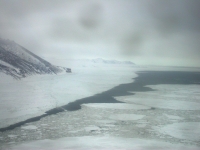 11 April 2012 - View of lead south of Cape Mountain. Photo: H.Eicken.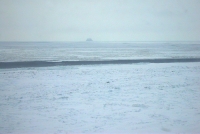 11 April 2012 - View of shorefast ice, narrow lead, and drift ice off Wales. Photo: H.Eicken.