Weekly Outlook
Assessment of Current Ice Conditions Relevant to Distribution and Access of Walrus:
Wales to Shishmaref
Shorefast continues to extend from Wales to Shishmaref 20-40 miles offshore along the coast. Just south of Wales the shorefast ice is now only 1-2 miles wide. There is open water along the edge of the shorefast ice. Large ice floes continue to drift northward through Bering Strait. Ice concentration is over 70%. Satellite imagery indicates the presence of new and young ice forming between floes, in parts of open water areas, and just offshore of the shorefast lead.
Near St. Lawrence Island
Shorefast ice continues to persist along the north shore of St. Lawrence Island between Gambell and Savoonga. The shorefast ice continues eastward around Northeast Cape. The concentration of the ice north of the shorefast ice is about 70%. It is fractured, consisting of many small floes near the shorefast edge but increasing in size northward where some floes are greater than 20 miles in length. West and southwest of Gambell the ice is not as compacted as the ice east of the Island. The ice consists of a high concentration of broken floes with leads slowly drifting northward. The main ice pack south of St. Lawrence Island has been pushed southward by the continual northerly winds since last week. A week ago, there was open water and young ice south of St. Lawrence Island. However, latest satellite image shows this area has refrozen with new and young ice to within a few miles of the coast due to sub zero temperatures.
5 and 10 Day Outlook April 2 through April 12
Brisk northerly winds over the weekend and into the middle of next week are expected. This should push the sea ice south to southwestward resulting in reversal of some ice flow in the southern Chukchi Sea back into Chirkov Basin. Sea ice is expected to accumulate on the north side of St. Lawrence Island. A mix of open water and young ice should occur well south of the south coast. Even with the continuing northerly winds, air temperatures will slowly moderate to near normal temperatures by mid week and remain near normal through April 12. This will also slow down new ice formation after mid week.
There is considerably less predictability for winds in the second half of the period. A shift to a different weather pattern or a continuation of the status quo are both possible. A series of low pressure systems is expected to move across the southern Bering Sea April 4-5 and April 7-8 and both slowing drift eastward into the northern Gulf of Alaska. As a result, the northerly winds in the Bering Strait will become lighter beginning April 7 and continue to remain lighter through April 12. Winds near St. Lawrence Island will become lighter and westerly on April 5 return to northerly April 7 and remain so through April 12.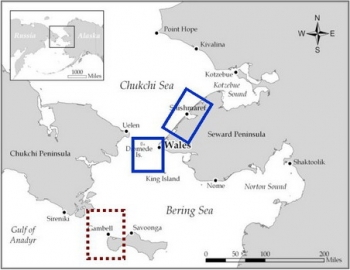 Observations and Comments
Observations of Sea Ice Development:
2 April 2010 - Paul Siluk Apangalook – Summary of ice development in Gambell
Despite the temperatures remaining below zero for longer periods during the month of March, the leads to the northwest remained wide open out to the horizon much of the time with the ice scattered and new ice constantly developing. The sighting of bowheads at times indicates the leads opened all the way to the Siberian coast. Speaking with elders, the reason for that was there wasn't enough thick ice penetrating our area from the north. This seemed to be the case combined with the frequent and constant higher winds prevailing from the north. New large leads opened up often with the developing ice either drifting or breaking up. In mid-March, noticeable swells were seen in the ice; big sections of the tuvaq (shorefast ice) broke off at the west beach.
27 March 2010 - Winton Weyapuk, Jr. - Summary of Ice Development in Wales
Since the middle of March, a mix of young ice, first-year pack ice, and open water along the shorefast ice have been observed off Wales. Ice drift through Bering Strait was mostly to the south, with a few days of drift to the north with the wind turning between March 19 and 25. Open leads were present along the landfast ice for much of late March. Shorefast ice is rough this year off Wales. While a lot of snow fell, it did not completely smooth out the ice, likely requiring some trailbuilding later in the season to haul the boats for access to open water.
Ship-board Observations from the Bering Sea (Rolf Gradinger, with input by H. Eicken)
30 March - 1 April 2010: Ice 100 miles southwest of St. Lawrence Island and towards St. Matthew Island mostly first-year pack ice, 2 feet (0.6m) thick with thin snow cover (2in/5cm). No sign of surface melt. Hardly any shorefast ice around St. Matthew, likely sheared off by ice pressure.


19 March 2010: The ice cover 90 miles (150km) south of St. Lawrence Island consists of vast floes of level ice, about 1.5 feet (0.5m) thick. Floes are broken into small pieces (few tens of feet wide) with flooding of surface along cracks. This pattern and satellite images suggest that break-up was caused by ocean swell coming in from the open Bering Sea, 150 miles (250km) to the South. Such level ice floes of small size (see photo taken at 62deg 17'N 172deg 18'W on right) provide likely good access for walrus.
5 April 2010 - Curtis Nayokpuk, Shishmaref
I have been watching the "GINA" ice sat. pictures and this year the Wales Shoal shore ice is back! Previous 2-3 years it receded and at one time broke off along the northern shore/beach from Wales to Shishmaref. Looks like it has frozen to historic size/thickness and winter/spring south winds have not chipped away at the shoal ice build up. This means that the migrating sea mammals will be farther out from Shishmaref (direct route from Wales to Pt. Hope) and will require longer or more boat trips to find the walrus and Oogruk this year.
30 March 2010 - Brendan P. Kelly, UAF
Looking at the satellite imagery posted on 29 March 2010, it seems notable that ice suitable for walruses is absent along the Siberian coast but concentrated close to St. Lawrence Island. Overall, the northern Bering Sea has considerable open water. I recall sailing from Gambell to Nome on the icebreaker Polar Sea at just this time of year 30 years ago, and the vessel had a very hard time of it. It looks like it would be much easier this year.