Meet the 2020 Arctic Indigenous Scholars
Three Arctic Indigenous Scholars were selected in 2020 by a seven-member volunteer selection committee. Their trip to Washington DC, originally schedule for May 2020, has been delayed due to COVID-19 related travel concerns. More information will be posted here when a safe travel date has been selected.
Naidene Baechler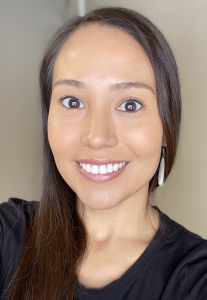 Naidene Baechler is a Master of Social Work student at the University of Alaska Anchorage who graduates in May 2020. She is a member of Newhalen Tribal Council in Newhalen, Alaska, where she spent most of her childhood years prior to being raised in Nevis, Minnesota. Naidene obtained her Bachelor of Arts degree in Human Services from the University of Minnesota, Morris in 2008. Upon graduating, she returned to Newhalen to pursue a career working with Alaska Native youth.
Naidene has dedicated her career to improving the well-being of the Alaska Native population by addressing social issues on the micro, mezzo, and macro levels in social work. She completed a year-long internship with Compassionate Directions, a community mental health nonprofit, in which she worked with families who have experienced a myriad of behavioral health issues. Recently, she completed a year-long internship with Knik Tribe where she assisted in the continued development of a behavioral health program. Naidene hopes to continue her social justice advocacy work by engaging in reciprocal learning with federal stakeholders on resolving two complex social issues Alaskans face: high suicide mortality rates and Missing and Murdered Indigenous Women.
Kimberly Pikok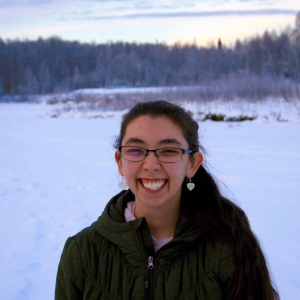 Kimberly Kivvaq Pikok is an Iñupiaq from Utqiaġvik, Alaska. She is a senior at the University of Alaska Fairbanks studying Wildlife Biology and Conservation. Kimberly has many interests, but she is passionate about learning how climate change impacts animal health and behavior. After she graduates with her bachelor's degree, she sees herself furthering her education and wanting to get a degree in environmental education so she can work with her community and inspire and encourage Native youth to pursue a career in the sciences. Since 2016, she has been involved in the Fresh Tracks program, which is a leadership training expedition that brings together diverse young leaders from urban, rural, and tribal communities from across the nation. The leadership program uses cross-cultural leadership experiences that tap into the power of the outdoors to unite and ignite young leaders, transforming personal dreams into civic action. In the summer of 2019, Kimberly was a Haskell Environmental Research Studies intern at Haskell Indian Nations University. The internship and her time at UAF taught her how important it is to have Indigenous people in the sciences. As an Arctic Indigenous Scholar, Kimberly hopes to address and strengthen the relationship between western science and Indigenous knowledge in the college classroom setting and in communities.
Richard B. Slats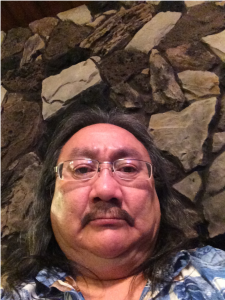 Richard B. Slats is a Cup'ik from Chevak, Alaska. He is bilingual with English as his second language. His secondary education has been with the University of Alaska Fairbanks; Western Oregon State College, and he received his AA degree from the UAF Kuskokwim Campus in Rural Human Services. He is a lifelong subsistence hunter and fisher. A 2nd Chief for the Chevak Native Village, currently he is a member of the Chevak Company Corporation Board of Directors. He is also an Executive Committee Member of the Bering Sea Elders Group. He is serving his second year of the Yukon Kuskokwim Subsistence Regional Advisory Council. He has been appointed to the North Pacific Fisheries Management Council's Fisheries Ecosystem Plan Task Force to develop protocols and guidelines for applying local knowledge and traditional knowledge for the Council's Fisheries Ecosystem Plan.
Life between two worlds has been lived; it has been said that one could never go back to how it really was and live it a full 100%. In one hand the western world has brought with it great benefits of easy living but it has also brought disease, great death, social ills, breakup of culture and history; and continues to do this to this day. A modern-day subsistence user has to continually fight to use the natural resources and the environment that was bestowed to them by the creator and their lives inherited from their fore-fathers.
Topics to speak about in Washington DC:
Climate Change
Open Pit Mines
Tribal Rights
Current Events for the Subsistence User(s)
2020 Volunteer Selection Committee
Rosemary Ahtuangaruak, 2018 Arctic Indigenous Scholar, Nuiqsut, AK
Percy Ballot, Maniilaq Association, Buckland, AK
Raychelle Daniel, The Pew Charitable Trusts, Washington, D.C.
Nicole Kanayuraq, North Slope Borough, Utqiaġvik, AK
Theresa Arevgaq John, University of Alaska Fairbanks, 2018 Arctic Indigenous Scholar, Anchorage, AK
Gay Sheffield, Alaska Sea Grant, Nome, AK
Inuuteq Stotts, ASRC Energy Services Alaska, Inc., Anchorage, AK
For any questions regarding the project or application process, please contact Lisa Sheffield Guy, Arctic Indigenous Scholars Project Manager, at lisa [at] arcus.org or 907-474-1600.