Arctic Research Seminar Series: Elizabeth Arnold, University of Alaska Anchorage & Harvard Kennedy School
The Face of Climate Change in the Arctic: The National Media's Role in Public Disengagement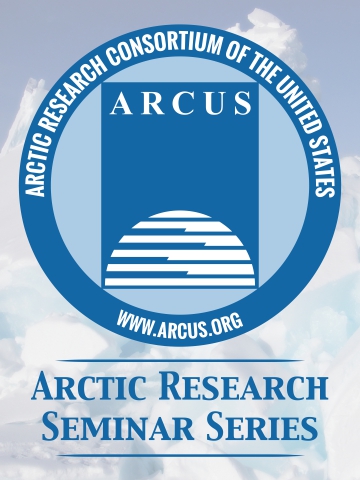 Event Type: Webinars and Virtual Events
When: 11 May 2018
Where: Online or at the ARCUS D.C. office at 1201 New York Avenue, NW Washington D.C. - 12:00-1:00 pm EDT
Find out more:
https://www.arcus.org/research-seminar-series
---
Summary
The ARCUS Arctic Research Seminar Series brings leading Arctic researchers to Washington, D.C. to share the latest findings and what they mean for decision-making. These seminars will be of interest to federal agency officials, congressional staff, non-governmental organizations, associations, and the public.
This seminar titled "The Face of Climate Change in the Arctic: The National Media's Role in Public Disengagement" will focus on Arnold's own experience and current research of media coverage on the human impacts of climate change in the Arctic.
Elizabeth Arnold is a former National Public Radio (NPR) Political Correspondent, an Associate Professor of Journalism at the University of Alaska, and the producer of arcticprofiles.com. For twenty years she was a familiar voice on Morning Edition and All Things Considered, and a regular presence on PBS Washington Week, covering Congress, the White House, and the American West. Arnold has received numerous awards, including a duPont Columbia Silver Baton and the Dirksen Award for Distinguished Reporting of Congress. Over the last decade, she has reported on the ecological and human impacts of global warming from some of the most remote areas of the Arctic. She is currently a Fellow at Harvard's Shorenstein Center on Media, Politics and Public Policy where she is researching the role of the press in effectively communicating climate change.
A live webinar is also available to those unable to attend in person. Instructions for accessing the event online will be sent to webinar registrants prior to the event.
Registration is required for this event.
---
Find out more:
https://www.arcus.org/research-seminar-series